---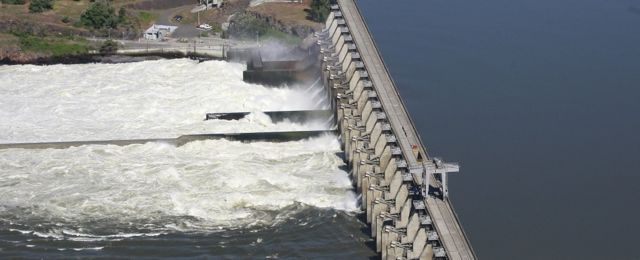 Wind energy projects in the Bonneville Power Administration system have curtailed 6.7 percent of their scheduled output since BPA began intermittent limits on coal, natural gas and other thermal and wind generation to help manage an oversupply of electricity during the highest Columbia River runoff in more than a decade.
BPA's interim environmental redispatch policy typically affected wind generation at night and on weekends when power demand dropped, according to an initial review of the first several weeks with the policy in place.
The policy first took effect May 18 and continued as high water drove hydroelectric generation at Columbia River dams.
In the last week about 2 percent of scheduled wind generation was curtailed. Three days in the last week had no limits on wind.
Most thermal generation in BPA's system has remained off-line in recent weeks. The Energy Information Administration recently reported that the Northwest this year has burned 68 percent less natural gas to generate electricity than last year.
Some increases in power demand, improved cooperation among utilities and other steps by BPA have helped mitigate the impact on wind generation in recent weeks. The curtailments will likely continue to decline as runoff eases, so the share of wind energy affected will be further reduced when considered over a full year.
BPA's most recent initiatives have included:
An agreement with Alcoa to adjust power use at the Intalco Works aluminum smelter in Ferndale, Wash., to help balance electricity demand, allowing more generation of wind energy in certain conditions.

A new BPA business practice that frees transmission customers from replacing power lost as it passes through transmission lines, reducing incoming electricity and allowing for more hydroelectric and wind energy in the BPA system.
"We've tried for more than a year to find ways to minimize the impacts of high runoff on wind generation and we're still looking for solutions from every angle," said BPA Administrator Steve Wright. "We are by no means out of the woods yet, but we're working to maintain wind's important contribution to the Northwest power system."

"Extraordinarily high flows"

The Northwest River Forecast Center projects that Columbia Basin runoff this year will exceed runoff in all but two of the last 40 years, with 137 percent of average flow expected at The Dalles.

Hydroelectric dams generate large amounts of electricity in such conditions because reducing their output would send more water through dam spillways, increasing dissolved gases that can harm fish.

The U.S. Army Corps of Engineers and Bureau of Reclamation have successfully managed this year's extraordinarily high flows for multiple purposes including flood risk reduction.

The environmental redispatch policy allows BPA to limit the output of coal, natural gas and other thermal power plants to keep the electricity supply in line with demand and maintain the reliability of the power grid. As a last resort, BPA may also temporarily limit wind generation when there is insufficient demand for the power.

In many cases BPA has limited only a portion of wind generation. BPA replaces any curtailed wind or thermal generation with free federal hydropower.

BPA has also held wind energy producers more closely to their scheduled power output because the high water has left hydroelectric dams with less flexibility to adjust to unexpected ups and downs in wind generation.

Related Pages:
BPA Decision Discriminates Against Wind Power by Rob Manning, Reve, 5/20/11
---
Staff
BPA Curtails 6.7% Wind Capacity to Balance Hydro Oversupply
Hydrokinetic Energy News, June 29, 2011
---
See what you can learn
learn more on topics covered in the film
see the video
read the script
learn the songs
discussion forum