---
The U.S. House of Representatives passed a bill Tuesday expanding the authority for Northwest states and tribes
to kill sea lions in the Columbia River and its tributaries to protect endangered salmon and steelhead.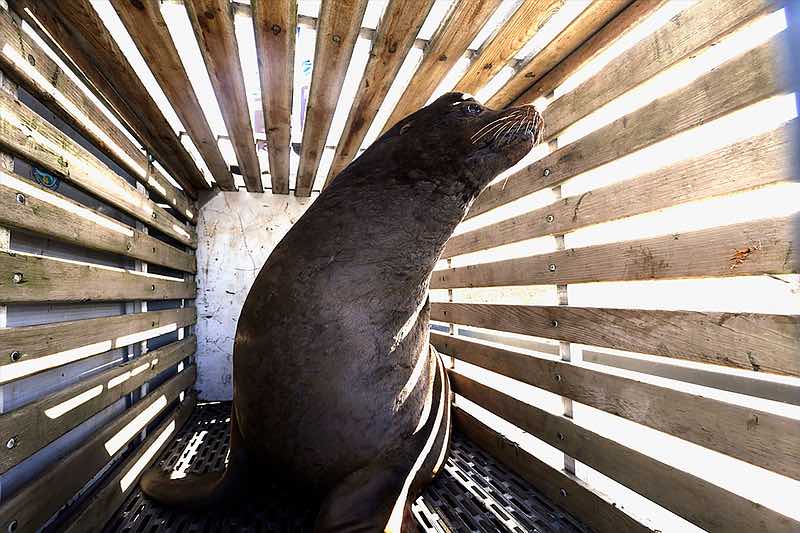 The U.S. House last week passed a bill that would permit Northwest states and tribes to kill predatory sea lions feasting on vulnerable salmon and steelhead runs in the Columbia River and its tributaries.
Introduced by Oregon Democrat Kurt Schrader and Washington Republican Jaime Herrera Beutler, the Endangered Salmon and Fisheries Predation Prevention Act amends the Marine Mammal Protection Act, allowing for up to 920 California sea lions to be killed each year to protect fish.
"Salmon are an important part of the culture, identity and the economy of the people and tribes of the Pacific Northwest," Schrader said. "Our bill will provide the states and tribal members the flexibility they need to protect these endangered fish and manage the threat posed by sea lion predation."
The Marine Mammal Protection Act, signed into law in 1972, already grants permits to kill sea lions, though Oregon fisheries managers say the rules are too restrictive and force them to wait too long before they can address serious conflicts with endangered fish.
For example, the Oregon Department of Fish and Wildlife estimates sea lions are now eating roughly 20 percent of the winter steelhead run below Willamette Falls on the Willamette River. Biologists attempted to relocate 10 of the animals 210 miles to a coastal beach south of Newport, Ore., only to see them return within six days.
At this rate, ODFW predicts the steelhead run has a 90 percent chance of going extinct if nothing changes.
Farmers, meanwhile, may be left without irrigation water for up to two years at Detroit Lake on the North Santiam River if the U.S. Army Corps of Engineers proceeds with a $250 million upgrade to boost fish passage and water temperature.
For salmon fighting upstream, this bill will help significantly improve their chances of survival, Herrera Beutler said.
"Simply put, this measure cuts through the bureaucratic red tap, streamlines the permitting process and allows states and tribes to rapidly respond to remove sea lions from areas they pose the most threat to salmon recovery," she said.
The bill, which passed the House 288-116, authorizes five-year permits to kill sea lions in a portion of the Columbia River and its tributaries. The maximum number of California sea lions that may be killed annually is 920, or 10 percent of the "potential biological removal," which determines how many animals can be killed by human causes without affecting overall population viability.
Kill permits may be issued to the states of Oregon, Washington and Idaho, as well as the Nez Perce Tribe, Yakama Nation, Confederated Tribes of the Umatilla Indian Reservation and Confederated Tribes of Warm Springs, which together make up the Columbia River Inter-Tribal Fish Commission.
"As Native people, we are committed to salmon protection and restoration," said Casey Mitchell, commission chairman. "With the expanded range of options this legislation provides, we are optimistic about protecting salmon runs from this relatively new threat."
Animal welfare groups, however, oppose the legislation, arguing sea lions are being scapegoated to shield the larger reasons behind fish declines -- dams and human-caused habitat degradation.
Naomi Rose, marine mammal scientist for the Animal Welfare Institute based in Washington, D.C., said killing sea lions is a quick fix to a short-term problem, but will do nothing to bring back endangered fish in the long run.
"Get rid of the dams, get rid of the fish ladders, and you will solve the problem," Rose said. "This is a bad bill ... these sea lions are going to die for nothing."
A similar bipartisan bill was recently introduced in the Senate to reduce sea lions in the Columbia River, led by Sens. James Risch, R-Idaho, and Maria Cantwell, D-Wash.
Related Pages:
Sea Lions Feasting on Columbia River Steelhead by Brian Neale, KXLY, 3/8/18
Ocean Predators by John Harrison, NW Council, 1/16/18

Related Sites:
Final 2016 Pinniped Report: Sea Lion Salmon Take Astoria To Bonneville Dam Could Be 20 Percent Of Run by Staff, Columbia Basin Bulletin 6/17/16
Evaluatin of Pinniped Predation on Adult Salmonids and Other Fish in the Bonneville Dam Tailrace by Kyle Tidwell, Bjorn van der Leeuw, Lindsay Magill, Brett Carrothers, and Robert Wertheimer, USACOE 5/5/17

---
George Plaven
House Passes Bill to Cull Predatory Columbia River Sea Lions
Capital Press, July 2, 2018
---
See what you can learn
learn more on topics covered in the film
see the video
read the script
learn the songs
discussion forum