---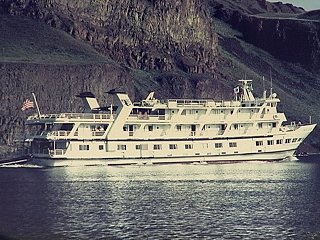 Financially sinking Seattle company Cruise West is laying off 65 employees and has left some passengers desperately seeking refunds after it abruptly ended a world cruise and halted reservations.
The cruise line, which has offered small-ship cruises in North America and beyond, also stopped accepting new bookings this week. It said it would operate some cruises through October, including departures from Seattle and Portland on Saturday, as it tries to restructure.
However, its reservations office was closed Thursday and its website, full of colorful cruise photos and descriptions earlier this week, now contains only a statement about the company's difficulties. The company refused to answer media inquiries.
Many Cruise West employees have lost or will lose their jobs. Twenty-four were laid off Wednesday and another 41 will be laid off starting Friday, said Washington's Employment Security Department, which received the legally required layoff notification from the company.
Cruise West terminated a world cruise aboard its flagship 120-passenger Spirit of Oceanus in Newfoundland, Canada, earlier this week.
On its global sailing, the ship was to visit 59 countries from April this year to February 2011; many passengers had signed up for months of cruises and paid tens of thousands of dollars.
Tammy Hinshaw, of Michigan, was aboard the ship on a series of cruises around the world. After a three-week break, she and her partner were scheduled for many more weeks of cruising beginning Oct. 3 -- for which they paid Cruise West 10 days ago.
"Two other passengers were scheduled to be on board until Feb. 3, and one passenger was scheduled to arrive Oct. 3 and remain on board until Feb. 3," Hinshaw said. "To give you an idea of how much money is at stake, Cruise West owes these five passengers (including myself and my partner) well over a quarter of a million dollars."
"I foresee ugly litigation and potentially the demise of Cruise West. What a mess!" Hinshaw said.
What can passengers do?
Passengers whose cruises have been canceled have some recourse.
Travelers who paid by credit card have protection under federal fair-credit laws if services are not rendered. Contact the credit-card issuer.

Those who bought travel insurance from a third party should file a claim with the insurer. Travelers should be aware that a cruise line's own insurance policies don't cover the default of the company. (However, insurance policies purchased from companies such as Travel Guard do cover the default of airlines, tour operators and cruise lines under some circumstances.)

If passengers paid by cash or check (and don't have travel insurance), getting money back could be more difficult. In the event of a bankruptcy, such clients are unsecured creditors and are at the end of the line for refunds. Cruise West asked that those who paid by cash or check e-mail the company at info@cruisewest.com.
Hinshaw e-mailed the company, but has received no details about refunds. Having happily dealt with Cruise West for almost 20 years, she and her partner paid more than $50,000 by check for their multiple cruises, lured by the company's offer of a 2 percent discount for those who didn't pay with a credit card.

"In retrospect it was an incredibly dumb thing to do ... but many of the other passengers who are owed substantial amounts of money also paid by check, for the same reason," Hinshaw said. She and her partner did not purchase travel insurance because of its high price, and they didn't know of Cruise West's financial woes.

Long history

Cruise West was founded in 1973 by the late Chuck West, who started one of the first Alaska tour companies in the 1940s and later became a dominant figure in the growth of Alaskan tourism.

Cruise West expanded under family leadership and offered nature-focused cruises from Seattle to Alaska on its small ships, plus voyages along the Columbia and Snake rivers and worldwide sailings aboard the Spirit of Oceanus.

Related Pages:
Cruises Still Bringing Boost to Local Economy by Stephanie Smith, KLEW TV, January 29, 2010
Cruise West Re-Traces Famed Expedition by Cruise West, PR Newswire, 4/13/10
---
Kristin Jackson
Cruise West Lays Off Seattle Staff, Financially Strands Some Passengers
Seattle Times, September 9, 2010
---
See what you can learn
learn more on topics covered in the film
see the video
read the script
learn the songs
discussion forum