---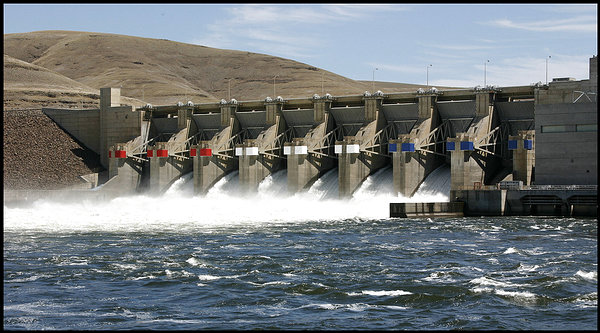 Rapid snowmelt. That's the simple explanation we're being given for spring flood conditions on the Columbia River. In April and May, riverside foot paths have been closed; repeated bridge lifts (up to six a day) have caused costly, dangerous traffic jams, and school buses trying to negotiate jammed side streets have been delayed.
Is this just Mother Nature sending us more water than usual, in the form of melting snow?
Not entirely. An Oregon judge also played a role. The history of the issue extends back decades.
Look around the United States and you will not find another river system generating as much power as the Columbia. With its massive tributaries and steep gradient, the Columbia system supplies over 40 percent of the hydroelectric power in the country. No wonder our region drew the aluminum industry in the 1940s, peaking in the 1960s.
In those days, the dams were managed primarily to benefit people (served by public utilities) and industry (aluminum, timber, paper). But in the 1980s and 1990s, fish advocates of various political stripes brought about major changes in the Bonneville Power Administration's management of the region's annual water budget, which accumulates largely in the fall (rain) and winter (snow).
To benefit young salmon, rapid spill of water through the dams, aka "fish flush," was instituted each spring to help young salmon reach the ocean.
But how much spill is enough? Is more better? The water isn't free. Clark Public Utilities, for example, depends on hydropower for nearly 60 percent of its energy resources. Fish flush severely depresses spot electricity prices sometimes to zero, wasting the value of the electricity sales needed to pay BPA's bills.
Utilities and large energy users contend that spills in spring put BPA and ultimately consumers at risk of having to buy costly non-renewable replacement power from natural gas plants in the fall low-water months.
In March 2017, Judge Michael Simon of the U.S. District Court in Oregon issued a court order requiring federal agencies to increase spill across Columbia River dams to levels higher than in the Obama era. When BPA sued, a 9th Circuit Court of Appeals decision affirmed the decision.
Bipartisan solution
Court-ordered spills took effect April 10 and will last through June 15. The result is the biggest planned water spill over Columbia River dams ever in history.
BPA estimates that the spill will cost $38.6 million, based on the projected lost generation and the projected electricity price, and has instituted a spill surcharge to be billed to its customers for 2018 and 2019.
Decisions about how our region spends its crucial electricity resources should not be made by the courts. A bipartisan group of U.S. House members from Washington and Oregon agrees. Rep. Jaime Herrera Beutler, R-Battle Ground, is one of five Northwest sponsors of HR 3144, which would approve the 2014 Federal Columbia River Power System Biological Opinion until 2022, thus taking management of the river out of the courts. The bill has passed the House.
Herrera Beutler states the increased spill may "pose long-term damage to fish populations. This judge (Simon) claims to know better than the local stakeholders and experts, tribal nations, and federal scientists and engineers who crafted the (2014) Biological Opinion."
Advocates of super-spills or even outright dam removal believe we are such a rich society that we can throw low-cost and renewable electricity away on speculative fish programs. But are we a rich society? Our burgeoning homeless population is just one indication that we are not.
Related Pages:
Court-Ordered Spring Spill Now Moot as High Flows Forcing Involuntary Spill at Dams by Staff, Columbia Basin Bulletin, 5/18/18

---
Ann Donnelly, a Vancouver businesswoman, is a former chair of the Clark County Republican Party.
Courts Shouldn't Be Managing Columbia River
The Columbian, June 3, 2018
---
See what you can learn
learn more on topics covered in the film
see the video
read the script
learn the songs
discussion forum