---
... on Goose Island upstream of the Columbia's confluence with the Snake River,
fewer than 20 nesting pairs of Caspian terns have been counted this year.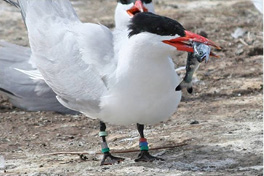 The federal government in mid-to-late October will stop shooting cormorants and oiling their nests to reduce cormorant predation on juvenile salmon and steelhead in the Columbia River estuary.
Wildlife Services, a federal agency contracted by the U.S. Army Corps of Engineers, killed nearly 2,000 double-crested cormorants and destroyed more than 5,000 nests on East Sand Island between May 28 and Oct. 1.
The U.S. Fish and Wildlife Service gave the Corps a one-year permit in April 2015 to kill 3,489 double-crested cormorants and to oil 5,879 nests through the end of January 2016. The permit also includes destroying 105 Brandt's cormorants and 10 pelagic cormorants.
This year's culling activities end once most of the birds begin to migrate south for warmer climates, which is usually by the end of October.
NOAA Fisheries estimated that during 1998-2012, double-crested cormorants consumed 6.7 percent of juvenile steelhead, 2.8 percent of Chinook yearlings and 1.3 percent of juvenile sockeye migrating to the ocean.
Looking at it another way, NOAA also calculated the birds ate an annual average of 12 million juvenile salmonids, many of them listed under the ESA.
The East Sand Island's cormorant colony, estimated at 15,000 nesting pairs, represents about 98 percent of the double-crested cormorant population in the lower Columbia River. In 1989 the cormorant breeding population was about 100 pairs.
As tons of dredged rock and soil from the Columbia River streambed piled up over the years, avian predators, such as cormorants and Caspian terns, set up colonies on the fill.
The Corps has a four-year plan to reduce the cormorant population in the estuary by 56 percent. The plan is spelled out in the final Feb. 6, 2015, EIS.
In response, the Audubon Society of Portland and four other groups filed for a preliminary injunction against the Corps, U.S. Fish and Wildlife Service, and Wildlife Services in April 2015. The environmental groups argued their suit was not about "birds versus fish." Rather, they said, federal agencies were targeting cormorants rather than operating dams to minimize juvenile salmon mortalities (CU No. 1690 [15]; 1693 [9.4]).
NOAA Fisheries calculated annual cormorant consumption rates of juvenile steelhead, yearling Chinook and juvenile sockeye at 6.7 percent, 2.8 percent and 1.3 percent, respectively, based on data from 1998-2012.
U.S. District Judge Michael Simon ruled against the plaintiffs May 8, citing their failure to prove that lethally removing the number of cormorants stated in the Corps' plan would likely cause "irrevocable harm" to the overall population (CU No. 1696 [21]). The decision allowed the federal agencies to start their 2015 culling operation in late May.
Final oral arguments in the case are scheduled for March 7, 2016, before Simon.
Meanwhile, on Goose Island upstream of the Columbia's confluence with the Snake River, fewer than 20 nesting pairs of Caspian terns have been counted this year.
"Last year, before the dissuasion program, there were about 400 nesting pairs," said Michael Lesky, natural resource specialist for the U.S. Bureau of Reclamation's Ephrata Field Office.
Tern populations have been big consumers of juvenile salmonids. Studies conducted during 2008-2013 estimated terns were annually taking 16 percent of upper Columbia River steelhead smolts and 2.5 percent of spring Chinook. BuRec and the Corps will release estimates next month of the number of juvenile salmon and steelhead taken by Caspian terns in 2015.
As part of the dissuasion plan, federal agencies have created alternative Caspian tern nesting habitat at Don Edwards National Wildlife Refuge in San Francisco Bay. The alternative habitat was available for the 2015 spring nesting season.
Lesky, who visited the refuge in May, said he saw the birds nesting, rearing their young and using the habitat there.
The purpose of the new California habitat is to attract Caspian terns away from the Columbia River to a location where there are fewer or no ESA-listed species for prey. The San Francisco Bay refuge is on the bird's annual flyway.
It won't be known if Caspian terns at the Don Edwards refuge are terns from Goose Island until agency personnel have information from satellite tags on the terns, which will come later this year, Lesky said. The terns nesting there could also be from East Sand Island on the lower Columbia, where efforts to reduce their numbers have met with limited success.
To redistribute Caspian terns, a method called social attraction is used to entice them away. This involves the Corps of Engineers building up islands at appropriate locations, and biologists then holding a big, loud party there. Instead of setting out chairs and tables and turning on music, they plant the new terrain with Caspian tern decoys and blast audio recordings of screeching terns.
Social attraction seems to work to lure a limited number of the terns to new areas, but it's hard to predict whether this widely dispersed and migratory species will continue to return to a new island or breed there, and whether relocation helps reduce Caspian tern consumption of juvenile salmon and steelhead on the Columbia.
---
Laura Berg
Cormorant Killing Comes to Seasonal End, Litigation Set for March
Northwest Fishletter, November 2, 2015
---
See what you can learn
learn more on topics covered in the film
see the video
read the script
learn the songs
discussion forum