the film
forum
library
tutorial
contact

As Ongoing Project, Columbia Riverkeeper Collects
Toxin Data in Sample Fish Caught by Anglers

by Staff
Columbia Basin Bulletin, October 26, 2012
---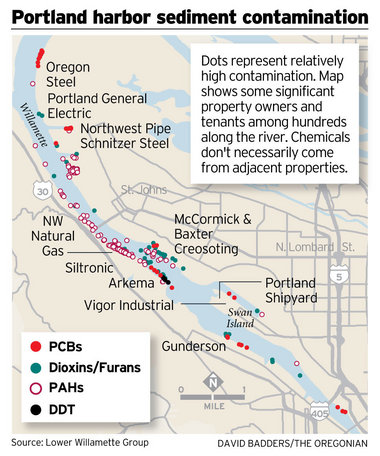 New data collected by Columbia Riverkeeper reveal high levels of toxic pollution in fish caught by an angler in the Portland area's Columbia Slough as well in resident fish caught upstream and downstream.
The sucker contained PCBs (polychlorinated biphenyl) at levels 27,000 percent above what the U.S. Environmental Protection Agency considers safe for unrestricted consumption, according to the conservation group.
Riverkeeper detected the high toxics levels in the fish caught by angler Daniel Pop. He had planned to take the fish home for dinner, but agreed to let Columbia Riverkeeper send it to a lab to test for toxic contaminants.
Riverkeeper says that a sturgeon caught near Astoria, Ore., near the mouth of the Columbia was also tested, and showed PCB levels that exceeded EPA standards by more than 7,000 percent. PCBs have been shown to increase cancer risks and harm immune, reproductive, and development systems in humans and aquatic life, the environmental group says in a press release issued last week.
Likewise a bass caught in the Columbia River upstream of Bonneville Dam near Hood River, Ore., showed mercury 300 times higher than levels established by EPA as safe for consumption. Lab analysis also showed high arsenic levels in the bass.
The tests are not intended to paint a broad picture of pollution in the Columbia River basin. Rather they are aimed at resident fish (not salmon, which spend parts of their lives in freshwater and other parts in the Pacific Ocean), and fish likely to be caught and consumed by locals.
"It's an ongoing project," said Lorri Epstein, Riverkeep's Water Quality director. The organization continues to be proactive, talking to anglers at popular streambank fishing sites and collecting samples, and is also fielding calls from anglers who are concerned about toxic levels in the fish they catch.
Columbia Riverkeeper is a public-interest group working to protect the Columbia. It represents a 2000 merger of two other groups, Columbia River United and Clean Water Columbia. River United formed in 1989 in the Columbia River Gorge to advocate for cleanup of the Hanford Nuclear Site, protest the shipment of nuclear waste up the river, and reduce toxic pollution. Portland-based Clean Water Columbia was founded in 1997 to concentrate on urban pollution problems. The merged organization was approved by the Waterkeeper Alliance, led by Robert F. Kennedy Jr., to gain status as a Riverkeeper organization. Waterkeeper has goals of citizen action, enforcement of environmental laws, and the public right to clean water.
The Riverkeeper analysis also detected heavy metals, such as chromium, and toxic flame retardants known as polybrominated diphenyl ethers, or PBDEs, which are known endocrine disruptors that can increase the risk of cancer and disrupt hormone function.
Fishing guide Bob Rees asked Riverkeeper to accompany him and sample a sturgeon he caught in the Columbia River estuary near Astoria. He told Riverkeeper he consumes Columbia River sturgeon a few times a month.
"We want the fish to be consumptive," he said. "It seems like at these levels, the fish shouldn't be consumed, ever."
"The sport fishing industry in the Northwest is a $3.5 billion a year industry, and if we are unable to continue to have safe consumption of the food resources that we extract from the Columbia, whether its recreationally caught crab or salmon or sturgeon, it can have an impact on the businesses that rely on this important resource," Rees said. "Industries along the Columbia River should be held accountable for the detriments that they place on others."
Riverkeeper says the Columbia River contains too much toxic pollution, including:
heavy metals, such as mercury, from factories and coal burning;

PCBs that reach the Columbia through stormwater runoff, municipal discharge, and dirty industrial sites;

so-called "legacy pollutants," such as DDT, and TCE that are leaching from industrial sites,

emerging pollutants, such as flame retardants, pharmaceuticals and endocrine disrupting chemicals, which reach the river via city wastewater plants.
The EPA released a report in January 2009 which concluded that the Columbia River exceeds the safe level for PCBs, DDT, mercury, and flame retardants.
This is a major problem for people who rely on local fish as a healthy food source, Riverkeeper says.
"We need to reduce the toxic chemicals dumped into our river every day," said Brett VandenHeuvel, executive director of Columbia Riverkeeper. "It's a matter of public health."
"Fish advisories" and signs are not the answer, he said. Many rivers in the Columbia River basin, including sections of the mainstem Columbia River, have fish advisories that warn people not to consume certain types of fish. Pop said that fish advisories are sometimes posted in the Columbia Slough, but people do not heed the signs.
Pop grew up in Romania fishing for carp, catfish, and perch.
"That's our fish tradition," he says. "We like the fish that like the stinky water." Pop says he is one of many people who eat fish from the Columbia Slough and other polluted waters. He would like to see something done about the pollution.
Riverkeeper believes the amount of pollution in rivers must be reduced.
"Instead of issuing warnings telling pregnant mothers and children to avoid eating fish, our states must actually reduce the amount of toxic pollution in our rivers," VandenHeuvel said. "Many people rely on fish or don't see the warnings. It's unjust to sacrifice their health."
"Catching and eating fish is a birthright in the Pacific Northwest," VandenHeuvel said. "It's time to clean up our rivers for the health of our children."
---
Staff
As Ongoing Project, Columbia Riverkeeper Collects Toxin Data in Sample Fish Caught by Anglers
Columbia Basin Bulletin, October 26, 2012
---
See what you can learn
learn more on topics covered in the film
see the video
read the script
learn the songs
discussion forum