---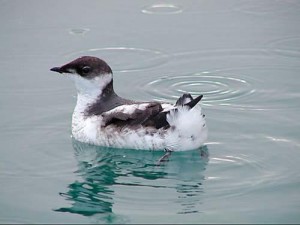 PORT ANGELES -- Clallam County Public Utility District will spend an additional $38,000 on environmental studies for the proposed Radar Ridge wind farm project in Pacific County.
Energy Northwest will use the money to study the wind farms' impact on two bird species, the northern goshawk and the threatened marbled murrelet, through July.
It is still unknown whether the PUD will remain a 15 percent partner in the $100 million project or try to sell its share.
"In the August time frame, we'll bring back the results of what we found and evaluate at that time if we want to go forward with it," PUD General Manager Doug Nass said.
Clallam County PUD is one of four stakeholders in the proposal to build up to 32 wind turbines on a logged-off ridge on state Department of Natural Resources land near Naselle.
Other partners
Grays Harbor PUD has agreed to spend $125,000 on the additional studies. Pacific County PUD will spend $54,000 and Mason County will chip in $38,000.
Clallam County PUD has invested $250,000 for the proposed wind farm to date.
The project would provide renewable energy and help satisfy requirements in Initiative 937 that state voters approved in 2006.
But the ballooning costs have put the project in limbo. All four partners are hesitant to spend more money amid the looming uncertainty about permits.
Grays Harbor PUD commissioners voted last week to direct Energy Northwest to market its 45 percent share to other public power districts.
Costs soar
Environmental concerns over the bird species as well as DNR lease deadlines have driven the pre-construction costs from an estimated $3.2 million to $5 million.
On one hand, the four PUDs are trying to comply with the voter-approved renewable energy requirements that will staircase up to 15 percent by 2020.
Meanwhile, environmental groups said the 262-foot-tall wind turbines would harm threatened bird species.
Alliance lawyer
Speaking on behalf of Columbia River Alliance for Nurturing the Environment, or CRANE, Kate Gehret of the Seattle law firm Perkins Coie said the nonprofit group submitted letters Monday opposing the budget amendments for further studies.
"CRANE is also asking the board and the other PUD participants to terminate the project at this time," Gehret told the three-member PUD commission.
"CRANE is opposed to the development of the Radar Ridge wind facility at its proposed location because of the likelihood that the project will negatively impact marbled murrelets and their habitat.
"Because of these impacts, it is uncertain whether the project will receive necessary permits."
Gehret said CRANE will continue to monitor and challenge the project "to ensure that all environmental impacts are adequately identified and assessed, and we expect that other concerned groups may do the same.
"Considering the level of uncertainty and public controversy, the board should not commit any additional public funds to the proposed Radar Ridge wind project," Gehret said
Commissioner Ted Simpson asked Gehret if CRANE had a recommendation for the PUDs about where should get their renewable energy.
"At this time, the organization can't recommend how to allocate your resources and determine how best to meet the renewable energy requirements, but there has to be better a way to invest the ratepayers' money in a project is more suitable and less controversial," Gehret said.
Simpson countered by saying: "I think you're making it more difficult for us to comply with the wishes of the people of the state of Washington who passed I-937 and those requirements," he said.
"I just was hoping that maybe you'd have some ideas you could to pass on to us that might help us."
---
Rob Ollikainen
Clallam County PUD OKs $38,000 More for Wind Project
Peninsula Daily News, June 6, 2010
---
See what you can learn
learn more on topics covered in the film
see the video
read the script
learn the songs
discussion forum