---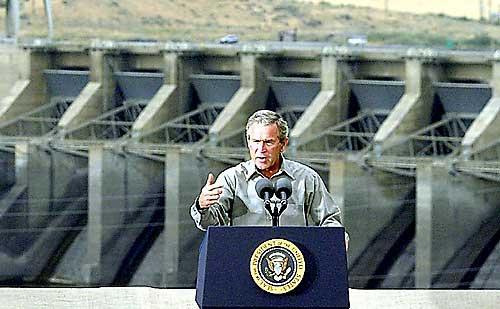 Fish vs. electric power. It's an immensely intricate debate. Few people know more about that debate than Larry Cassidy of Vancouver. In three-plus decades he has served admirably on numerous boards and commissions involved in the debate.
As Erik Robinson reported in Monday's Columbian, Cassidy, 68, has announced he will step down as one of two Washington state representatives to the four-state Northwest Power and Conservation Council. Cassidy's decision will leave a tremendous void in the intricate debate. But he leaves a solid track record - built on a balanced approach to settling fish vs. electric power issues - that others should follow.
Take dam breaching, for example. "I don't think removing the Snake River dams is something that should be addressed right now because I think we can get (salmon) recovery without it, but I may be wrong," Cassidy was quoted in Robinson's story. "Removing the Snake dams would have some benefit for fish, but it also would be a huge social step backward with respect to any support we have in Southeast Washington for fish recovery." Well said.
Cassidy understands the vast untapped potential in fish recovery efforts: "We have men that walked on the moon; we put pumps in people's chests and keep them alive. Don't tell me we can't raise salmon and steelhead to the equivalency of a wild fish. I know we can do it, but it's going to take some changes."
Cassidy also sees mankind as a relative newcomer to this issue, and our role has evolved in a relative blink of time: "If you look at the comparable time that salmon and steelhead have been around, which are hundreds of thousands of years, and the fact that in the last 120 years we have literally goofed this resource up significantly, that ought to bother people." We couldn't agree more.
And he knows that answers can be found far away: "If the salmon spends 75 percent of its lifetime in the ocean, and we don't look at what's going on out there, we're just not being responsible."
Cassidy knows that the debate really is not a debate at all, but an increasingly frantic search for a win-win compromise. His successors would be wise to follow the path that Cassidy has illuminated.
Related Pages:
Cassidy Shows the Proper Path by Erik Robinson, The Columbian, 3/24/8
---
Editorial Board
Cassidy Shows the Proper Path
The Columbian, March 25, 2008
---
See what you can learn
learn more on topics covered in the film
see the video
read the script
learn the songs
discussion forum