---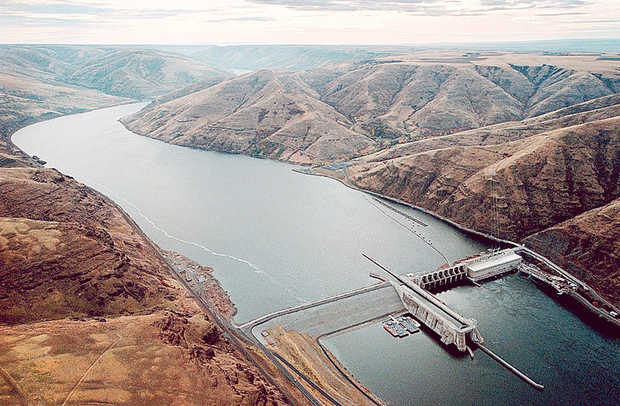 The Bonneville Power Administration this past spring saw limited success in looking for capacity from third parties to help address curtailment of the Pacific Northwest's wind energy supplies, but the federal power marketing administration plans to fine-tune the product for another go-round of requests next year.
As detailed in a July 15 news post, the BPA's preschedule imbalance capacity acquisitions initiative seeks to address an ongoing situation with hydropower oversupply and management of environmental impacts from excessive spill over its dams. As flows pick up in the spring during periods of typically low demand for power, the agency has found itself curtailing its incremental reserves by as much as 500 MW during certain periods of time. The BPA holds 900 MW of incremental balancing reserve capacity supplied by its Federal Columbia River Power System, or FCRPS, with 400 MW set as the minimum holding to maintain grid reliability and meet North American Electric Reliability Corp. compliance metrics.
Reliability is important for the BPA since it supplies about one-third of the region's power, marketing wholesale production from 31 federal hydropower projects, among other assets. It also operates and maintains about three-fourths of the transmission in its service territory, which includes Idaho, Oregon, Washington, California, Nevada, Utah and Wyoming, as well as western Montana and small parts of eastern Montana.
"During high flow conditions, we may need to reduce the amount of balancing reserves supplied by the FCRPS in order to keep total dissolved gas within established water quality standards," Steve Kerns, manager of the BPA's short-term planning in power services, said in the post. "In fact," he added, "we have had periods of time every year since 2011 where we have needed to reduce balancing reserves."
These reserve reductions consequently leave wind generators with less protection against curtailments if they overschedule their intermittent resource's expected production. "When a wind project doesn't generate as much energy as it has scheduled across the transmission system, and when BPA doesn't have enough balancing capacity to make up for the unexpected difference, BPA may have to cut back the wind generator's transmission schedule," the news post explained.
As part of its 2014-2015 rate case approved by FERC in 2013, the BPA decided to work on this issue by budgeting $2 million for third-party capacity purchases. The process involves issuing a capacity request for offer by 5 p.m. PT the day before the BPA expects it would need the reserves. Bids from suppliers are due by 9 a.m. PT the following morning, and the supplier or suppliers are selected by 10 a.m. PT. The program aimed to determine if excess day-ahead capacity exists in the region, what price the supply would be, and whether this supply can be a reliable resource for supporting wind production.
The BPA has so far this year issued a total of 20 prescheduled capacity RFOs, four of which were for multiple-day offers. All were issued in the months of April and May, with capacity targets ranging from 50 MW to 500 MW.
While all RFOs received bids, the BPA said it could not acquire all the supply it needed to mitigate reducing its incremental reserve levels. A total of four different counterparties submitted offers, it said, with little interest from thermal generators due to the RFO's short terms. "Fewer counterparties participated than anticipated, despite significant outreach efforts," according to a presentation about the effort given during a June 10 BPA generation inputs workshop.
"Many suppliers appear to have already made longer-term capacity sales, which effectively takes them out of the market for shorter-term offers on most days," the BPA said in the presentation, noting also that the severe drought in California causing lower hydropower output there had meant a number of counterparties did not participate in the RFO process.
John Wellschlager, a BPA power account executive, in a July 17 interview elaborated on the reasons for lackluster participation by saying that four things likely contributed, including the drought and the unexpected drawdown at Grant County Public Utility District's Wanapum Dam due to a crack near the base of one of the spillways. And in general, the program is new to the region and generation units use spring to go offline for maintenance, he said.
Declining to get specific on names of those that did bid, Wellschlager said several large suppliers that the BPA dealt with in the past declined to participate. "No thermals participated," he said, adding that "a large demand response entity" did participate as did "a couple of different regional hydro-based systems" and "nonregional entities" in Northern California but not in the California ISO footprint. These California entities had assets consisting of coal, hydropower, natural gas and wind energy, he said.
As to the prescheduled capacity RFOs' impact on wind generators, the curtailment event results have not been particularly impressive. "Because BPA was able to purchase some third-party supply in pre-schedule, the number of the events was less than had BPA not been able to do so. Every year presents a different wind power profile and volatility, making it difficult to compare performance from one year to the next. On average, I would say that we experienced similar curtailments to prior years," said Frank Puyleart, the BPA's balancing reserves manager for the initiative, adding caveats that the BPA has been holding more reserves than in prior years and wind forecasting data and accuracy have improved.
As for prices paid by the BPA, the average for the capacity across the entire purchase period was 55 cents/kW-day, with prices higher than expected, resulting in the $2 million budget spent in a matter of weeks. "This price was significantly higher than BPA paid for its quarterly acquisitions of imbalance capacity, reflecting the fact that in the Northwest, capacity supplies are tighter in the spring. That said, we do expect there to be more robust competition next year," Wellschlager said.
Further considering capacity
The results of the capacity RFOs this year are being considered as a learning experience for the BPA, which plans to issue more RFOs as necessary for the spring of 2015 once it adjusts its strategy for acquiring this balancing service. Wellschlager said changes may include giving suppliers more notice, decreasing the minimum bid amounts from 50 MW to 25 MW, and breaking the bids into heavy load hour and light load hour blocks. It also will be considering the program for 2016 and 2017 as part of its next rate case, he said.
"Establishing the ability to acquire nonfederal balancing reserves is an important strategic objective for BPA," BPA Administrator Elliot Mainzer said in the post. "This has been a very successful initiative built on effective teamwork and collaboration with external partners. I applaud the work that's been done and look forward to seeing where we can take it from here."
Meanwhile, CAISO and Portland, Ore.-based PacifiCorp are similarly focused on better dispatch of energy resources to balance the intermittency of renewable supply. The two entities are set in October to open an energy imbalance market spanning grid systems in six states. Focused around an automated five-minute dispatch system, the EIM will likely expand to NV Energy Inc.'s balancing authorities in Nevada in October 2015, with the grid operator and PacifiCorp open to further expansion. PacifiCorp and NV Energy are both subsidiaries of Berkshire Hathaway Energy.
Northwest entities, however, have to be yet sold on joining the EIM, including the BPA, which expressed some transmission access concerns as part of FERC's review and subsequent approval of the CAISO and PacifiCorp EIM tariff changes. Portland, Ore.-based BPA has not outright rejected joining the EIM, deciding, like utilities around the West, to watch how the market forms once opened. Stakeholders have also said that the BPA, which is under the U.S. Department of Energy, wants to maintain its independence rather than join a market under FERC oversight.
In the meantime, given that the EIM affects its operations because of the need to use its transmission system to access the regional power market, the BPA has been focused the past year on preparing for the EIM's opening, holding operating procedures and business practices meetings almost monthly. It plans to issue draft business protocols for customer consideration in August.
When asked if the initiative was a way to create a BPA-centric EIM, thereby absolving the need to consider the neighboring EIM, Wellschlager responded that it is "just addressing a rate effort by buying additional capacity to meet the needs of the federal system" and is a "new method" for the BPA to meet its responsibilities. "It's not connected to any EIM," he said.
---
Christine Cordner
BPA Sees Limited Success in Preschedule Capacity RFOs to Manage Wind, Hydro Supplies
SNL, Jul;y 18, 2014
---
See what you can learn
learn more on topics covered in the film
see the video
read the script
learn the songs
discussion forum