---
Maria Cantwell also discusses trade, tariffs in roundtable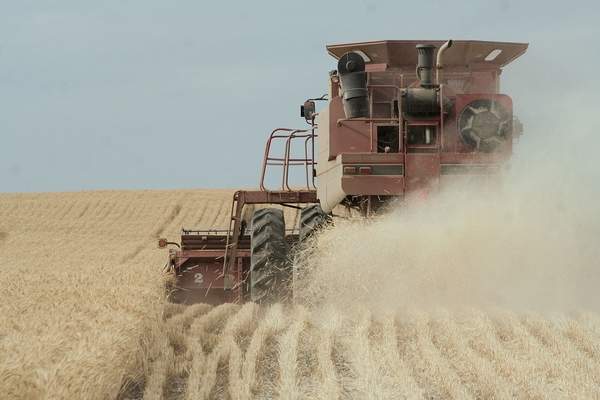 A roundtable discussion focused on trade and tariffs turned to transportation Tuesday when U.S. Sen. Maria Cantwell asked what's happening at the Lewiston-Nez Perce County Regional Airport.
The Washington state Democrat, who made stops at Asotin and the Port of Clarkston, wanted to know what's going on with flights to and from the Lewiston-Clarkston Valley.
After the group of business and community leaders, including past and present airport board members, gave her a rundown, the senator said a grant from the U.S. Department of Transportation's Small Community Air Service Development is worth exploring.
Last month, she and U.S. Sen. Patty Murray announced a $750,000 federal grant had been secured at Pangborn Memorial Airport in Wenatchee to help establish nonstop air service to the San Francisco Bay area.
Cantwell, who serves on the Senate Aviation Subcommittee, said her office assisted with a similar grant in Spokane that led to a nonstop flight to Los Angeles.
"Where do you want to go?" Cantwell asked the boat manufacturers, wheat growers and economic developers gathered in the room.
Kristin Kemak, president of the Lewis Clark Valley Chamber of Commerce, said direct flights to Boise and Seattle are imperative for the community to thrive. Alaska Airlines, parent company of Horizon Air, is discontinuing those connections from Lewiston starting next week.
Former Airport Board Chairman Tony Maiorana, owner of JetCo Machine and Fabrication, said Horizon based its decision on a new business model and chose Pullman over Lewiston as the airline's regional hub. The process began about three years ago, and Lewiston wasn't given an opportunity to address the issue, said Maiorana, who resigned as chairman Tuesday (see related article).
"So it was a self-fulfilling prophecy," Cantwell said. "Access is a really big issue, and what I'm hearing is you need to get another carrier in here."
Airport board member Chris Clemens, chief operating officer of Green Water Energy, said one problem Lewiston hasn't cracked is how to get Asotin County and city of Clarkston taxpayers to offer financial support to the valley's airport.
"There is a huge funding gap," Clemens said, "and a greater source of funding would be helpful."
Mark Heuett, a general contractor and owner of Hells Canyon Marine, said Lewiston offers better weather, safety and convenience and should not have been overlooked in favor of Pullman.
Regarding tariffs, Heuett spoke in support of President Donald Trump's policies, saying the White House is trying to correct unfair practices from the past.
"This tariff deal wasn't brought about just for the fun of it," Heuett said. "I don't think it's affecting us that much."
Several boat builders said they're worried about finding marine-grade aluminum, the increasing price of imported parts and retaliatory tariffs on exported goods.
Because of the tariffs, many suppliers are unwilling to lock in prices and manufacturers are having a difficult time coming up with price tags on next year's models, said Bruce Larson, owner of Renaissance Marine Group.
Jerry Wooley, president of Renaissance Marine Group, said scarcity of materials and uncertainty in the marketplace are two of the top concerns among jet boat builders.
"The tariffs could be removed by a stroke of a pen, theoretically," Wooley said.
"Or a tweet," quipped another member of the panel.
When it comes to wheat, the current trade situation is packing a huge punch in the Pacific Northwest, said Glenn Squires of the Washington Grain Commission.
U.S. exports are down significantly and millions of dollars have been lost, Squires said. Soft white wheat shipments to Asian markets have stopped and growers are worried about losing their competitive edge to Australia and Canada.
Many farmers are saying they don't need aid, they need trade, Squires told the senator.
Cantwell said she understands their concerns because it's challenging to rebound when other countries get a foothold in the marketplace.
"The wheat market is like aerospace," Cantwell said. "A whole lot of people like that market and they're going to try to make a play."
Washington relies on the export market for a variety of goods, and trade issues must be resolved, Cantwell said. The state can't afford to lose market share at a such a critical time for wheat.
"Well, we are," Squires said. "They will line up at a more secure source."
Cantwell said she would like to see tariffs lowered and the state's vibrant trade economy allowed to flourish.
"The question is how do we get there and what are the unintended consequences," Cantwell said. "We're an export state, so we've got to pay attention to this."

---
Kerri Sandaine
Senator Cantwell, Locals Talk Transportation
Capital Press, August 15, 2018
---
See what you can learn
learn more on topics covered in the film
see the video
read the script
learn the songs
discussion forum