the film
forum
library
tutorial
contact

Why Salmon Recovery Cannot Happen
Due to Politics, Tribes and Conservation Groups

by Ronald M. Harriman
Twin Falls Times-News, December 14, 2019
---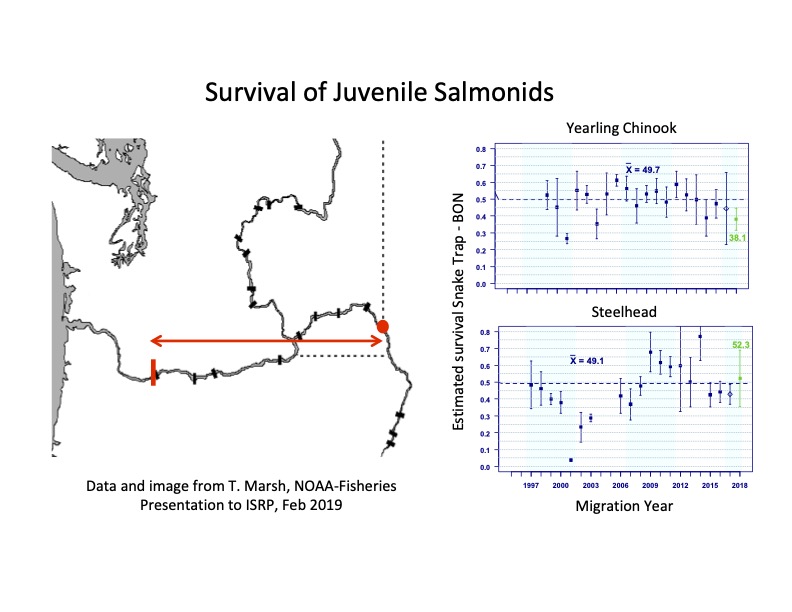 The salmon problem is not only in Idaho, but throughout the entire west coast of North America. The main complaint you read and hear about through the media is the dams. The conservation groups and tribes contend dams have killed the runs of salmon by blocking the rivers. That certainly is a large part of the problem, but not the only problem.
The ocean biome is being affected by heat and CO2 acidification, but politics is the major problem. If there were no dams today, we would still have the problem. Supporting this statement is reporting from British Columbia. There are two major free flowing rivers on the west coast of North America, and they are experiencing the same fish problems as the Columbia Basin. They are both in British Columbia, the Skeena and the Fraser rivers. In 2016 and this year 2019 both rivers were closed to salmon and steelhead fishing due to the low returning runs. This is the site: You did not hear of this from the conservation groups did you, nor the Indian Tribes nor the media. Mainly because the public pretense is removing the dams on both the Snake and Columbia. They know this will not happen, but they are making a lot of money stirring up the people who are being poorly informed on this issue.
The cost of Salmon remediation today is a little less than a billion a year and the tribes get a big share of this while the conservation groups working on salmon recovery collect from this fund and the people who donate to them. Idaho's Governor Little has formed a salmon recovery Group, the Governors Salmon Workgroup at this site that can and will not solve the problem in our lifetimes. The Federal Government under NOAA has a fund these people feed from for salmon recovery at this site.
The problem here is the Politics not science. The politicians respond to these groups, keep the money coming to them and they purposely snow the media. Every time the science gets in the way they stop the science from being applied.
The solution that would allow salmon to reach all of their historical spawning grounds is a free-flowing river and this can be accomplished by rebuilding a river channel through and around the dams. The science and engineering are here. This would have the same effect as removing the dams but would leave them in place providing the present flood protection, allow the irrigation water to the millions of acres of agriculture to continue and keep cheap clean electrical production in place. It would also stop wasting the 487,000-acre feet of water they require yearly from Idaho which they are now spilling over the dams for salmon recovery.
This will not change unless you contact your legislators and politicians.
I am open to any communication and will answer any questions you have on this issue or meet with your groups.

---
Ronald M. Harriman, Nampa, Idaho
Why Salmon Recovery Cannot Happen Due to Politics, Tribes and Conservation Groups
Twin Falls Times-News, December 14, 2019
---
See what you can learn
learn more on topics covered in the film
see the video
read the script
learn the songs
discussion forum