---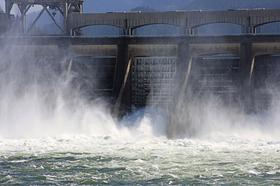 Bonneville Power Administration ordered the temporary shutdown of wind farms in its service area for a few hours early Sunday morning and again early Monday morning, marking the first time this year that the controversial practice has been tapped.
Bonneville calls for wind "curtailment" when periods of low electricity demand coincides with periods of strong wind and high water, which put more power on the grid than the system needs.
In all 10,100 megawatt hours of wind energy was curtailed over the two-day. Under new protocol filed by BPA to the Federal Energy Regulatory Commission this year, the wind energy operators will receive some compensation for the lost generation revenue.
Wind energy operators were forced to curtail 97,557 megawatt hours of wind power last year in a season of high water that started with the first curtailment order last May 18th.
"While it was unfortunate we had to do it at all, we have some consolation that we've been able to delay it as long as we have," said Michael Milstein, a spokesman for BPA.
Current predictions show a spring runoff that is 118 percent higher than normal, he said. But he added that the administration's marketing department has been working to find new markets for excess power.
Wind energy advocates however remain unhappy with the current policy that allows for curtailment orders
"Given a full year to plan ahead, we are disappointed that BPA is choosing to curtail wind energy despite more equitable solutions within reach. This practice wastes clean and affordable energy while power plants continue to burn coal around the region," said Rachel Shimshak, executive director of Renewable Northwest Project, in a statement.
Shimshak went on to suggest that the powering down the nuclear energy plant in its system was one option that BPA should pursue, along with working with fish advocates to spill more water over dams rather than generating hydropower.
BPA officials say they are restricted by law from spilling water rather than using it to generate power by running it through the turbines, but some fish groups point to new research that shows spilling water over the dams may actual benefit fish populations in the Columbia River.
Milstein said BPA has coordinated with the nuclear plant to start operating at 85 percent capacity as of Monday afternoon. That would take an additional 3,600 megawatt hours off the system over the course of a day, reducing the need for a possible curtailment order.
Throughout the legal wrangling over the issue, wind farm operators and renewable energy advocates have said that BPA is not doing enough to find a solution that doesn't penalize the wind energy industry.
"It's disappointing that we're heading into another spring season with no way to ensure that Bonneville will honor contracts and manage the Northwest's transmission grid in a non-discriminatory manner as directed by federal regulators," said Bob Gravely, a spokesman for PacifiCorp, in a statement.
PacifiCorp had two wind farms in the BPA system affected by the curtailment order.
---
Christina Williams
Bonneville Power Calls for First Wind Shutdown of the Season
Sustainable Business Oregon, April 30, 2012
---
See what you can learn
learn more on topics covered in the film
see the video
read the script
learn the songs
discussion forum