---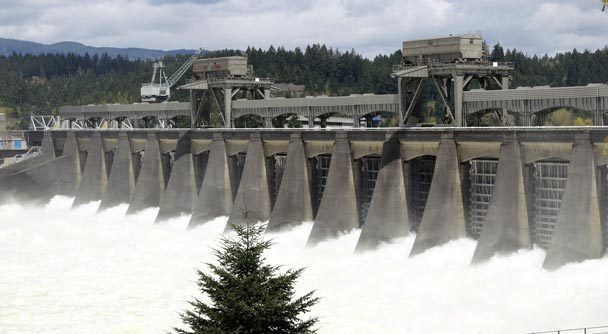 This spring, for the seventh straight year, salmon and steelhead migrating from Idaho to the Pacific Ocean are reaping the benefits of court-ordered spill, which pushes more water through reservoirs and flushes fish away from salmon-killing turbines on eight dams in the lower Snake and Columbia rivers.
It's a simple premise that has proved astonishingly effective: More Idaho salmon survive and return to Idaho as adults when their rivers work more like rivers.
A team of regional biologists released a report on April 12 acknowledging the huge benefits spill has had for salmon since it was implemented in 2006 and proposing that, if implemented more fully, spill could benefit salmon to greater lengths than previously imagined.
The Comparative Survival Study presented in part by Charlie Petrosky, an Idaho Department of Fish and Game biologist, indicates that spilled fish do better, not only during their outgoing migration, but also during their years in the ocean. In other words, for fish that are not spilled -- those barged around dams or passed through them --there is evidence of "substantial delayed mortality" when they reach the ocean.
Still, spill isn't secure even now. The Obama administration and Northwest agencies like Boneville Power Administration and Army Corps of Engineers continue to oppose spill, and the current federal salmon recovery plan -- remanded for a rewrite by a federal judge last August -- does not include the levels of spill that IRU and other salmon advocates won in court. This means the federal government, unless ordered to continue spill, intends to go backward -- reversing the modest progress made for salmon in the past several years. Spill will be secure only when it's guaranteed by a lawful federal salmon plan.
Initiated by court injunction, spill was a victory for salmon advocates like IRU, fishermen, and the jobs, families, and communities that depend on healthy salmon runs. Idaho fishermen and riverside towns have benefited from improved salmon returns. Data analyzing 2005 to 2007 salmon returns, years before spill and after spill with similar water levels, show that spill improves survival for baby salmon from 17 percent to 38 percent, depending on the species. But even with spill in place, if ocean conditions deteriorate or we get into an extended drought, Idaho salmon will be in trouble again. Even spill at current levels might not prevent extinction.
This is why it is critical that regionwide collaborative talks are initiated immediately to bring tribes, states, power producers, farmers, shippers and salmon advocates together. Four times a federal court has said federal recovery planning efforts were insufficient. Following the most recent court verdict last August, it is time for stakeholders to chart a new, consensus-oriented course that puts Idaho's wild salmon and steelhead on the course to self-sustaining, fishable levels.
In 2012, spill is proving once again that common-sense actions can and will benefit Idaho's endangered salmon and steelhead. And while stakeholders continue to seek legal long-term plans that fully restore wild salmon runs, the bottom line is that spill is an effective and rational stopgap measure. While dams are in place on the lower Snake River, spill buys Idaho salmon a little more time.
---
Greg Stahl is assistant policy director at Idaho Rivers United.
Spill Buys Idaho Fish a Little More Time
Idaho Statesman, May 22, 2012
---
See what you can learn
learn more on topics covered in the film
see the video
read the script
learn the songs
discussion forum