---
President claims credit for salmon boon
BURBANK, Washington (AP) -- President Bush said Friday his administration has helped bring about an increase in salmon populations in the Pacific Northwest while keeping a campaign commitment to affordable hydroelectric power for the region's citizens.
"We can have good clean hydroelectric power and salmon restoration going on at the same time," he said to whoops of approval from a crowd assembled on a spot overlooking a Snake River dam.
Democrats, noting that experts believe the increased salmon runs throughout the region are mostly due to weather and tidal patterns in the Pacific Ocean, said it was ludicrous for the president to claim even partial credit.
"George Bush taking credit for increased salmon populations is like a sailor taking credit for the tides," said Sen. Joe Lieberman, D-Connecticut, who is running for president.
It was Bush's first trip as president to Washington, a state he lost to Al Gore in the 2000 election.
After his stop here at the huge Ice Harbor Lock and Dam, he was headed to Seattle, for a 25-minute meeting with local economic leaders at the airport and a $1.4 million campaign fund-raiser for 800 people at the home of Craig McCaw, a wealthy telecommunications executive, outside the heavily Democratic city.
The salmon issue has pitted farmers who rely on irrigation water, along with barge companies, utilities and other businesses that depend on high river flows, against environmentalists, fishing interests and Indians. Some environmentalists argue the dams should be breached to improve passage for endangered salmon.
Bush used both salmon restoration and opposition to breaching Snake River dams as campaign themes here in 2000. He promised he would never allow any of the hydroelectric dams on the Snake to be knocked down, saying salmon could recover with the dams in place.
On Friday, he argued that the dramatic increase in wild salmon runs proves his administration has skillfully protected both the fish and the dams.
And he repeated his pledge to see the dams stay.
"We got an energy problem in America," he said. "We don't need to be breaching any dams that are producing electricity -- and we won't."
Republican analysts believe that showing more concern for the environment will help Bush win suburban voters in next year's election. Burbank is in the eastern part of the state, where the economy is in better shape than the rest of Washington, partly because of federal spending at the Hanford nuclear reservation.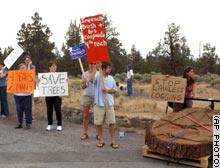 Protesters upset about the Bush administration's economic and environmental policies and the military action in Iraq have organized demonstrations in several areas of Seattle, Bellevue and Tacoma.
"It's touted as an environmental visit," said Joshua Russert, a community activist who helped organize the protests. "We want to make sure we refute the impression that Bush is welcome in the Northwest."
Paul Berendt, chairman of the state Democratic Party, said Bush was trying to change the subject from the economy to the environment.
He lamented Washington's 7.5 percent jobless rate in July, which was higher than the national rate of 6.2 percent. In recent months, Washington, Oregon and Alaska have shared having the worst unemployment rate in the nation.
"We're focusing on the economy," Berendt said, rattling off job losses in the aircraft, aluminum and high-technology industries. "People are being displaced into lower-paying jobs. ... Bush is not doing anything to stop this hemorrhaging of jobs."
On Thursday, Bush visited Oregon to attend a fund-raiser and push his policies for speeding up the thinning of forests to reduce damage done by wildfires. He was greeted by a couple thousand protesters in Portland, where he raised $1 million for his re-election campaign.
---
Associated Press
Bush out West for Fund Raising, Environmental Speeches
CNN.com, August 22, 2003
---
See what you can learn
learn more on topics covered in the film
see the video
read the script
learn the songs
discussion forum