---
Bush's supporters are reassured by his remarks,
while critics complain he isn't doing enough.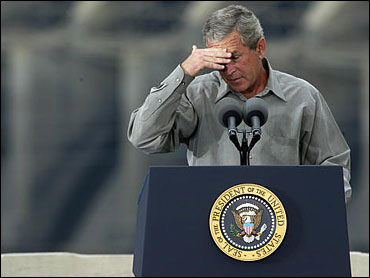 As he spoke at Ice Harbor Dam on Friday, President George Bush heard nothing but cheers from supporters and well-wishers. But criticisms and catcalls weren't long in following the president's remarks on salmon recovery.
While supporters said the administration is doing the right thing to restore endangered fish, critics lambasted the president for trying to take undeserved credit for record salmon runs and glossing over shortcomings in his policies with empty rhetoric.
"George Bush taking credit for increased salmon populations is like a sailor taking credit for the tides. No amount of photo ops can let George Bush off the hook for the destructive environmental record he's spawned,' Sen. Joseph Lieberman, D-Conn., said in an e-mail shortly after Bush had finished speaking at the dam.
Bush's remarks also didn't impress Whitman College senior Chris Grantham, who is coordinating local support for Democratic presidential candidate Howard Dean.
Grantham said people watching the president's address should wonder if Bush "is really serious' about addressing the country's problems "or if he is just here to reward affluent donors and show off his make-believe environmental credentials.
"Mr. Bush's tour of Ice Harbor Dam could be measured with a stopwatch. His visit was a well-designed reward for local donors and Republican insiders, not a serious attempt at dialogue and solutions,' Grantham said in an e-mail Friday.
But Rep. George Nethercutt, R-Wash., said he thought Bush's speech at Ice Harbor was "right on target.'
"He reiterated his support for salmon restoration, and he was equally firm in his support for maintaining the existence of the dams,' Nethercutt said in a phone interview Friday as he traveled with Bush to Seattle for a fund-raising event.
Nethercutt said Bush's remarks simply called for "common sense in the way we manage our public lands.'
Michael Garrity, spokesman for the conservation group American Rivers, said he was happy to hear the president say "that salmon are an essential part of the Northwest and that he didn't want to see them decline, (but) I think he was misguided on a couple of things.'
The first was the success of the administration's current salmon recovery plan. That plan "has been invalidated by a federal court,' Garrity said.
The second was the president taking "a lot of credit for funding salmon recovery.
"In fact, while salmon funding has increased a little bit, it should have increased a lot more,' he said. At present, the Columbia salmon recovery plan has been funded at only about 50 percent of what it should be, Garrity said.
Garrity also said he didn't think it was appropriate for Bush "to make the final decision on the Snake River dams. They've been ordered to take a look at a whole range of options, including dam removal,' he said.
However, William "Willy' O'Neil, a member of the Tri-State Steelheaders conservation group who attended the president's speech, said he felt the president is on the right track to aid salmon recovery.
"I've worked as a volunteer for the Tri-State Steelheaders for quite a while (and) I think he has taken the common sense approach. We can have salmon and a good farm economy,' O'Neil said.
Previous recovery efforts had been focused "totally on just going out and buying land (to preserve habitat), and if you do that when ocean conditions improve you're just holding the status quo...,' O'Neil said Friday.
"What the president has focused on is improving fish passage and getting habitat improved. What he's been doing is the right mix of improvements' that will increase salmon numbers when conditions allow.
"He can't take credit for ocean conditions, but he's setting the stage to take the highest and best advantage of those ocean conditions,' O'Neil said.
---
Associated Press
Bush Wants to Save Salmon, Dams
Walla Walla Union-Bulletin, August 23, 2003
---
See what you can learn
learn more on topics covered in the film
see the video
read the script
learn the songs
discussion forum