the film
forum
library
tutorial
contact

Bush Pushes Salmon Restoration
Without Breaching Dams

by Nicholas K. Geranios, The Associated Press
Seattle Post-Intelligencer, August 22, 2003
---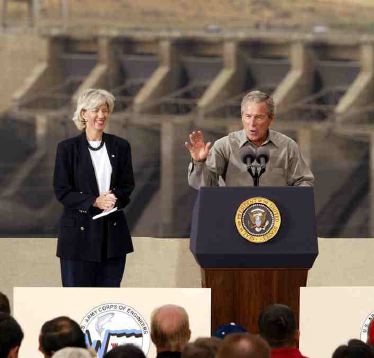 BURBANK, Wash. -- President Bush talked about his efforts to save salmon on Friday, but he was also fishing for votes and money in a state where he lost to Democrat Al Gore in the 2000 election.
Bush ventured into politically friendly country in Eastern Washington, telling an invited crowd of 500 that he had kept his campaign promise to improve endangered salmon runs while retaining four Snake River hydroelectric dams that environmentalists want to remove.
In a speech that was widely seen as an effort to win suburban swing voters, Bush stood in front of the Ice Harbor Dam to say his campaign pledge of helping the fish while keeping the dams was working.
"The good news is that salmon runs are up," the president said. "We can have good, clean hydroelectric power and salmon restoration going on at the same time."
Bush promised the dam "is going to be an important part of our future."
Conservation groups mounted a furious campaign this week to paint Bush as disastrous to the environment. They want to remove Ice Harbor Dam and three others on the Snake to help migrating salmon.
Supporters of the president say his policies have helped increase the number of salmon returning to spawning grounds.
Only 7,990 chinook salmon passed through Ice Harbor Dam in 1995. By last year, the number had climbed to 127,062.
Critics contend the vast majority of returning fish are genetically inferior hatchery salmon. They also contend favorable ocean conditions, which are cyclical, are the main reason for the increase.
Later on Friday, Bush met in Seattle with local economic leaders before heading to a fund raiser in the suburb of Hunts Point.
During brief comments at Seattle's Boeing Field, Bush said he supports state efforts to make medical liability laws and workers compensation rules more business-friendly as one way to help improve the economy in Washington. More than 7 percent of the state's work force is unemployed, one of the highest jobless rates in the nation.
"I'm concerned about the unemployment rate in this important state," Bush said.
Friday's visit was the president's first trip to Washington since losing the state in the 2000 election.
After his comments at Seattle's Boeing Field, Bush headed to a $2,000-per-person fund raiser at the home of wireless telecom tycoon Craig McCaw.
Some Democrats and environmental groups complained that Bush was more interested in winning votes with his visit than saving fish.
"George Bush taking credit for increased salmon populations is like a sailor taking credit for the tides," said U.S. Sen. Joe Lieberman, D-Conn., and a Democratic presidential candidate. "No amount of photo ops can let George Bush off the hook for the destructive environmental record he's spawned."
In Burbank, about 50 protesters were kept away from Ice Harbor Dam, but were allowed to carry signs on the road as the Bush motorcade drove by.
Brian Dohe, a Democratic Party leader from Walla Walla, said he found it hard to believe Bush was worried about salmon.
"I'm hoping swing voters see through it," Dohe said.
Introducing the president as a "compassionate conservationist," Interior Secretary Gale Norton said Bush's budget request for next year includes a $165 million boost in spending for salmon recovery.
The Bush administration also announced Friday that a deal had been reached between Commerce Secretary Don Evans and the public utility districts in Chelan and Douglas counties in Washington.
The agreement sets up a 50-year plan to preserve salmon and steelhead runs on the Columbia River at the Rocky Reach, Rock Island and Wells dams. Its aim is to ensure that operations at the dams do not hurt the fish.
Casually dressed in a gray shirt and slacks, Bush spoke for about 20 minutes, and was frequently interrupted by applause from a crowd made up of GOP officials, farmers and businessmen, many in cowboy hats and baseball caps.
Bush said the people who live closest to the land make the best stewards, and that environmental decisions should not be handed down from Washington, D.C.
He also argued that amid a national power shortage, hydroelectric dams, which environmentalists contend are killing the fish, must remain.
"We don't need to be breaching no dams that are producing electricity," Bush said. "We've got to make sure we increase the supply and maintain the supply."
The president briefly toured the dam, built in 1962 and capable of providing electricity for 485,000 homes. He noted that another Texan, then-Vice President Lyndon Johnson, had come out for the dedication of the dam, east of Pasco.
Bush noted the dam also provides irrigation water for farms, an issue he linked to national security. "This dam helps us so we don't get reliant on foreign sources for food," he said.
Support for salmon must also include support for jobs and businesses, he added.
"We have shown the world we can have a good quality of life and at the same time save salmon," Bush said.
Bush introduced the state's three Republican members of the House of Representatives: Jennifer Dunn, Doc Hastings and George Nethercutt, who is challenging Democrat Patty Murray for her seat in the Senate.
After his remarks, the president waded into the crowd to sign autographs and shake hands.
---
Nicholas K. Geranios, The Associated Press
Bush Pushes Salmon Restoration Without Breaching Dams
Seattle Post-Intelligencer, August 22, 2003
---
See what you can learn
learn more on topics covered in the film
see the video
read the script
learn the songs
discussion forum