---
Bush's supporters are reassured by his remarks,
while critics complain he isn't doing enough.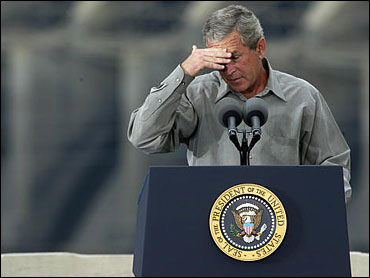 BURBANK, Wash. - President Bush waded deeper into controversy over his environmental policies in the Pacific Northwest on Friday as he rejected calls for hydroelectric dams to be razed hydroelectric dams to be razed to make way for endangered migrating salmon.
Bush viewed water ladders at Washington's Ice Harbor Lock and Dam, meant to help the fish get up and down the Snake River to spawn, after facing several thousand demonstrators angry about issues from the U.S.-led occupation in Iraq to proposed forest thinning in Oregon.
On a break from his August vacation at his Texas ranch to visit states that were problems for the Republicans in the 2000 elections, Bush also spoke to key figures in the Washington economy.
Bush called for cooperation among environmentalists, farmers and the government to allow conservation of natural resources as well as preservation of important economic assets such as the dam, which is a regional power provider.
"We can have good, clean hydroelectric power and salmon restoration going on at the same time," Bush said at the dam, one of eight that spawning salmon and returning juveniles must navigate along the Snake and Columbia Rivers.
"We've got an energy problem in America. We don't need to be breaching any dams that are providing electricity," he added.
Bush has urged Congress to pass energy legislation to modernize the antiquated electricity grid, which contributed to a historic blackout last week that millions without power in eight U.S. states and Ontario, Canada. He has urged that it include provisions for energy conservation, efficiencies and new technologies for energy exploration.
The administration says a major increase in the salmon runs of the past few years is due to a combination of its own efforts to boost funding for salmon conservation, the previous decade's steady advances in management and cyclical improvement in ocean conditions.
But environmental activists say most of the 1.7 million fish that returned last year are not prized wild salmon but farm-raised fish.
They say Bush has implemented fewer than one third of the measures and allocated just over half of the funding called for in a federal salmon plan for the Columbia and Snake Rivers.
"If your administration continues to encourage destruction of our forests, pollution of our rivers and management of our rivers without considering our fish and wildlife, the salmon will never be restored," Washington state lawmakers wrote to Bush this week, urging him to take stronger action.
About 150 anti-Bush protesters gathered in the city of Bellevue, Washington about 10 miles east of Seattle.
"Bush lied, people died" and "Shame on You!" they chanted as Bush's motorcade arrived.
"I'm here to protest the unnecessary killing on behalf of corporate America," said Bilal Hashmi, a 67 year-old doctor.
Bush lost Oregon in the 2000 presidential election and Democrat Maria Cantwell unseated the incumbent Republican senator in a cliffhanger race in Washington, a state split between Democratic-leaning cities like Seattle and Republican bastions in the rural east.
The economic slowdown has hit hard in Washington, which has also seen major employer Boeing slash nearly 35,000 jobs since Sept. 2001. The aerospace company is also threatening to move new projects out of the state.
---
Christina Ling
Additional reporting by Reed Stevenson in Seattle
Bush Wants to Save Salmon, Dams
Macon Georgia Online, August 23, 2003
---
See what you can learn
learn more on topics covered in the film
see the video
read the script
learn the songs
discussion forum