---
President touts environmental policy, targets Democrats' hold on region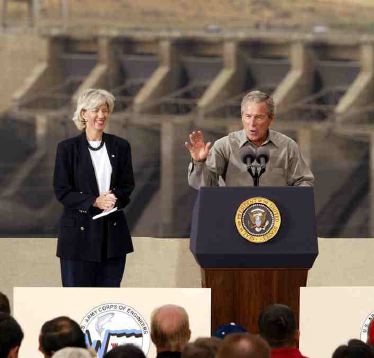 BURBANK, Wash. - President Bush posed Friday above a huge concrete dam spanning the Snake River to talk about salmon, the latest of the environmental initiatives on which the president has focused this week in hopes of demonstrating his commitment to nature.
But the battle over just how green Bush is won't be waged atop the Ice Harbor Dam and Locks in western Washington state but rather in the halls and meeting rooms of Washington.
When Congress and Bush return to work in September after a monthlong vacation, they are prepared to tackle proposals that could have a far more sweeping impact on the environment than the hydroelectric plant and salmon breeding grounds that Bush pledged to save in Washington state.
The fall agenda is likely to feature battles over global warming, power plant emissions, environmental provisions of the energy bill and the confirmation of Bush's choice to lead the Environmental Protection Agency.
Certain to take center stage is an upcoming recommendation from the EPA that would allow thousands of old power plants, oil refineries and other industrial facilities to avoid installing costly anti-pollution controls when they upgrade their equipment.
The rule change, for which industry lobbied intensely and which was made public this week by an environmental group opposed to it, would potentially save businesses billions of dollars.
Criticism from Democrats and environmental groups was swift and severe Friday. They vowed to fight the rule change, possibly using it to rally opposition to the appointment of Utah Gov. Mike Leavitt to head the EPA.
"Corporate polluters will now be able to spew even more harmful chemicals into our air, regardless of the fact that it will harm millions of Americans," John Walke, director of the National Resources Defense Council, said in a statement.
Sen. John Edwards of North Carolina, a Democratic presidential candidate, took a shot at Bush for advocating the rule change.
"It's not complicated: The Bush administration is gutting the Clean Air Act in order to help the oil industry," he said.
White House spokesman Scott McClellan defended the proposed change in anti-pollution regulations. He said existing rules that require plants to install pollution controls when their equipment is upgraded make it too expensive for businesses to buy new equipment that, because it is more modern, is likely to produce less pollution than the machinery it replaces.
"The rules as written have really stood in the way," McClellan told reporters aboard Air Force One as Bush flew to Washington state. "We must continue to take steps to improve air quality, and that's exactly what this administration is doing."
Scott Segal, a lawyer who represents utilities and other industry groups, noted that last week's huge power outage will force Congress to grapple with energy legislation that is laced with controversial environmental issues.
For instance, Segal said that coal-fired power plants are a reliable source of electricity, but environmentalists want tougher rules on emissions from those plants that would make it more difficult to generate energy.
"The real-world costs of the policies that environmentalists would advocate are no longer just academic exercises," Segal said. "People have sat through the darkness."
Also, a pipeline shutdown that has starved Phoenix of gasoline for the past several days will renew the call for more pipelines - an issue environmentalists are likely to strongly oppose.
David Doniger, director of climate policy with the Natural Resources Defense Council, said he fears that members of Congress will try to add language to the energy bill to protect the EPA's proposed power-plant rules from lawsuits that environmentalists have promised to file.
In addition, Congress may take up the "Clear Skies" legislation that Bush proposed in July. That bill would create a market-based program for reducing air emissions by setting national standards but would allow companies to earn credits for doing better than required. Those credits could then be sold to companies that do not cut emissions as much as required.
A White House release says the bill would "cut air pollution 70 percent, using a proven, market-based approach that will save American consumers millions of dollars."
Doniger said the administration would see better results by enforcing the Clean Air Act.
The administration also faces some dissent within its own party on air quality issues.
In July, Sen. Lamar Alexander, R-Tenn., said of the Clear Skies initiative, "President Bush has made a good beginning by placing clean air on the agenda and offering a framework to build a strong proposal - but, with respect, he hasn't gone far enough, fast enough."
Alexander said he will support an alternative measure offered by Sens. Lincoln Chafee, R-R.I., Judd Gregg, R-N.H., and Thomas Carper, D-Del., called the Clean Air Planning Act, which sets tighter limits on pollutants, particularly carbon dioxide, which is believed to contribute to global warming.
Sen. John McCain, R-Ariz., has joined with Democratic presidential candidate Sen. Joseph Lieberman of Connecticut on a bill that would reduce emissions of gases believed to contribute to global warming. And the senators won a promise from the GOP leadership that the Senate will vote on the bill this fall. That deal means that going into an election year, senators would have to cast a controversial vote.
The president will continue to press Congress to approve funding for a year-old initiative intended to reduce the threat of forest fires. Bush said the "Healthy Forests" plan, which he touted Thursday in Oregon, would reduce that threat by allowing logging companies to take more trees from national forests.
Related Pages: EPA Won't Regulate CO2 Emissions from Autos by Chris Baltimore Reuters, 8/29/3
---
Bob Kemper, Tribune national correspondent
Bush Touts Salmon Surge as Battle Over Environmental Issues Looms
Chicago Tribune, Aug. 22, 2003
---
See what you can learn
learn more on topics covered in the film
see the video
read the script
learn the songs
discussion forum