---
President Bush came to Washington state for the first time since his election with a mission: tout his record on salmon recovery, call for changes to improve the economy and collect $2,000 checks for his latest campaign.
The region's Republicans were generous. Bush raised roughly $1.7 million during a fund-raising lunch attended by 850 people at the estate of billionaire Craig McCaw. The goal - according to Rep. Jennifer Dunn, R-Bellevue, one of the organizers - was $1 million.
Bellevue Square developer Kemper Freeman Jr. said it was worth the cost of admission.
"I don't know what it's worth to meet the president and shake his hand," he said. "But if you stop to think who this person is and what his responsibilities are, it is an amazing thing."
It was a day full of Northwest icons: salmon and dams, a stop at Boeing Field and a luncheon at a lakeside mansion bought with high-tech money.
Alongside the support shown by party loyalists were hundreds of Democrats, environmentalists, union leaders and abortion-rights activists who gathered at spots in Bellevue and Seattle to protest Bush's record.
Bush started his visit with a tour of the Ice Harbor Lock and Dam, just east of Pasco in Walla Walla County. It marked the first time a president had been to the Tri-Cities since President Nixon came 32 years ago to dedicate an expansion at Hanford.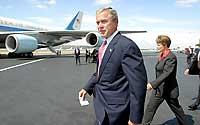 Bush drew on history, reminding an audience of about 200 supporters that another Texan - Vice President Lyndon Johnson - dedicated the dam in 1962. More than 40 years later, Bush made it clear that, in his opinion, the 100-foot-tall concrete structure - one of the four lower Snake River dams environmentalists want to see removed to improve fish passage - is here to stay.
"This facility has been a crucial part of the past for this region, and I'm here to tell you it will be a crucial part of the future as well," he said.
Bush noted that salmon runs are up, but everyone involved in the recovery needs to maintain the momentum. "We are concerned about the fish. We're also concerned about the citizens of Washington state who depend upon the dams for electricity and the water to water their land," he said.
Tribal leaders were encouraged to hear Bush articulate the importance of salmon to the Northwest, but they're also concerned that the high returns aren't the start of a trend and worry they could lead to complacency. Experts have attributed the runs to improved ocean conditions and work done when the returning salmon were smolts.
"It's taken us this long to get this far and I don't remember him being there when we were talking about these things four years ago. Everything we've gotten so far I think we've had to fight for," said Kathryn Brigham, of Pendleton, Ore., an elected member of the Umatilla tribal board of trustees.
Environmentalists weren't giving Bush credit either.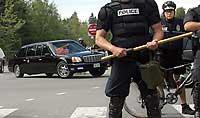 "This administration needs to realize that salmon mean jobs," said Pat Ford, executive director of the Save Our Wild Salmon Coalition. "Healthy salmon mean a healthy Northwest economy, and the Bush administration should not coast on the good ocean returns, but do everything in their power to ensure that the good news and the good fishing jobs last."
Bush swapped his open-collar shirt for a suit by the time Air Force One landed at Boeing Field just after noon. He spent 30 minutes meeting with six local business leaders - including Association of Washington Business President Don Brunnell and National Federation of Independent Business state director Carolyn Logue - about the economy.
"The federal government can help, and the state of Washington has got to also set the conditions necessary for people to want to be here," Bush said after the meeting. He said Congress needs to pass medical-liability reform, but the state Legislature can pass liability and workers'-compensation reforms.
Bush said he told business leaders help will come from his tax credits, trade policy and Healthy Forests Initiative, which is designed in part to thin hazardously dense tree stands. Environmentalists, though, worry it's just an attempt to take more timber off federal lands.
"I saw some interesting signs ... 'Save our mature large trees.' I agree," Bush said. "I also saw the fires destroy the mature stands of large trees. It's unbelievable how powerful these fires raged throughout. And we've got to do something about it."
The Bush motorcade traveled local highways to and from the fund-raiser on Lake Washington and backed up traffic. Two small planes, whose pilots were apparently clueless about the 10-mile restricted airspace around the president, were chased off by fighter jets.
Protesters - numbering a dozen or so in Pasco but hundreds in Bellevue and Seattle - derided Bush for his positions on the Iraq war, the environment and abortion rights. Along his route to the Eastside, they waved signs: "Impeach Bush" and "Liar's club meets today."
Fewer people publicly welcomed the president. Shows of support ranged from a life-size cutout of the president to signs saying, "Bush is our Homeboy" and "Let's Roll."
Bush supporters and critics in Bellevue had initially worked with police to demonstrate on different corners, but the two groups merged in the afternoon. That made for some heated debates and loud chanting as they competed for attention from passing motorists, but both sides remained well-behaved.
While union members opposing Bush had hoped to line a stretch of road leading into Hunts Point, that plan was canceled because of security concerns, said Lt. Rex Caldwell of the Kirkland Police Department.
But Mike Goddard, a demonstration organizer with the Machinists union, said he had discussed security matters with the Secret Service and local law enforcement days earlier, and the location had been approved.
"The Secret Service knew exactly what we were doing, and this is nothing but Bush's attempt at stifling us," he said.
Police reported just one arrest at the demonstrations near Hunts Point. The 47-year-old Seattle man was cited for disorderly conduct and released, Caldwell said.
At Seattle's Victor Steinbrueck Park next to Pike Place Market, hundreds of protesters packed the park but remained peaceful, a departure from the tense opposition at some anti-war marches earlier this year. Washington state Democratic Party head Paul Berendt, one of the organizers, called it a "liberal love fest."
While the environmental message generally carried the day for Bush, he also dealt with violence in the Middle East. "Those people who conduct suicide bombings are not interested in the vision that I have outlined, and that is a Palestinian state living side by side with Israel in peace," he said at Boeing Field.
Meanwhile, some local leaders were trying to turn attention to other domestic issues.
Karen Cooper, of Washington NARAL, an abortion-rights organization, noted that Washington is a pro-choice state, even among some in the GOP. Republicans with statewide offices - Washington Secretary of State Sam Reed, State Lands Commissioner Doug Sutherland and former Secretary of State Ralph Munro - are pro-choice.
"Bush calls himself a compassionate conservative. What has he done that's compassionate? On women's issues, he's been against birth control. He's trying to get abstinence-only sex education in the high schools," she said.
Publicly, Bush didn't speak of his re-election in 2004, but politics were clearly on the minds of supporters and his aides. In 2000, Bush lost the state to Al Gore by less than 6 percentage points. Next year, state Republican leaders, including party Chairman Chris Vance, are hoping to create a strong Republican ticket.
Bush's visit showed the elevation of Rep. George Nethercutt, R-Spokane, since his decision to run for the Senate against Democrat Patty Murray. When Air Force One arrived at Boeing Field, Nethercutt exited the plane just behind Bush, pausing at the door for photos. Dunn and Rep. Richard "Doc" Hastings, R-Pasco, followed, with Bush's top political adviser, Karl Rove. "Obviously this was no accident," Vance said. "The Republican Party from top to bottom is united behind George Nethercutt."
---
Seattle Times staff reporters
Contributing to this report: Katherine Pfleger, Andrew Garber, Stuart Eskenazi, Rachel Tuinstra, Mira Oberman, Leslie Fulbright, Sherry Grindeland, Warren Cornwall, Nick Perry, Sarah Anne Wright.
Northwest Symbols on Bush Agenda
Seattle Times Company, August 23, 2003
---
See what you can learn
learn more on topics covered in the film
see the video
read the script
learn the songs
discussion forum