the film
forum
library
tutorial
contact

Farmers Stand to See
Lifetime Investment Bulldozed

by Rod Taylor, Seattle Post-Intelligencer-Reporter
Seattle Post-Intelligencer - April 16, 1999
---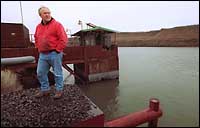 PASCO -- In 1975, Ron Reimann and his brother-in-law sank powerful pumps into the Snake River just above Ice Harbor Dam and made the dry hills bloom.
Today, apple and cherry orchards wrap the shoulders of the river above T&R Farm's pumps. On flat fields beyond, neat furrows sprout wheat, as well as potatoes, corn and other vegetables.
However, the prospering farm is at risk, a hostage in the battle over saving the Snake River salmon runs.
This year, for the first time, federal agencies are seriously considering breaching the four lower Snake River dams to help threatened and endangered salmon. If the river runs free past the dam, Reimann's pumps, orchards and crops would be left high and dry.
Lowering the pumps would be complicated and cost about $1.8 million, Reimann says, which is more than he can justify spending. If the dams are retired, his irrigation might go with them.
Battles over the Snake River dams have been raging for a decade. Reimann, a bear of a man with brown hair and a mustache, is tormented by the uncertainty of whether it will put him out of business.
"One day I say this isn't going to happen; the next I'm really concerned," he says. "If it were clearcut, it would be better."
T&R Farms is one of 13 farms that water about 35,000 acres of orchards and crops from the Ice Harbor pool. If the reservoir drops, some people assume the government would have to pay farmers to lower their irrigation pumps. But so far, government studies show it would be cheaper to pay farmers the difference between dry-land farm and irrigated farm prices -- a total of $10 million a year -- and bulldoze the fruit trees and cottonwoods into the sandy soil.
That would end a dream for Reimann, the son of a dry-land farmer who built his farm here to escape reliance on fickle Eastern Washington rain.
At the river's edge, he proudly displays three 800-horsepower electric pumps, supplemented by smaller pumps of 400 to 600 horsepower, that power his irrigation system ($134,000 typcial annual electric cost).
The pumps sprinkle 3,200 acres of the 4,700 acres that T&R has developed, including 1,000 acres that it sold to Stemilt Management Co., a fruit-growing company based in Wenatchee.
This is no seat-of-the-pants operation. Reimann monitors moisture and nutrients in his fields with the care of a chemist. With a global positioning system hooked up to his tractor, he sprays fertilizer only where it is needed. His big pivot irrigator stops spraying when neutron probes show that moisture has seeped below the root zone. No point in pumping into the aquifer, he says.
Though farm prices have been lousy lately, the land "generates a lot more income than it did before," Reimann says.
Much of his investment has yet to bear fruit. Reimann walks through 6-foot-tall apple trees planted three years ago. "All I have in the apples is debt," he says.
There are easier ways to make a living. But Reimann would like to see those apples grow and have his 29-year-old son take over the farm.
"You really think it's neat when you plant a crop and it comes up," Riemann says. "I'd rather be out on the farm than in the office."
Reimann's pumps lift water 400 feet up the north shoulder of the Snake River. Although drawdown would drop the reservoir only 73 feet lower, moving the pumps would not be simple. The riverbank would be waterlogged and unstable for as long as two years. With employees and thirsty trees, he adds, "I can't wait two years."
He contends the government, having built the dam and approved more than 50 permits for his irrigation system, has an obligation to move his pumps if it lowers the river. "If the Ice Harbor Dam hadn't been here, the pumps would have been lower from the start," he says.
Facing the loss of water, he says, is like building a house only to have the city say, "You built it in the wrong site; you've got to move it."
Instead of moving pumps or buying him out, he hopes the government will leave the reservoir as is.
Reimann concedes that steelhead fishing might be better if the river were lower, but overall he sees little to be gained by returning the Snake River to natural-river level.
The existing pool supports barges, water-skiing and sailing. Wildlife populations have exploded, too, with waterfowl using the reservoir and pheasant, deer, geese and eagles multiplying on the irrigated uplands.
"Nobody has shown me a source of power that is more environmentally friendly than the dams," he says.
As for claims that dam-breaching would restore fish runs, he says, "Nobody's sure that this thing is going to work."
Related Pages:
Irrigation from 4 Lower Snake Reservoirs by Reed Burkholder, 1993
Illustration showing dam-breaching plan
Sciences slowly come to favor dam-breaching

---
Rod Taylor, Seattle Post-Intelligencer-Reporter
Farmers Stand to See Lifetime Investment Bulldozed
Seattle Post-Intelligencer, April 16, 1999
---
See what you can learn
learn more on topics covered in the film
see the video
read the script
learn the songs
discussion forum