---
Solutions Table is way out of this cycle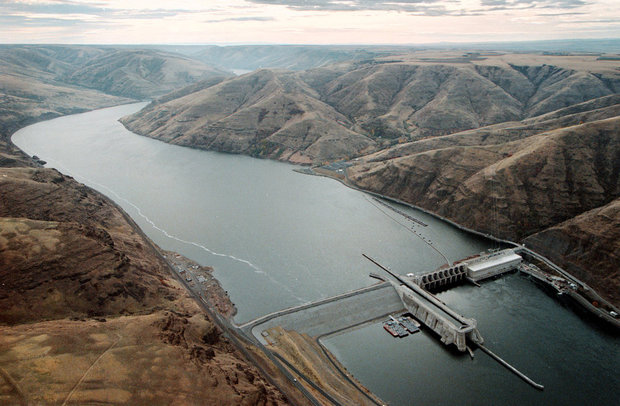 I hope everyone got a chance to see Eric Barker's story in the Lewiston Tribune Wednesday about former Army Corps of Engineers top civilian employee Jim Waddell pointing out that we'd save $94 million per year by breaching the lower Snake River dams per year rather than keeping them.
Either check out the article at the source or Save Our Wild Salmon also put the article up on its website.
The article was also reporting on the film DamNation by filmmakers Ben Knight and Travis Rummel. I have got to see this film.
Anyway, Waddell had recommended breaching back in 2001, but that wasn't the course taken. He has looked at the economics of it again recently and is even more convinced breaching those dams is better economically than the higher cost of keeping them around.
There was also a story of minor interest recently in the Columbia Basin Bulletin about a group of irrigators asking for "God Squad" intervention in the Salmon Wars.
I don't want to give it too much importance, for their reasons for the request (nor do I believe their idea has traction), but I do see an opportunity here to possibly get this group into the fold of a broad-based Solutions Table. Obviously, they are fed up (pun intended) and while it seems they are willing to write wild salmon off, it seems to me they might now see the advantages of working with regional stakeholders on a Solutions Table rather than place all of their cards at the mercy of a "God Squad."
A solution that has many positives for everybody and wild salmonids does exist and would be a far better effort than continued entrenchment in these wars that are quite akin to the classic Greek story of Sisyphus.
We should try this Solutions Table idea before we get too deep into this latest round of legal battles where conservationists will win the battles in the courtrooms again, but wild salmonids will continue to lose the war.
Until next time, have a wonderful spring everyone.
Related Pages:
Once More Into the Breach Debate by Eric Barker, Lewiston Tribune, 2/15/14
---
Michael Wells
Breaching Lower Snake Dams Economically Sound
Salmon Blog, May 2, 2014
---
See what you can learn
learn more on topics covered in the film
see the video
read the script
learn the songs
discussion forum