---
A tectonic shift has occurred in the Northwest electricity markets over the last decade, and experts still are sorting through the rubble. How utilities respond to the shift could reshape where Cowlitz County gets its power and how expensive it will get in the next few decades.
The Bonneville Power Administration, once the cheapest source of power in region, is beginning to lose its competitiveness in the face of growing renewable energies and inexpensive natural gas. In the last three years, Bonneville's customers have seen rates rise 16 percent, while prices for power on the open market dropped by more than 35 percent.
"I think there's a fundamental shift in the electric utility power industry, and markets and people are trying to ... establish how it's going to work from here on out," said Shauna McReynolds, executive director of Pacific Northwest Utilities Conference Committee. "It's kind of like we've had a little earthquake. The ground's shifted."
For decades, Cowlitz PUD and dozens of other public utilities tethered their fate to the Bonneville Power Administration, allowing customers to reap the benefits of cheap hydropower marketed by the federal agency. Washington public ratepayers still have some of the lowest electric bills in the nation, according to the U.S. Energy Information Administration.
But Bonneville's rates continue to rise every year. This month BPA announced that it will likely raise rates by an average of 5.5 percent to compensate for falling revenues and depleted cash reserves. Bonneville's power still is competitive, but changes in the energy industry are weakening its position.
Right now, BPA customers like Cowlitz PUD pay about $33.75 per megawatt hour under a long-term BPA contract. Meanwhile spot market power prices are projected to fall to $19.46 per megawatt hour later this year. Power purchased on the open, spot market is typically sells for less because it's excess to a utility's needs and isn't always available.
Yet the growing gap between spot market and long-term power prices has Bonneville customers questioning whether the federal agency is the best place to buy power in the future. Cowlitz PUD is locked into a contract with Bonneville until 2028, but the questions are putting more pressure on Bonneville to keep its rates down. If the PUD were to negotiate a five-year power supply agreement with someone other than BPA, it probably could match BPA's current price, said Steve Kern, the PUD's general manager.
Kern said utilities across the region are weighing their options and asking themselves,"'What portfolio (of energy sources) should I have going forward? Should I buy Bonneville or not?'"
Competition from natural gas
Experts say there have been two fundamental changes in the last decade that reshaped Northwest energy markets. Innovations in hydraulic fracturing unleashed records levels of natural gas that undermined prices for every energy source. The price for natural gas tanked, dropping from a peak of $8.86 per million Btu (British thermal units) in 2008 to $2.62 per million Btu in 2015, according to the Energy Information Association.
Growing supplies of natural gas introduced stiff competition that slashed prices for all energy products and encouraged growing use of natural gas over other energy sources. Between 2000 to 2015, about 5,900 megawatts of natural gas-fired generation were added to the Northwest grid, according to the Northwest Power and Conservation Council. That's enough for nearly five cities the size of Seattle.
Meanwhile, increased state regulations fueled a dramatic shift towards renewable resources other than hydro as a way to combat climate change. Suddenly in the mid-2000s, utilities across the Pacific Northwest and California were required to expand use of renewable energy resources.
In Washington, voters in 2006 passed Initiative 937, which requires large utilities to use renewable energy for 15 percent of their needs by 2020. California and Oregon passed similar laws.
Construction of wind and solar capacity surged across the region. By the end of 2014, the Northwest had 8,700 megawatts of wind energy capacity -- enough for eight Seattles.
In 2006, Cowlitz PUD invested $130 million into building two wind farms in central Washington to meet the new energy standards. Cowlitz PUD also expected to generate extra revenue by selling wind energy to California.
But in 2011, the California Legislature started requiring state utilities to purchase all their renewable resources from inside California by 2020. While there was still demand out there, northwest wind energy suddenly became a lot less valuable for California buyers. The change triggered an 18 percent rate hike for Cowlitz PUD customers in 2011.
Then, as California utilities faced growing green energy requirements, they also began to use less northwest hydropower, instead opting for solar power generated in their own state.
That was a big hit to power wholesalers such as Bonneville, which depended heavily on revenues from power sales to California to hold down its rate for northwest utilities, said Ben Kujala, director of power planning for Northwest Power and Conservation Council.
"We were able to, in some ways, kind of get subsidized by the people who were buying electricity in California," Kujala said.
While California sales started to dry up, northwest demand for electricity eased even as the supplies expanded. Northwest utilities saw demand for electricity grow at a sluggish pace of just 3 percent between 2010 to 2014, according to the Northwest Power and Conservation Council. That's in large part because businesses, homes and consumer products became more energy efficient -- saving an estimated 1,500 megawatts of energy between 2010 and 2014.
All of this excess supply and slow load growth dragged down energy prices on the spot market. By the end of 2017, the spot market price for wholesale power is expected to dip to $19.46 per megawatt hour, down from a peak of $58.78 in 2008, according to the Cowlitz PUD.
Bonneville uses revenue from those spot power sales to help lower customers' electric rates. If Bonneville didn't sell any electricity on the spot market, its regular customers' electric rates would be about 20 percent higher than they are now, said Mike Deen, senior policy analyst at Public Power Council.
Over the past four years, revenue from surplus sales dropped from $348 million in 2012 to $182 million in 2016, according to BPA.
It's not likely that spot market prices will climb back up anytime soon, said Kern of Cowlitz PUD, because the supply-demand imbalance can't be easily corrected.
"I don't see this depressed market rebounding ... I can't see it rebounding in five years," Kern said. "I think this wholesale market is going to be very difficult to compete in" for a long time.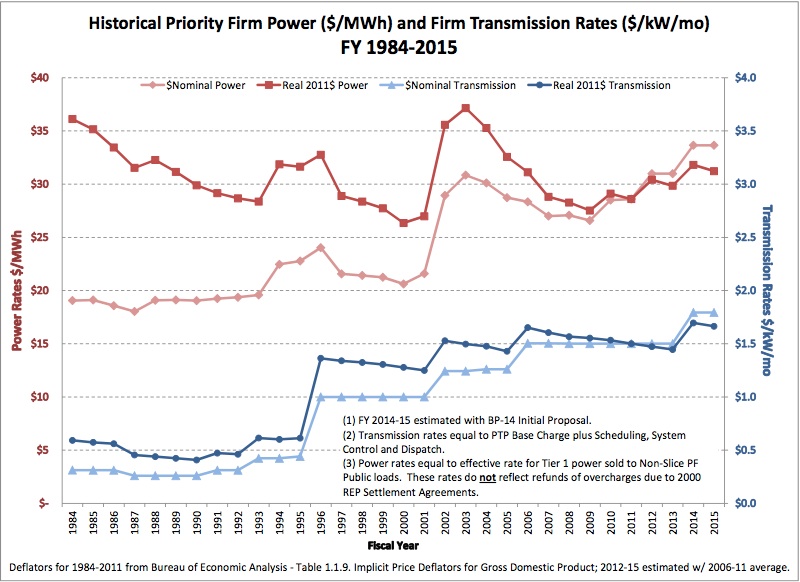 Bonneville's options
Even as revenues fall, Bonneville is coping with rising costs: it must refurbish its aging dams; support fish and wildlife programs; pay higher transmission rates to provide power to customers outside the system; and run a mandated program to reduce electricity rates for farms and residents not directly linked to Bonneville.
Over the past several years, the cost of running the fish and wildlife program has expanded from $122.1 million in 2000 to $314.6 million in 2017, not including debt service payments tied to the program.
While Bonneville's major contracts with Cowlitz PUD and other public utilities won't expire for another decade, customers wary of continually rising electricity rates are pressuring the federal agency to cut costs or boost revenue by means other than rate hikes.
Kern said Bonneville should more aggressively sell its surplus power on the futures market, which tends to yield higher prices. Right now Bonneville mostly sells its excess power in the short-term market, which tends to have lower prices, Kern said.
Bonneville counters there are too many risks associated with the futures market, partly because it can't predict how much water will be available to produce hydropower.
Beyond the secondary power markets, Bonneville is considering increasing sales of "flexibility" and "capability" products: essentially a customer would pay a fee to reserve a certain amount of power as a back-up to a renewable energy resource, which tend to be less predictable. Now wind and solar energy cannot be stored economically, so generation depends on the weather. Utilities using a lot of wind and energy to meet their needs may want to reserve some back-up hydropower if the weather doesn't generate enough wind or solar power.
Essentially, BPA is evaluating more ways to use the flexibility and capacity of its system to make more money, said Daniel Fisher, power rates manager at BPA.
On the cost side, Bonneville implemented several efficiency measures and made debt payments to shave $35 million from its budget for the next two years. Without doing that, it would have had to raise rates by 7 percent this fall instead of by an expected 5.5 percent, the agency said.
What's Next?
Bonneville and its customers are still grappling with how to make sense of these changes.
The agency is working with all of its major utility customers whose contracts end in 2028 (such as the Cowlitz PUD) in an effort called "Focus 2028. " It wants to develop solutions to its long-term revenue and cost challenges.
"Competitiveness ... is very much on our radar as well as our customers' radar," Fisher said.
While utilities continually point to the spot market as evidence of Bonneville's waning competitiveness, the two products "aren't apples to apples," said McReynolds of PNUCC. Spot market power doesn't offer the same reliability and clean sources that Bonneville's power does, McReynolds notes.
In a way, utilities pay extra to ensure with certainty that they can always keep the lights on. Marketing hydropower from the region's hydroelectric dams also gives Bonneville a huge built-in advantage over competitors.
"So I think Bonneville is competitive because they're offering a very long-term product. And the spot market is, by definition, not a long-term product," said Kujala of Northwest Power and Conservation Council.
There are other sources that could provide similar reliability: utilities could turn to banks that market power, such as Morgan Stanley; purchase directly from utilities that sell their own power in Grant and Chelan Counties or from individual private producers; or even seek hydropower from Canada utilities.
Yet Kujala argues those comparable long-term products likely won't be significantly cheaper than Bonneville's power.
"I think Bonneville's rates are very competitive with the prices you would get from those people. And that's why I say Bonneville is competitive. Not because I'm comparing them to the spot market, but because I'm comparing them to what the alternatives are to get that 5- or 10-year strip of long term (power)," Kujala said.
Still, Cowlitz PUD already is considering changing its contract in a decade.
"If I had to make a recommendation now ... we very much would be looking at diversifying our portfolio from Bonneville," Kern said.
Bonneville would still probably be in the mix, but it may no longer supply most of Cowlitz PUD's power as it does now.
"If you asked us today, to sign a new contract with Bonneville, we would not get 90 percent of our power from them. That would not be the contract that we signed with them today," said Dena Diamond-Ott, Cowlitz PUD commissioner.
Cowlitz PUD isn't the only utility considering its options.
"There may be different products, may be more flexibility for customers to take load off or put load on and (there) may be shorter-length contracts," said Deen of the Public Power Council. "Bonneville and its customers are just trying to think about all that stuff. I think everything is on the table at this point."
Related Pages:
Bonneville may Increase Electricity Rates 5.5 Percent by Marissa Luck, The Daily News, 6/19/17

---
Marissa Luck
Is BPA Losing Its Competitive Edge?
The Daily News, June 24, 2017
---
See what you can learn
learn more on topics covered in the film
see the video
read the script
learn the songs
discussion forum