---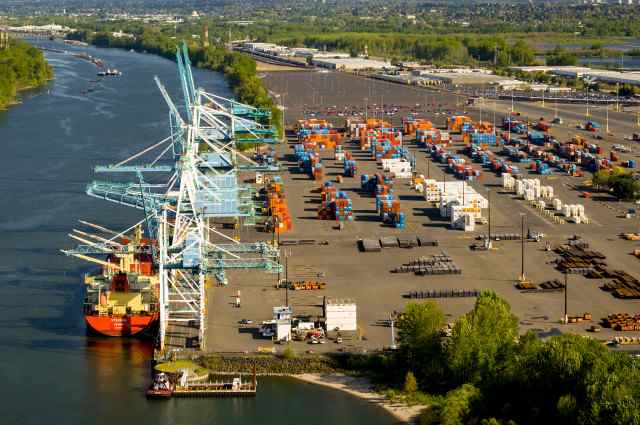 The first container ship to call on the Port of Portland in three months arrived last Tuesday and stayed a day. The Westood Rainier picked up hay cube, paper and wood products, and non-refrigerated 40 foot cargo to take to Japan.
It wasnf't a lot. The 200 or so containers on board the ship from Westwood Shipping Lines compare unfavorably with those that the Port lost earlier this year. Hanjin Shipping once handled 2,000 containers a week, and Hapag-Lloyd 600-700 a week.
Those firms pulled out earlier this year after a slow down by longshoremen. The dock workers of the International Longshore and Warehouse Union Local 8 were in dispute with the container terminal operator, ICTSI Oregon.
Greg Borossay, General Manager, Trade Development, Marine Division of the Port of Portland, said technically Westwood suspended operations for two months, rather than pulling out.
"Their return does establish a link to Asia," he told the Tribune. "We're going to need to establish a track record to demonstrate to the larger carriers that the operation is back on track." He added, "We have four cranes ready to go. We could accept Hanjin back any time."
Westwood Shipping Lines is based in Puyallup, Washington. It was once owned by Weyerhauser, but is now owned by Sumitomo Warehouse USA.
ICTSI Oregon confirmed that "all equipment is ready to work in a safe and efficient manner." The labor for loading the ship was called out of the ILWU Local 8 union hall, and according to Borossay there were no problems. The same workers who used to work on Hanjin and Hapag-Lloyd can currently find work moving automobiles, at the grain facilities and at Terminals 2, 4 and 5. "Or they can travel to other ports, such as Longview."
Borossay was also keen to point out that containers have never been more than 10 or 15 per cent of the port's total business. Products such as steel rail, potash and automobiles are a far bigger earner. He said the port had over 1,500 vessel calls last year.
Terminal 6 has three sections: an auto warehouse on the west end, for Ford exports and Hundai imports.
There's Honda's own operation, which brings in two ships a month.
"Then there's the site of the labor dispute between the container operator and ILWU." The decision to bring the Westwood vessel in was Westwood's own, added Borossay.
"The issues are not related to the physical operation. The physical operation is perfectly fine," said Borossay.
Would Westwood be coming back?
"As far as we know, they expect to continue to call monthly for the foreseeable. There may even be a future expansion." Borossay added the Port's current struggle to find other container shippers involves giving such companies "lots of information about the cargo market." The Port's commission approved a $50 per container incentive last December, which is applicable to Westood but which Borossay said is "not much, in the great scheme of things."
Mainly, the task is "A lot of footwork, recruitment and maintenance. The value proposition for bringing containers 100 miles upriver to serve a city the size of Portland is not immediately apparent, but when they see the calculations they see they can make money. It's a niche market where an ocean carrier can make money at great levels."
Borossay added, "If you're paying top dollar for a specialized service it has to deliver. For 18 years Hanjin were getting what they were expecting and they were happy."
The Westwood Rainier call went well. "It's a bit of a sigh of relief. But one vessel does not make a track record."
---
Joseph Gallivan
Container Ship Docks Briefly at Port of Portland
Portland Tribune, August 3, 2015
---
See what you can learn
learn more on topics covered in the film
see the video
read the script
learn the songs
discussion forum