---
Energy market prices have been, and are forecast to be, suppressed by low natural gas prices, reducing BPA's revenue expectations from surplus power sales. The agency recently proposed a 9.6 percent average wholesale power rate increase to compensate for reduced revenue expectations from surplus power sales and to continue funding needed for investments in the Federal Columbia River Power System.
BPA is also proposing a 13 percent increase in its transmission rates, mainly due to continued efforts to maintain system reliability and meet increasing demands for transmission in the Pacific Northwest. BPA initially managed these increasing costs without rate increases.
If adopted, it would be the first transmission rate increase in eight years.
In January of this year, BPA began a discussion with the region about its proposed programs, future costs and potential rates for fiscal years 2014 and 2015. At the outset of those discussions, BPA forecast that its power rates could increase between 12 and 21 percent for those years. Transmission rates were forecast to increase by approximately 12 percent.
"We are acutely aware of the economic impact of our rates and have worked closely with the region to develop a plan that keeps rates as low as possible while making needed investments in infrastructure," said Steve Wright, BPA administrator and chief executive officer. "We remain committed to covering all our costs and providing timely repayment to the U.S. Treasury."
The rate proposal will be considered during a public rate setting process in the coming months, culminating in a July 2013 decision on final rates to take effect Oct. 1, 2013.
Concurrent with the power and transmission rate case, BPA is holding an oversupply rate case. This rate case is limited to the recovery of the costs BPA incurs while implementing its Oversupply Management Protocol, under which BPA pays generators for the income they lose when the agency curtails their output during oversupply. BPA is proposing to collect 50 percent of the oversupply costs from its power customers and 50 percent from the generators.
During the rate proceeding, ex parte restrictions are in effect. Under ex parte, any communications regarding the merits of any issue in BPA's rate case by BPA or other Department of Energy personnel with other executive branch agencies, Congress, existing or potential BPA customers, and nonprofit or public interest groups, must occur at an open meeting that has been noticed to all parties.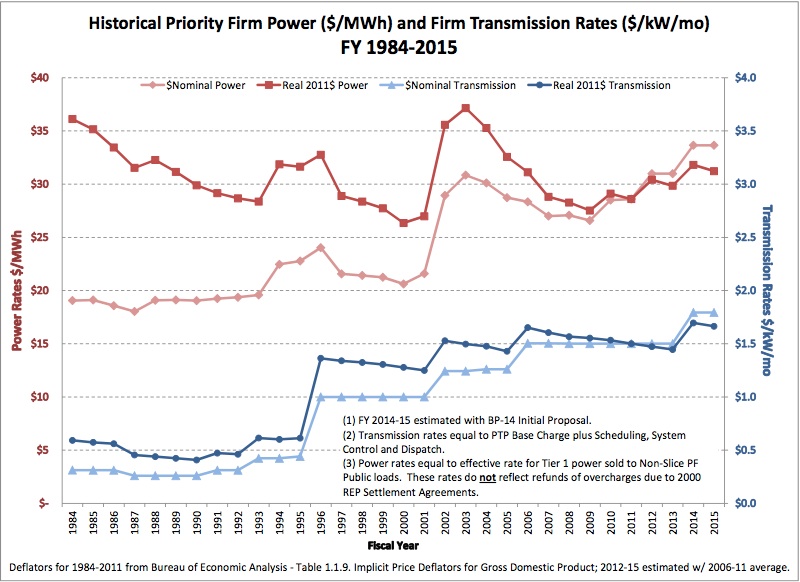 ---
Staff
BPA Proposes Rate Increase to Bolster System
BPA Journal, December 2012
---
See what you can learn
learn more on topics covered in the film
see the video
read the script
learn the songs
discussion forum