the film
forum
library
tutorial
contact

Union Ratifies Labor Contract with Blue Wolf,
While BPA Energy Contract Negotiations Continue

by Grace McCarthy
The Northern Light, May 25, 2022
---
But Ackerson said he isn't optimistic the labor deal will see its way through, as he sees
BPA needing to make significant changes in the next week or negotiations will fall flat.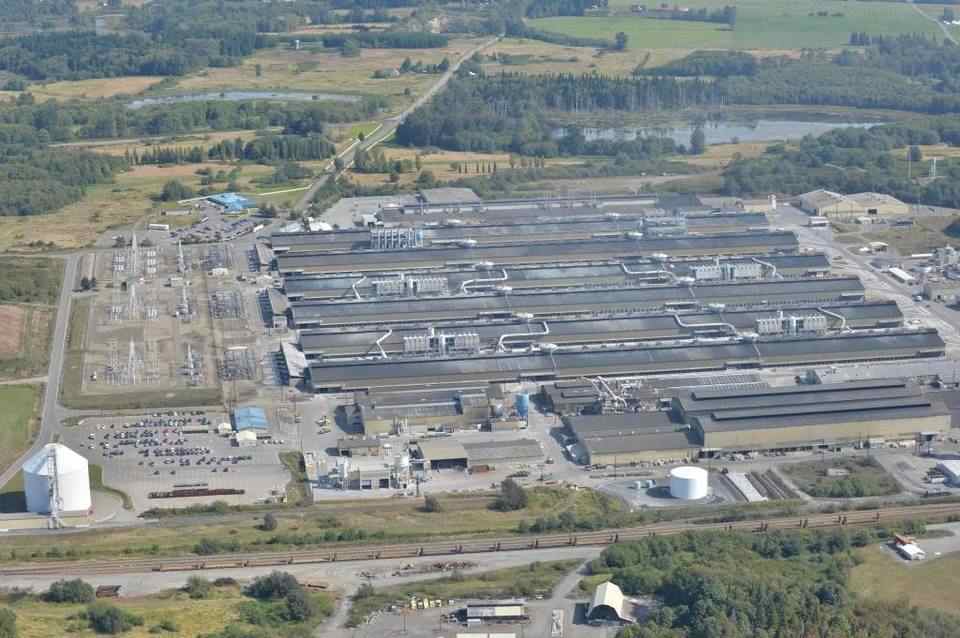 FERNDALE -- Intalco union members have entered a contract with Blue Wolf Capital Partners, prospective buyer of the idled Alcoa smelter in Ferndale. The labor deal marks one step closer to restarting the nearly closed smelter, with the final -- and most cumbersome -- leg being securing an energy contract with Bonneville Power Administration (BPA).
International Association of Machinists and Aerospace Workers (IAMAW) District 160, representing Intalco union members, secured a five-year labor deal with New York City-based private equity firm Blue Wolf, the union announced May 15. Compared to previous agreements with Alcoa, the new agreement improves wages and benefits, quarterly bonuses and job protection.
Alcoa slowed production of its Ferndale plant in summer 2020 and put its nearly 700 employees out of work after low aluminum prices made the business less profitable. Only 12 union employees are left maintaining the facility for routine maintenance, IAMAW District 160 business representative Luke Ackerson said in an email to The Northern Light.
Ackerson said he felt hopeful about the labor agreement after previous negotiations with Alcoa had been contentious and didn't send a positive message to the workforce.
"Negotiating with Blue Wolf was refreshing," he said. "They were very fair and made a lot of effort to build trust throughout the process."
The union agreement includes and sets out parameters for performance bonuses, paid sick leave, paid vacation, overtime distribution and new employment wages. It includes quarterly retention bonuses and a 401(k) contribution and match. Returning employees will come back to their wages and benefits. As well, employees and retirees will get a payout if the Ferndale smelter is sold again, something that wasn't provided before.
But Ackerson said he isn't optimistic the labor deal will see its way through, as he sees BPA needing to make significant changes in the next week or negotiations will fall flat.
Blue Wolf is reliant on a BPA agreement to supply large amounts of power to restart the Ferndale facility. However, BPA officials have said Blue Wolf can't purchase the power at the below-market rates Alcoa had been receiving because Blue Wolf is not one of the companies listed in the 1980 Northwest Power Act. The two need to find a deal that is profitable for Blue Wolf, which will still need to find other energy suppliers as BPA can't provide all of the smelter's power.
"Negotiations with BPA are in the final stages and the outcome does not appear promising at this point," Ackerson said. "BPA has been keeping Blue Wolf at arm's length for much of the process, they took a position early on in negotiations and they haven't moved from that position. Unless something significant changes in the next week, it appears the smelter will not operate again."
Ackerson said he was thankful for state legislators, with the driving force of state representative Sharon Shewmake (D-Bellingham), for securing $10 million for environmental improvements. He added he hasn't seen the same support from U.S. representatives, which he believes could have greatly impacted their efforts to reopen the facility.
Gary Allen, the union's western U.S. vice president, called on state and federal elected officials to pressure BPA to reach an agreement with Blue Wolf.
"Our members need elected officials in the state of Washington and Washington, D.C. to help bring relief for hundreds of working families in Whatcom County," Allen said in a statement. "The members earned this contract that will serve a model in the aluminum manufacturing industry."
BPA spokesperson Doug Johnson said BPA is still talking with Blue Wolf but no deal has been made.
"There were some items in the existing agreement that were prohibitive to a quick restart, and they needed to be adjusted," Ackerson said. "Completing the labor negotiations also gave the Blue Wolf team the ability to focus on the power agreement negotiations with BPA and other entities."

---
May 1966: The Ferndale-area smelter begins operation as Intalco Aluminum Corp., owned by Alumax, Pechiney and Howmet.
1970: Intalco has 1,350 employees.
October 1983: Union workers approve three-year contract, ending a two-week strike.
1983: Intalco produces 8 percent of the nation's aluminum.
1984: Record set with 286,000 tons of aluminum shipped.
June 1998: Alcoa Inc. and Alumax merge, creating Alcoa Intalco Works.
May 2000: Alcoa executives consider building their own power plant to run Intalco, out of concern over rising energy rates.
May 2001: Unable to cope with high energy prices, Intalco temporarily closes the plant, keeps its employees, and sells its power back to Bonneville Power Administration to aid in the energy crisis. BPA pays for the wages and benefits of nearly all the workers, plus $1.75 million to cover Intalco's tax burden.
May 2002: After being shut down for six months, the smelter reopens two potlines.
October 2003: Alcoa shuts down a potline because of high energy costs, cutting 200 jobs and leaving only one of three potlines in use.
June 2006: Alcoa becomes full owner, buying out remaining partners.
August 2006: Alcoa signs five-year power contract with BPA, ensuring work for its 450 employees.
February 2007: The smelter restarts its second potline, boosting employment to 575.
October 2008: BPA proposes long-term contract to power Intalco.
October/November 2008: In response to the recession and less demand for aluminum, the smelter institutes budget cuts, including cutting about 100 jobs.
July 2009: BPA and Intalco reach tentative agreement for enough low-cost power to run the plant at or near two-thirds capacity for seven years, guaranteeing at least 528 jobs.
September 2009: After an August court ruling restricting BPA's authority to share power with Intalco, the July proposal appears to be in jeopardy.
December 2009: BPA approves a two-phase contract that guarantees enough power to keep 528 workers employed for 17 months. After that, BPA could offer five more years of power if courts approve and economic conditions permit.
October 2010: BPA agrees to short extension of its contract with Intalco, guaranteeing the smelter's power supply through late May 2012.
January 2011: Alcoa announces the hiring of 60 more employees and an increase in production.
October 2011: Union workers vote to strike, but stay on the job while talks continue. After two weeks, workers accept a revised contract offer.
December 2012: The plant signs a 10-year power contract with BPA.
2013: The plant is at 80 percent capacity, with two-and-a-half of three potlines operating, producing about 230,000 metric tons of aluminum a year.
September 2015: Alcoa announces it is splitting into two companies. Intalco Works focuses on upstream products, including aluminum, considered the weaker of the two companies.
October 2015: Union workers approve contract extension through March 2017.
November 2015: Alcoa announces it is idling smelter operations at its Ferndale and Wenatchee plants. The Ferndale shutdown affects more than 400 workers.
May 2016: Alcoa and BPA finalize a contract amendment that keeps Intalco operating. The amendment lasts through Feb. 14, 2018; the 10-year contract itself runs until September 2022.
Aug. 13, 2016: Alcoa Intalco Works celebrates 50 years in operation at its annual employee summer picnic.
Sept. 30, 2016: Alcoa splits into two companies, Alcoa and Arconic. Intalco remains with the Alcoa brand.
Aug. 5, 2019: Alcoa to put in new pollution equipment to reduce sulfur dioxide emissions. The $15 million project was scheduled to be completed in 2022.
March 25, 2020: An Intalco worker tests positive for COVID-19.
April 22, 2020: Alcoa announces it is closing the Intalco smelter in July, laying off around 700 workers.
Sources: Bellingham Herald files, Alcoa Intalco Works

---
Grace McCarthy
WA Delegation to BPA: Power Up Intalco!
The Northern Light, May 25, 2022
---
See what you can learn
learn more on topics covered in the film
see the video
read the script
learn the songs
discussion forum