---
Idaho has the mother lode of [salmon] habitat outside of Alaska, and the only thing
standing in the way of their recovery is the four lower Snake River dams."
-- Gregory Stahl, Idaho Rivers United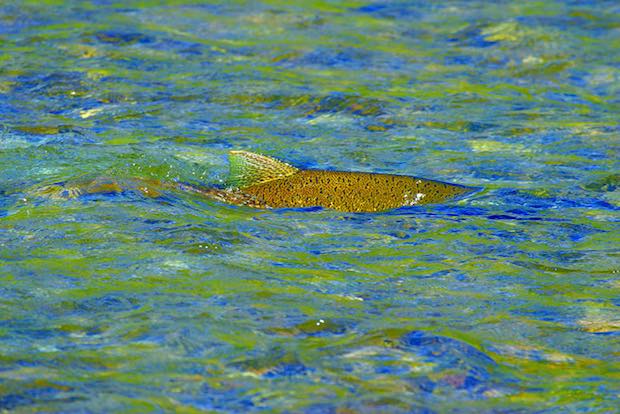 Five Northwest political leaders introduced legislation last week seeking to block a federal court order that requires increased protections for Idaho's endangered salmon.
As a result, a decades-long effort by conservation groups to restore salmon and steelhead migration corridors by removing four lower Snake River federal dams may be threatened.
The legislation would circumvent a May 2016 decision by U.S. District Court Judge Michael Simon that invalidated the federal government's 10-year operations plan for dams on the Columbia and Snake rivers due to its potential effects on endangered salmon and steelhead. The court required a new environmental analysis by 2018.
The bill was introduced by Rep. Cathy McMorris Rodgers, R-Wash., and co-sponsored by Rep. Jaime Herrera Beutler, R-Wash., Rep. Dan Newhouse, R-Wash., Rep. Greg Walden, R-Ore., and Rep. Kurt Schrader, D-Ore.
It states that the Columbia basin dams shall be operated under the 2014 plan invalidated by the court until at least Sept. 30, 2022.
"These five members of Congress have written a death warrant for endangered salmon," said Idaho Rivers United Executive Director Kevin Lewis. "This bill must be stopped dead in its tracks."
Although the bill addresses dam operations in Washington and Oregon, it could have an impact on Idaho salmon.
Snake River spring and summer Chinook were listed as threatened under the Endangered Species Act in 1992 and Snake River steelhead were listed as threatened in 1997. They migrate up to 900 miles from the rivers and streams of Idaho, Washington and Oregon to the ocean and back again to upstream spawning areas years later. The uppermost portions of their spawning grounds include areas in the Sawtooth Valley north of Ketchum, at elevations up to 6,500 feet.
Historically, the Snake River supported more than 40 percent of all Columbia River spring and summer Chinook and 55 percent of summer steelhead.
"The migration river corridor for salmon and steelhead runs through Idaho," said Idaho Rivers United Communications and Research Director Gregory Stahl. "Idaho has the mother lode of their habitat outside of Alaska, and the only thing standing in the way of their recovery is the four lower Snake River dams."
In May 2016, Judge Simon in Portland, Ore., rejected the federal government's plan for offsetting damage that dams in the Columbia River basin pose to salmon survival, saying it violates the Endangered Species Act and the National Environmental Policy Act.
Simon ruled that the government must write a new environmental impact statement to weigh further actions that will be considered and/or implemented to stop the possible extinction of ocean-running fish species.
"Although the court is not predetermining any specific aspect of what a compliant NEPA analysis would look like in this case, it may well require consideration of the reasonable alternative of breaching, bypassing, or removing one or more of the four Lower Snake River dams," Simon wrote. "This is an action that NOAA Fisheries and the action agencies have done their utmost to avoid considering for decades."
The Bonneville Power Administration, a federal power marketing agency that operates the dams, has touted habitat restoration efforts and other improvements for salmon migration without dam removal.
Stahl said numerous state and privately owned dams, including dams owned by utility companies, have been decommissioned in the Columbia River basin, including dams at Lewiston, Grangeville and, more recently, the Condit Dam on the White Salmon River in Washington in 2011.
"So far, no federal dam has ever been removed," Stahl said. "But salmon and steelhead repopulated the reaches of the White Salmon River as soon as the dam was removed. This just proves that if you remove a dam, the fish come back."
The Bonneville Power Administration and the office of Rep. Rodgers could not be reached for comment by press deadline Monday.

---
You can read the full text of the legislation here

. . . SEC. 4. LIMITATION ON RESTRICTING FCRPS ELECTRICAL GENERATION OR NAVIGATION ON THE SNAKE RIVER.


No structural modification, action, study, or engineering plan that restricts electrical generation at any Federal Columbia Power System hydroelectric dam, or that limits navigation on the Snake River in the State of Washington, Oregon, or Idaho, shall proceed unless such proposal is specifically and expressly authorized by an Act of Congress enacted after the date of submission to Congress of a proposal for such modification, action, study, or engineering plan, respectively.
---
Tony Evans
Northwest Reps Seek to Block Court Order to Protect Idaho Salmon
Idaho Mountain Express, July 5, 2017
---
See what you can learn
learn more on topics covered in the film
see the video
read the script
learn the songs
discussion forum