---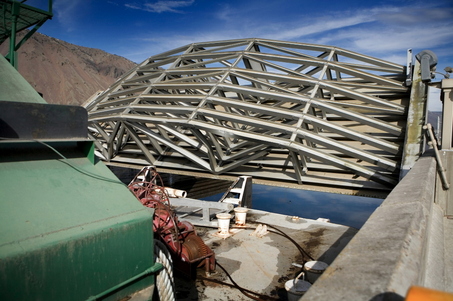 PORTLAND, Ore. - Traffic on part of the Columbia River was shut down Friday after a barge hit a gate at the navigation lock of the John Day Dam, but the U.S Army Corps of Engineers said shipping could resume by Monday.
The lock raises and lowers vessels so they can get around the dam.
The corps said a towboat pulling a barge was moving upstream late Thursday when the barge struck the gate and pulled it free of its housing on the upstream side.
Matt Rabe, spokesman for the corps said Friday afternoon that they'd developed a plan that may reopen shipping traffic through the lock by Monday.
A contractor will use a crane to remove the damaged portion of the lock, allowing crews to inspect the area more closely.
If the damage allows, a bulkhead vessel will be used as a temporary gate until a permanent repair can be made. The corps says the bulkhead has been used as a temporary solution in the past.
The lock had been scheduled to close from March 8-22 for annual maintenance. Following that, the lock would likely reopen using the temporary solution, Rabe said.
"We are happy we can come up with a plan that can meet the needs of the navigation industry and the people of the Northwest," Rabe said.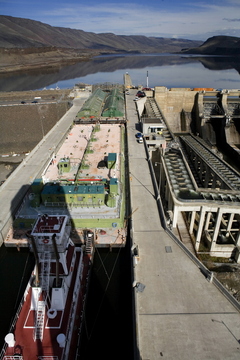 An investigation is under way to determine the cause and full extent of damage.
About 10 million tons of commodities and finished goods move along the Columbia River each year. The temporary shutdown had many in the industry concerned.
A closure at the lock would not affect all traffic on the river. But it would impact river shipping that comes between Portland and the Tri-Cities area of Washington state, as well as up the Snake River to Lewiston, Idaho.
The corps warned that several steps must go well for the plan to work but were optimistic.
"We are encouraged that the Corps of Engineers is looking into plans for repair and possible temporary solutions," said Josh Thomas, spokesman for the Port of Portland. "We are hopeful river traffic will be resumed and we can conduct business as usual."
The Port of Portland said much of the traffic through the lock is in agricultural goods, such as wheat and barley. Some in the shipping industry were concerned about the ability to get containers to ship goods as well.
The barge in Thursday's incident, which was hauling grain, remained stuck in the lock Friday. But the corps said it would be able to move the barge soon.
"For the time being, she is a guest of ours," Rabe said.
The dam itself is nearly half a century old and needs millions of dollars of repairs. The corps said accident did not affect the structure of the dam itself.
---
Sarah Skidmore, Associated Press
Associated Press Writer Shannon Dininny contributed to this report.
Barge Accident Closes Down Traffic on Part of Columbia
Union-Tribune, February 29, 2008
---
See what you can learn
learn more on topics covered in the film
see the video
read the script
learn the songs
discussion forum