---
Federal rulings on salmon protection continue to raise questions about dams on the Lower Snake River and the future of Lewiston, Idaho, as an inland port city.
Now some wheat farmers are turning away from river barges and back to trains as their lowest-cost, most-efficient shipping option.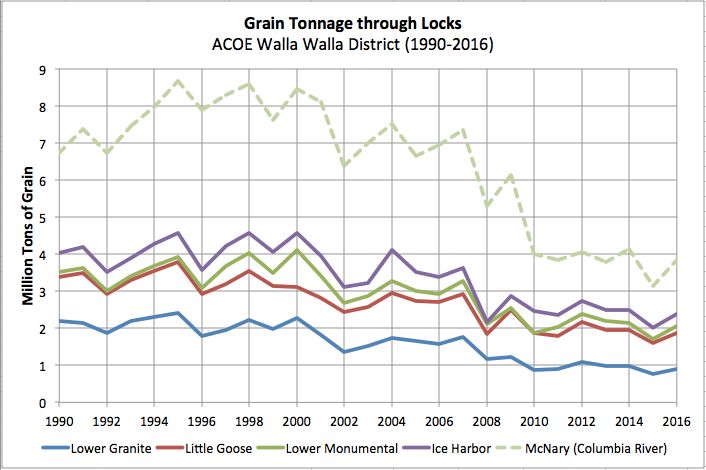 Four dams on the Lower Snake River essentially managed to turn Lewiston, Idaho, into a port city about 400 miles inland. But some farmers shipping their wheat to market are turning from the river to rail as a more-efficient, lower-cost option.
As a result, a decline in shipments by barge on the Lower Snake River, under way for decades, has accelerated.
The overall decline in shipping on the river adds a new element to the regional debate on taking out four dams on the Lower Snake. Built beginning in the 1950s to provide hydropower, irrigation and navigation all the way from Lewiston to the mouth of the Columbia River, the dams have been in the cross hairs of a regional dam-removal debate for decades.
Together, they provide 4.3 percent of the region's total energy production, and irrigation to a few very large growers on the Lower Snake, in addition to navigation to Lewiston, the most inland port on the West Coast.
The debate over the future of the dams will reopen soon, when federal agencies offer yet another proposed operating plan for the federal Columbia River power system, in hopes of finally receiving agreement from a federal judge that the dams don't jeopardize the survival of threatened and endangered salmon.
The dams have been operated on provisional approval since the 1990s as plan after plan has been shot down by judges dissatisfied that federal managers are adequately protecting salmon from extinction. The most recent, Judge James Redden, now retired, said of the Lower Snake River dams last spring: "I think we need to take those dams down." He refused further comment.
The continued decline of nearly a dozen salmon runs on the Columbia and Snake rivers costs Bonneville Power Administration ratepayers hundreds of millions of dollars every year for recovery programs. Yet after decades of spending, not a single run has been taken off the Endangered Species list.
Sam Mace, of the Save our Wild Salmon Coalition, which favors dam removal on the Lower Snake, said changing economics on the river and dam removal elsewhere have shifted the debate this time.
"Fifteen years ago the public would ask: 'How do you know dam removal is going to work to restore salmon?' " Mace said. "But as more science is done and we see restorations under way such as the Elwha, instead the question is: 'Of course it is best for the salmon. But how can we afford dam removal, and what does it mean for shippers and farmers?'
"We need a solution that works for all of us."
Between 1995 and 2011, the amount of wheat shipped from the Port of Lewiston declined by nearly a half.
It's the same story for the Lower Snake River waterway, according to the U.S. Army Corps of Engineers. Shipping volumes on the Lower Snake have trended downward in recent years, falling 20 percent between 2010 and 2011, corps statistics show.
Kristin Meira, executive director for the Pacific Northwest Waterways Association, a trade association of 130 ports, towboat operators and other waterway users, said the decline is partly because of the recession, as well as a closure of the waterway for repairs to locks at the dams for several months between 2010 and 2011.
But meanwhile, new efficiencies in rail transportation are luring farmers from the river to rail. Farmers in two agricultural co-ops invested $18 million of their own money during the past six years to build a so-called unit-train shipping facility at McCoy, Whitman County. The facility will begin operation this harvest season.
It's the third such train facility in Washington, which has come late to an option already heavily deployed in other states, including Montana. In Washington's wheat country, the 110-car unit trains offer a shorter drive for upland wheat farmers to bring the crop to market.
It's also a more efficient shipping choice than the old short-line railroads to numerous country grain elevators, with smaller trains making up loads gathered from elevators here and there.
Unit trains offer shipping from a single point of loading, to a single destination, on longer trains that can move more grain faster and at lower cost for the grower and the shipper, said Jackie Tee, who helped lead the development of the McCoy facility.
For upriver farmers, rail has become a more competitive choice, especially with diesel for trucking grain to a river barge costing about $4 a gallon.
"Economics is driving this," said Ken Casavant, professor at Washington State University and an expert on the economics and logistics of the waterway. "It's a competitive shift."
But it's not a wipeout for river shippers. The two agricultural producer co-ops that invested in the unit-train loader also are keeping their storage elevators at the barge depots on the Snake River, Tee said. Those barge-loading facilities still make sense for farmers within 30 miles of slack water, she noted.
The continued presence of barge shipping also helps keep rail competitive, she said. "We are not abandoning the river terminals by any means," Tee said. "We need both."
Indeed, some shippers on the river, including the Port of Lewiston, have actually seen a recent uptick in volume for a variety of reasons, including swings in wheat production.
"It's those million-dollar rains," said Arvid Lyons, general manager of the Lewis Clark Terminal Inc. on the Snake River downstream from Lewiston, which he said has been shipping more grain over the past three years than over the previous 10 because of bumper crops in the Palouse.
Farmer Brian Jones grows wheat, peaches and apricots on the breaks of the Snake River near Dusty, an unincorporated community in Whitman County. He ships his crop by barge -- but says he and other farmers would be willing to look at dam removal if it didn't come at the cost of their livelihood.
"Farmers are going to do the easy math," Jones said. "If we could be guaranteed we would not be hung out to dry, we need to see what the solution is. Your cost of shipping could not be increased because of the lack of barging."
He recognized the waterway has come at a cost.
"There are quite a few of us that would say we regret the loss of salmon, and we wish they would not go away. We realize those dams might be impacting salmon.
"But we also don't want to go out of business."
Related Pages:
Energy Intensities of Freight: Barge, Truck and Railroad US Department of Energy, Center for Transportation Analysis, Transportation Energy Data Book
---
Lynda V. Mapes
Snake River Barging Drop: New Factor in Dams Debate?
Seattle Times, August 17, 2013
---
See what you can learn
learn more on topics covered in the film
see the video
read the script
learn the songs
discussion forum