---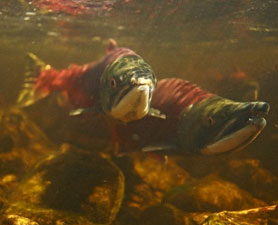 The National Hydropower Association on Wednesday presented Portland-based Northwest RiverPartners, central Washington's Grant County Public Utility District and Portland General Electric with national Outstanding Stewards of America's Waters Awards for projects that have provided "extraordinary operational, recreation, historical, environmental or educational value."
RiverPartners was honored for its CleanHydro public education campaign. The hydropower advocacy group received the award during a ceremony in Washington, D.C. NWRP's CleanHyro campaign was designed to educate the public about the multiple benefits and value of hydropower.
"We're honored that RiverPartners is being recognized for its CleanHydro campaign and all the hard work that has been dedicated to this program during the past three years," said Terry Flores, NWRP executive director. "It's a testament to the significant efforts of RiverPartners' members as well as regional and national associations to raise public awareness of the benefits of hydropower and its value to the Northwest economy and environment."
NWRP's public education campaign featured television ads, print ads and a website aimed at educating the Pacific Northwest's seven million residents about clean, renewable hydropower. The campaign reached more than three million households, and subsequent public opinion polling showed up to 9 percent in support for hydropower among various target audiences.
"The CleanHydro Campaign led by Northwest RiverPartners helped to educate residents of the Pacific Northwest about the truly important role that hydropower plays in the region, something not undertaken very often by the industry," said Linda Church Ciocci, NHA's executive director. "NHA is excited to honor such a large-scale endeavor that not only reached millions, but successfully increased hydropower's support amongst the public." Award winners were chosen based on the project or program's initial challenge, innovation, collaboration with stakeholders, and results. Winners were selected by representatives from across the hydropower industry and the media.
The five other organizations receiving NHAW awards, included Grant County PUD, Tacoma Power, Georgia Power and Portland General Electric.
Grant was honored in the "operational excellence" category for finalized designs for new state of the art advanced turbines for Wanapum Dam back in 2003. After receiving Federal Energy Regulatory Commission approval, the PUD worked for more than a decade to install 10 new units. Results of the new design demonstrate increased power generation and improved fish passage.
Portland General Electric and the Estacada Arts Commission's annual Art Jam was honored by the NHA for an innovative and collaborative outreach program designed to foster public appreciation of he rick history of the Northwest hydroelectric power industry. In 2013 30 local artists created works of fine are in a variety of media, drawing on inspiration from PGE's North Fork Dam and the surrounding environment.
For more information about Northwest RiverPartners and the CleanHydro Campaign, visit www.cleanhydro.com
Northwest RiverPartners' member organizations include more than 40,000 farmers, 4 million electric utility customers, thousands of port jobs, 7,000 small businesses, and hundreds of large businesses that rely on the economic and environmental benefits of the Columbia and Snake rivers. Northwest RiverPartners advocates for salmon restoration measures that are based in sound science, collaboration and cost effectiveness.
---
Staff
Northwest RiverPartners, Grant PUD Receive Awards From National Hydropower Association
Columbia Basin Bulletin, May 2, 2014
---
See what you can learn
learn more on topics covered in the film
see the video
read the script
learn the songs
discussion forum