---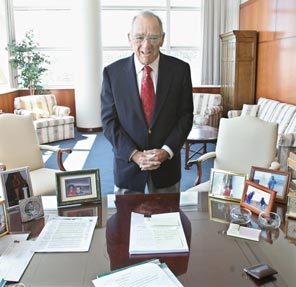 For more than a year, salmon experts have been speculating about what U.S. District Court Judge James Redden will do with the government's current plan to run power-producing dams in the Colmbia River basin without risking the extinction of protected salmon.
The judge has thrown out two previous plans, called biological opinions, from 2000 and 2004.
But attorneys involved in the case are understandably hesitant to publicly hazard a guess as to what Redden will do this time.
That is, except for one: Tim Weaver.
Weaver, attorney for the Yakama Nation for nearly four decades, was the subject of a profile in The Oregonian last week. He is dying of colon cancer.
During interviews for that story, Weaver spoke about what he thought Redden would do. The Yakama tribes opposed the two earlier government plans, but they, along with most Northwest tribes, support the current plan.
Weaver says the legal wrangling over the plan will end soon, with Redden finding a way to approve the controversial framework for keeping salmon from slipping closer to extinction due to hydroelectric dams that the government has proposed.
The plan, which is centered around improving habitat for the fish across the basin to increase their numbers, is opposed by the state of Oregon, the Nez Perce tribe and a coalition of fishing and environmental groups.
Weaver, who first worked with Redden when the judge was Oregon's attorney general two decades ago and the two were on opposite sides of a high-profile salmon lawsuit, is convinced the judge won't throw this plan out like he has earlier ones.
"I think we've gone just about as afar as we can in litigation," Weaver said. "I don't foresee Judge Redden taking any drastic action at this point."
Last month, the federal government responded to Redden's most recent questions with this supplemental brief. (PDF)
The groups opposed the plan are expected to answer that brief with one of their own soon.
Then it will fall to the judge to decide how to proceed. He could approve the plan, first introduced by the Bush administration and later amended by the Obama administration. He might also ask for further tweaks to it, or even decide to throw it out, as he has with previous plans.
Weaver said that last option isn't likely.
"I've dealt with him a long time. I just don't think he's going to go much farther," he said.
---
Matthew Preusch
Attorney Wagers Judge will Approve Columbia River Salmon Plan
The Oregonian, January 5, 2010
---
See what you can learn
learn more on topics covered in the film
see the video
read the script
learn the songs
discussion forum