---
Abundant precipitation, recharge efforts and reduced water use boosted the Eastern Snake Plain Aquifer
by 1.7 million acre-feet this past winter, after increasing it by 660,000 acre-feet the year before.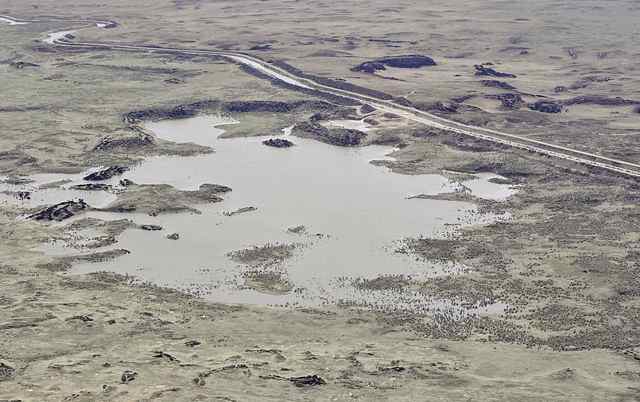 The water level in the Eastern Snake Plain Aquifer increased an astounding 1.7 million acre-feet over last year for the single largest increase in water volume in more than 80 years.
Bountiful winter precipitation during the past two years helped immensely, allowing the Idaho Water Resource Board to optimize its managed recharge program. But the gain is also due to reduced water use by farmers, private recharge efforts, increased tributary flows and natural seepage from winter runoff.
"The stars were lined up," Vince Alberdi, Idaho Water Resource Board member and former long-time manager of the Twin Falls Canal Company, said.
IWRB was able to recharge 545,000 acre-feet last winter through developed recharge sites, an amount beyond anyone's expectations, he said.
The managed recharge program also sent 317,000 acre-feet seeping into the aquifer the year before, helping to raise overall aquifer levels by 660,000 acre-feet.
"It's great, it's wonderful. We have a roadmap for success to continue doing what we're doing," he said.
Two good winters, good carryover this year, a commitment by groundwater users to reduce consumptive use, the board's efforts to increase recharge capacity and funding by the Legislature all played a part in increasing water levels in the aquifer, he said.
Hopefully, Mother Nature will continue to cooperate, he said, adding that even if she doesn't the pieces are in place to succeed.
Groundwater users committed to reducing consumptive use by 13 percent, about 240,000 acre-feet annually, in a 2015 agreement with surface water users. The board is steadily expanding its recharge program and, hopefully, the Legislature will keep stepping up to fund the program, he said.
"This aquifer will continue to rebound little by little. It's a win-win deal all the way around," he said.
It will take an ongoing effort, but it's a good solution to a problem that would have festered for years -- and the result would not have been good. If nothing had been done, the aquifer would have continued to decline, resulting in disaster and curtailments, he said.
IWRB estimates the aquifer was being depleted by 200,000 acre-feet a year between 1952 and 2017. Its goal is to recharge 250,000 acre-feet annually, averaging wet years with dry years, to bring the aquifer to average levels it was at between 1991 and 2001 by 2026. That will take an increase of 3 million acre-feet.
Water from the ESPA drives the economy in eastern and south-central Idaho, serving agriculture, industry, manufacturing and municipalities and providing drinking water for more than 40,000 residents.
There's been a significant uptick in the aquifer level, Mike McVay, an engineer and hydrologist with the Idaho Department of Water Resources, said in a press release.
"But we have to remember that this is a long-term proposition, and this is a good start. We need to build the aquifer back to sustainable levels over time," he said.
Less that 200,000 acre-feet of recharge will be possible in drought years, so it's critical to take full advantage of opportunities to compensate for dry years, according to IWRB, which is considering more recharge sites in the region.
---
Carol Ryan Dumas
Aquifer Recharge, Other Efforts Paying Off
Capital Press, July 16, 2018
---
See what you can learn
learn more on topics covered in the film
see the video
read the script
learn the songs
discussion forum