---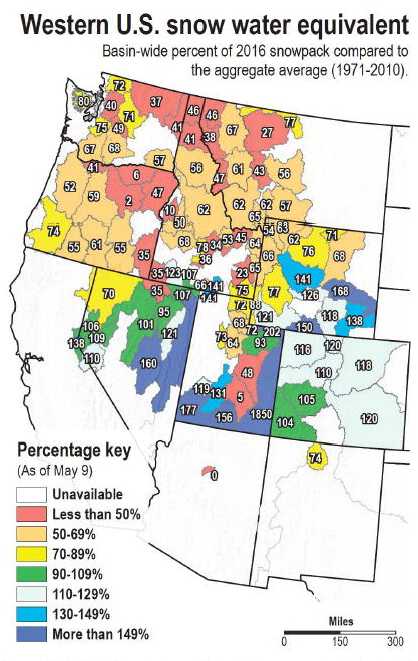 An April heatwave produced dramatic melting of the mountain snowpacks in Idaho, Oregon and Washington, quickly filling reservoirs but leading to worries in some areas that late-season water could be scarce.
Idaho
Parts of Idaho lost a record amount of mountain snowpack during April, according to hydrologists at the USDA Natural Resources Conservation Service.
As a result, peak streamflows are occurring two to three weeks ahead of normal, and the streamflow forecast has shrunk to 70 to 90 percent of average throughout most of the state, NRCS hydrologist Phil Morrisey said.
Morrisey said the snowpack now ranges from 55 to 85 percent of normal throughout the state, with the greatest snowpack losses occurring from Treasure Valley north through the Panhandle.
He said the declines were the result of dry weather and high temperatures, which averaged 3 to 10 degrees above normal.
"This year we saw more (April) decline in the snowpack than in any of the other years we've looked at it," Morrisey said.
Streamflow volumes for April were more than 175 percent of normal in the Boundary, Bruneau, Deadwood, Big Wood, Big Lost, Snake near Moran and Willow Creek drainages, as well as parts of the Salmon and Boise drainages.
The headwaters of the Snake River at the Wyoming border received just one-third of usual April precipitation, and most of the state's basins received 40 to 60 percent of their usual moisture for the month.
Southern Idaho was the exception to the dry month, with April precipitation at 112 percent of normal in the Owyhee Basin, more than 150 percent of normal in the Bruneau, Jarbidge and Salmon Falls basins and 130-140 percent of normal in the Oakley and Raft River basins.
Morrisey said based on current natural-flow and storage conditions, marginally adequate supplies are anticipated in the Big Lost, Little Lost and Big Wood basins. Morrisey said reservoirs have above-normal fill throughout the state and are capturing the runoff, which has been aided in reaching streams by ample soil moisture.
Lynn Hannon, general manager of the Big Wood Canal Co., said his irrigators rely mostly on storage water, and the early melting has helped his water outlook, given that peak flows were filling reservoir storage before irrigators with senior natural-flow rights upstream started diverting.
Oregon
April's heatwave was so intense that nine automated snow monitoring sites in Oregon recorded the most dramatic April snowmelt on record.
Among monitoring sites that typically have snow on May 1, 75 percent lost between 3 and 4 feet of snow in the month, according to the USDA's Natural Resources Conservation Service.
The early runoff helped fill reservoirs around the state, but means streamflows will be below normal this spring and summer, especially in Southern and southeastern Oregon, the NRCS reported in its May water supply bulletin.
"Once the snow is gone, streams will be at the whim of temperatures and spring rainfall," the NRCS Portland snow survey team reported. The National Oceanic and Atmospheric Administration's Climate Prediction Center said the state can expect above normal temperatures for the next three months, although with above normal rain in Southern Oregon.
Much of the Pacific Northwest received normal to above average rain or snow last fall and winter, and by the end of March the snowpack was above average in many areas.
April changed that.
"This year highlights not only the importance of peak snowpack quantity, but also the importance of the rate, timing and amount of snowmelt," the NRCS said in its Oregon report.
Normally, melting snow feeds streams at a slower pace that sustains the water supply later into summer, the NRCS said.
Spring rains will be come more important factors than usual, the agency said.
"If plentiful, it could help delay irrigation demand and increase reservoir storage, potentially offsetting or buffering the impacts of early snowmelt," the agency's snow survey team concluded.
Washington
April was a month of rapid snowmelt in the Washington Cascades giving irrigators plenty of water, but it may not last into late summer in valleys with little or no reservoirs.
Pear orchards in some parts of the Wentachee Valley, orchards to the north in the Entiat Valley and orchards and hay fields even farther north in the Methow and Okanogan valleys may run low on water in August and September.
Junior water right holders in the Yakima Basin are forecast at 85 percent of the normal supply by late summer, the U.S. Bureau of Reclamation announced May 5.
That shouldn't affect irrigators such as the Roza Irrigation District and Kittitas Reclamation District but means they and other juniors will need to be careful with water, a USBR official said.
"We've seen the fastest melt rate we've ever seen -- record rates or second-fastest rates in over 80 percent of our SNOTEL (snowpack telemetry) sites with 15 years or more of data," said Scott Pattee, water supply specialist with the NRCS in Mount Vernon.
"Sites below 5,000 feet have melted out two to three weeks early and right now the snow level is 5,000 to 5,500 feet," Pattee said.
Statewide snowpack was 107 percent of normal on April 5 but had dropped to 73 percent of normal by May 4, he said. The best snowpack all winter was in the upper Columbia, but that's now 68 percent versus 134 percent a month ago, he said.
May 5 through September streamflow forecasts are reflecting the earlier than desired loss of snowpack, Pattee said.
Rapid snowmelt has caused the highest unregulated flows in the Yakima River at the USBR station at Parker in the past 35 years and the second-highest in the past 90 years, said Chris Lynch, a USBR hydrologist in Yakima.
The Wenatchee River and other rivers draining the east slopes of the Cascades have been running full for a month. The only thing that's prevented flooding has been that there was little to no rain, Pattee said.
Precipitation at the five water reservoirs in the Yakima Basin was 14 percent of average in April, which is a new record, beating 15 percent for that month set in the 1930s and 1950s, Lynch said.
"I don't want to raise any big alarms, but it's a very interesting statistic," he said.
It means April was a dry month, which by itself may not mean much but would if March had been dry, he said. May usually is drier than April. As of May 3, the five Yakima reservoirs were 94 percent full and at 126.7 percent of the average from 1981 through 2010.
"We hope to have them full by mid to late May and be able to make it into June before we start drawdowns for irrigation," Lynch said.

---
Staff
April Heat Produces Dramatic PNW Snowmelt
Capital Press, May 14, 2016
---
See what you can learn
learn more on topics covered in the film
see the video
read the script
learn the songs
discussion forum