---
Global Production Shifts as Companies Seek Cheaper Power
DUBAI, United Arab Emirates -- With energy prices steadily increasing, the world's biggest aluminum companies are investing heavily to secure dedicated power sources, at times buying local power plants or building aluminum-making operations in remote parts of the world where energy is more abundant and cheaper.
United Co. Rusal, Alcoa Inc., Norsk Hydro ASA and others are jockeying to corner supplies of hydro power in Siberia and Iceland, and cheap natural gas in the Middle East, to fuel new metal plants. The producers are acknowledging that it is more important to be closer to energy sources than to customers, and effectively shifting the center of global aluminum production away from Europe and the U.S. to more energy-rich nations.
The moves also represent a shift in investment strategy, as producers funnel cyclical profits into power generation and less into developing aluminum products or applications. Indeed, aluminum companies are selling more consumer operations, such as packaging, to free up cash for cheaper power sources.
In the 1980s, the U.S. and Western Europe accounted for more than half of the world's aluminum production. Now those two regions account for less than 25%. "The market is moving away from North America and Europe. The market is now shifting to the developing countries," said Willem Plaizier, an analyst at AT Kearney Benelux.
Russia's Rusal, created earlier this year from the merger of OAO Rusal, Sual Group and the alumina assets of Glencore AG, has divested itself of its aluminum-can business and other parts of what the industry calls its downstream operations, which now account for 3% of its revenue. Rusal had $8.18 billion in 2006 revenue, excluding Sual and Glencore assets.
Alcoa also is trying to sell some of its consumer automotive-related business. "You are not going to go anywhere unless you integrate upwards, into energy and fuel," said Artem Volynets, director of corporate strategy for Rusal.
Mr. Volynets and representatives of the world's biggest aluminum makers gathered at an industry conference here to discuss industry issues, chief among them energy. The Middle East, with its abundant gas resources, is expected to be one of the fastest growth areas for new aluminum-smelter production. Rusal aims to buy small local power companies and has formed a partnership with the Siberian hydro power monopoly.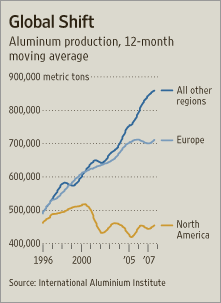 "We plan to increase our capacity in primary aluminum by 60% in 2014. All of the new smelters will have self-generation power or long-term contracts," Mr. Volynets said.
Norway's Norsk Hydro has formed a joint venture with Qatar Petroleum to build an aluminum plant in Qatar. And Alcoa is ramping up its new smelter in Iceland, where it has agreed with the country on a dedicated, long-term supply of hydro power.
To further efforts to tap Iceland's potential for cheap energy, this week the company said it was investing in a research-and-development program in Iceland that would use geothermal energy to power aluminum smelters. Geothermal energy is derived from underground water heated naturally by contact or close proximity to molten rock. Alcoa also is investing in hydroelectric projects in Brazil.
As these new aluminum facilities are going up, producers are shutting down high-cost smelters. Norsk Hydro since 2003 has closed about 250,000 tons of capacity in high-cost Norway and Germany in favor of Qatar in the Middle East. Last year, Alcoa closed a smelter in the U.S. because the cost to fuel it was too high.
The U.S. essentially lost its aluminum-production facilities in the Pacific Northwest a few years ago, when energy prices became too high. Canada, with its hydroelectric power, is still attractive to some aluminum companies. Part of Alcoa's unsuccessful attempt to buy Canada's Alcan Inc. was the need for Alcan's cheap power contracts with the Canadian government. Rio Tinto beat Alcoa out for Alcan this year.
Aluminum analysts expect two to four million metric tons of existing high-cost aluminum production, mostly in Europe but also in the U.S., will shut down by 2010. Meanwhile, aluminum demand is expected to rise 3% to 4% a year. As with most commodities, growth is being fueled by consumption within China for automobiles, machinery and commercial construction. Aluminum production is increasing in China, but not cheaply. Energy in China is expensive, and its availability is limited even with the vast construction of power plants.
---
Robert Guy Matthews
Aluminum Industry Puts Focus on Energy Sources
Wall Street Journal, September 13, 2007
---
See what you can learn
learn more on topics covered in the film
see the video
read the script
learn the songs
discussion forum