the film
forum
library
tutorial
contact

With Spring Chinook Harvest Nearing ESA Limits,
States Warily Allow More Lower River Sport Fishing

by Staff
Columbia Basin Bulletin, May 25, 2012
---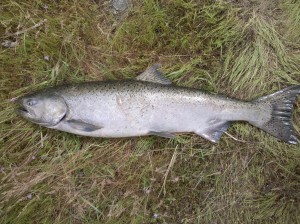 Anglers got a holiday treat this week with the approval of a Saturday-Sunday reopening of the lower Columbia River spring chinook salmon fishery, which had been closed since April 13.
A joint state sport hearing Tuesday made up of representatives of the Oregon and Washington departments of fish and wildlife eyed the prospects warily, given the fact that the catch in-hand leaves only about 1,400 upriver chinook for harvest before the "spring" season ends under an agreed-upon allocation. The overall allocation - split between sport and commercial fisheries - is based on the size of the run. The agreement allows larger percentage harvests on larger returns.
"It's a tough call," the WDFW's Guy Norman said in suggesting a fish-now option as opposed to waiting until next week to potentially set early June sport fisheries on the lower river (Bonneville Dam downstream approximately 146 miles to Buoy 10 and the river mouth) on a downward trending spring chinook run.
ODFW and WDFW had in a May 22 joint staff report offered two proposals. The first would have opened the lower river fishery to chinook retention through the three-day Memorial Day weekend and result in the estimated mortality (kept fish plus post-release mortality) of 1,070 upriver spring chinook. Such a total would bring upriver mortalities to 14,300 for the season, which would represent 97.8 percent of the mortalities allocated for the recreational fishery for the spring period that ends June 15.
The spring season is managed to control impacts on "upriver" spring chinook bound for tributary spawning grounds and hatcheries upstream of Bonneville in Idaho, Oregon and Washington. Those stocks include Snake River and Upper Columbia wild stocks that are listed under the Endangered Species Act. Anglers must release fish that have not been marked in the hatchery with a clipped adipose fin. Most unclipped fish are presumed to be of natural origin.
Those fishing "impact" allocations are based on the estimated size of the upriver run, which has shrunk from a preseason forecast of 314,200 to 216,500 adult fish returning to the mouth of the Columbia.
Through Thursday 147,520 adult chinook had been counted passing over Bonneville's fish ladders. Daily counts reached a peak May 9 when 18,436 passed the dam and have been in decline ever since. Thursday's count was 1,372 fish, a slight uptick from Wednesday's 960-springer total.
Counts generally rise to a peak in late April or early May then decline to a low around June 1 before beginning to rise again with the arrival of more "summer" chinook. Chinook passing over Bonneville through June 15 are categorized by the states as spring chinook. And while the run-size forecast is reduced from preseason expectations, the new forecast developed this week by the Technical Advisory Committee and the dam count progressions are both very near 10-year averages.
Norman on Tuesday suggested that a two-day weekend fishery be implemented instead of a three-day opening, a move that staff estimated would reduce upriver impacts by about 400 fish. The three-day option left the prospect of few fishing options for early June, since potentially most of the available impacts would be consumed, particularly if future run-size estimates went down. The ODFW and WDFW staffs estimated that a no-fishing option for the Memorial Day weekend would leave the possibility of 10 days of fishing leading up to June 15, when management shifts to fisheries targeting summer chinook.
The ODFW's Steve Williams supported Norman's motion with some reluctance, saying the move risks spending two days of fishing now and as a result, potentially, sacrificing six fishing days that could available in early to mid-June. If the harvest is greater than anticipated, and/or the run-size forecast is decreased, most of the spring impacts could be consumed.
The end result could be "having our cake now and not having much in June," Williams said. He ultimately supported Norman's motion, saying he hoped "we can have our cake and eat it too." Should the fish numbers jump and the forecast be updated to above 217,000 adult fish the allowed non-tribal take would jump from 1.9 to 2 percent of the upriver run
By the boards Tuesday was a lower river commercial option. Staff estimated that a proposed six-hour gill-net opening could result in an upriver impact of 450-600 mortalities. At the upper end that would represent in total for the season 100.4 percent of the fleet's 5,074 allowable impact based on the predicted 216,500-adult upriver spring chinook return.
Commercial fishermen testifying at Tuesday's Columbia River Compact meeting for the most part suggested waiting for planned run-size updates next week, in effect deferring on the side of conservation.
Commercial fisherman Jim Wells pointed out that the return currently included about 161,000 fish in hand - fish counts at Bonneville plus lower river treaty and non-Indian harvests to-date. So the days leading up to June 15 need to produce 56,000 fish to achieve the current run-size projection.
"In my opinion you don't have that kind of horsepower in this run," Wells said.
The Northwest Gill-netters Association's Les Clark said he'd rather fish, "but if we have to starve, I'd like to starve on the side of conservation" rather than risk exceeding limits on wild fish mortality.
"We don't want anything to come up that makes the fishermen look bad," Clark said.
The state officials judged that the two-day sport fishery could be held within the limits.
"We're able to provide some additional opportunity for the holiday weekend, which people have been asking for," said Kevleen Melcher, assistant fisheries manager for ODFW's Ocean Salmon and Columbia River Program.
The daily bag limit includes up to two adult adipose fin-clipped salmon/steelhead in combination, of which only one may be a chinook. Anglers are also allowed to keep up to five chinook jacks.
Sockeye salmon may be retained but count toward the adult bag limit regardless of size.
The four-mile stretch from Bonneville downstream to Beacon Rock is restricted to bank fishing only. Above Bonneville, chinook fishing is now closed.
Anglers are expected to catch about 825 hatchery-reared spring chinook, including 715 from upriver stock, during the two-day opening, said Cindy LeFleur, WDFW Columbia River policy manager.
"There's a chance we'll be able to open the fishery for some additional days after this weekend, but that all depends on next week's run update," she said. Fishery managers that make up TAC will meet next Tuesday to determine whether that projection is still on track.
LeFleur noted that the catch allocation above Bonneville Dam in the Columbia and Snake rivers has been met, so additional fishing opportunity is limited to the lower Columbia River.
The total tribal catch through May 19 was an estimated 15,080 fish. Of that total 1,090 were taken below Bonneville with the balance taken upstream.
The nontribal commercial fisheries have kept and release mortalities totaling 4,318 in the lower river below Bonneville. That catch took place during two April fishing periods totaling 18 hours.
The states estimate that the lower Columbia sport fishery includes a kept catch of 12,950 chinook. A total of 2,162 fish have been caught and released. The estimated upriver chinook mortalities in the lower river sport fishery is 9,934 fish.
From Bonneville upstream to the Oregon/Washington border there have been an estimated 886 chinook mortalities and on the lower Snake River in waters that border Washington there have been an estimated 2,377 mortalities, including a kept catch of 2,327.
Related Pages:
Spring Chinook Fishing to Reopen in Lower Columbia by Allen Thomas, The Columbian, 5/22/12
---
Staff
With Spring Chinook Harvest Nearing ESA Limits, States Warily Allow More Lower River Sport Fishing
Columbia Basin Bulletin, May 25, 2012
---
See what you can learn
learn more on topics covered in the film
see the video
read the script
learn the songs
discussion forum