---
Repairs included new hydroelectric turbine in the Tri-Cities area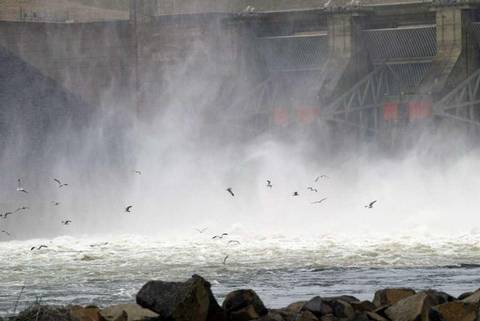 The river navigation route between Portland, Ore., and the Lewiston-Clarkston Valley is starting to reopen after its annual maintenance closure that included installing a new hydroelectric turbine at Ice Harbor Dam in the Tri-Cities area.
Locks at the eight dams along the Columbia and lower Snake rivers between the two communities were temporarily shut down at various times in February, suspending traffic of grain barges and overnight passenger cruise boats.
John Day Dam's locks returned to operations Saturday followed by Bonneville Dam's locks Thursday. Both dams are on the Columbia river.
The Ice Harbor and Little Goose dam locks on the lower Snake River resume operations Saturday and the ones at McNary Dam on the Columbia River reopen Sunday.
The locks at The Dalles Dam on the Columbia River and Lower Monumental and Lower Granite dams on the lower Snake River are scheduled to be back in service March 19.
One of the biggest upgrades that happened during the outage was the installation of a turbine at Ice Harbor Dam.
It is one of three 61-year-old turbines at the dam that are in the process of being replaced through a $73 million, multiyear contract with Voith Hydro Inc. Ice Harbor has a total of six turbines. The other three debuted in 1976.
"The (new) adjustable blade turbine is fabricated with stainless steel blades that will resist corrosion and eliminate damage compared to the original carbon steel turbines," said Project Manager Kevin Crum in a corps of engineers news release.
Tests will be conducted this fall to see what impact the new turbine has on survival rates of threatened and endangered salmon and steelhead as they head to the ocean. The fish live in the ocean for one to three years before returning to the rivers where they hatched to spawn.
"After (more than) 50 years of operation and increasing maintenance requirements, the need to replace the existing turbines at Ice Harbor presented the opportunity to pursue new turbine designs with fish passage improvement as a priority," Martin Ahmann, hydraulic engineer and technical lead for the turbine replacement project, said in the news release.
Ice Harbor is being used as a testing ground for technologies that have the potential to boost fish survival rates and might be deployed at other dams on the system.
One of the three oldest turbines was replaced with a fixed blade turbine in 2018 and the third one from the 1960s will be replaced at a later date.
Besides the upgrade at Ice Harbor, crews repaired cracking discovered last year in a downstream miter gate at The Dalles Dam in a project estimated to cost about $1.7 million. The corps believes the problem was caused by vibration, improper sealing and gate misalignment.
Routine work at other dams involved preventive maintenance, repairs, safety inspections, painting and improving safety markings.
Corps officials don't have a tally of the total cost of the work done during the closure.

---
Elaine Williams
Traffic Resumes on Snake, Columbia Rivers After Closures, July 29 Due to Maintenance Work
Lewiston Tribune, March 11, 2022
---
See what you can learn
learn more on topics covered in the film
see the video
read the script
learn the songs
discussion forum