---
Biological opinion aims to protect, improve habitat, but hydro operations largely same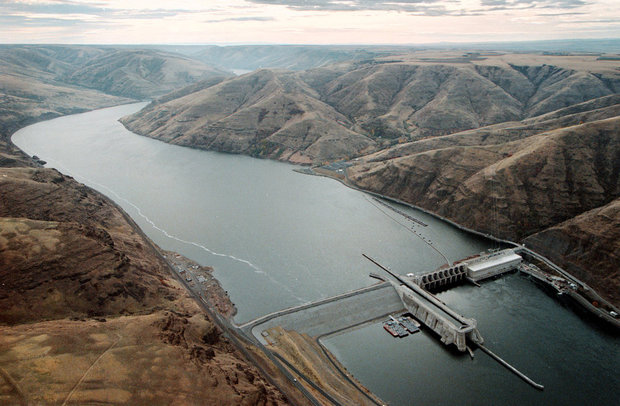 The federal government is standing by its previous plans for managing the Columbia River to prevent the extinction of its salmon and steelhead. That means little would change for dam operations on the West's biggest river -- but only if it wins court approval.
Officials Friday released the finalized plan, known as the biological opinion. It guides dam operations to assure they do not lead to the extinction of 13 species of salmon and steelhead that are protected under the Endangered Species Act. The plan has been the subject of more than 20 years of legal conflict between people who want to protect salmon and people who want the dams to produce hydroelectricity and maintain shipping traditions.
The National Oceanic and Atmospheric Administration is the lead agency in developing the biological opinion. It says the current plan is on track to meet Endangered Species Act goals for the federally protected fish. NOAA officials say the plan may better protect some fish than previously thought.
"The actions outlined in the biological opinion, and the operation of the hydro system, is designed to move us in the direction towards recovery and avoid jeopardy, and this program does that," said NOAA's Barry Thom. "It actually does improve the status of the populations over time. But it is not designed to achieve ultimate recovery of the population."
Officials say the 610-page plan will protect and improve habitat, with specific attention paid to tributaries and estuaries of the Columbia and Snake rivers.
In 2011, U.S. District Judge James A. Redden rejected the plan and asked the Obama administration to consider more ways to recover the endangered fish.
The case has been transferred to Judge Michael H. Simon.
Now that the previous version of the plan is partway completed, supporters say a trend toward larger salmon runs shows the plan is working. Terry Flores, with Northwest RiverPartners, which represents commerce and industry groups that defend the presence of hydroelectric dams, said, "This plan is amazing. It's the most comprehensive plan we can find anywhere in this country by far."
Environmental groups say they are disappointed. Gilly Lyons, with Save Our Wild Salmon, said the group is frustrated.
"The federal agencies in charge here have re-issued a slightly tweaked, but largely status quo federal salmon plan that repeats a lot of the same mistakes over the past decade or so that kept them in court and bound them in litigation over these dams and the salmon that they impact."
---
Courtney Flatt
Feds Affirm Plan for Dams, Salmon
The Columbian, January 18, 2014
---
See what you can learn
learn more on topics covered in the film
see the video
read the script
learn the songs
discussion forum