---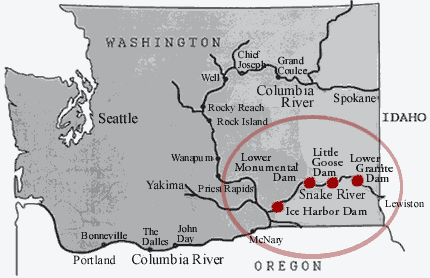 In a recent letter to the editor, Reed Burkholder called for the removal of the four Snake River dams in order to save wild salmon. Obviously, Mr. Burkholder and those of his ilk have no clue as what has been done on the Snake and Columbia rivers by the U.S. Army Corps of Engineers to enhance the return of wild and hatchery salmon and steelhead.
Each dam has a juvenile fish facility that collects smolts migrating downstream and then barges them safely down through the warm, murky carp ponds, as stated by Mr. Burkholder, and releases them below Bonneville Dam. Plus, since the installation of the weirs on each spillway of all the dams, incidence of smolt mortality has decreased dramatically. And the adults migrating upstream have no difficulty in negotiating the fish ladders on each dam.
If you monitor fish counts over the years you will see a gradual increase of returning wild and hatchery salmon and steelhead. Evidenced by recent sport fishing allowed for salmon on the Snake River for both spring and fall salmon, which was closed for nearly 30 years on the Snake River.
And, yes, you can't eat the wild salmon but the hatchery ones sure taste good!
It is rather obvious that the major threat to the saving of wild salmon stops at the base of Hells Canyon Dam which has no fish ladders or juvenile fish facilities. Removal of all the Idaho power dams will open up over 5,000 miles of natural spawning grounds for wild salmon and steelhead, thus ensuring the survival of both wild salmon and steelhead by returning the upper Snake River to its natural state.
Then there is the shad, which is not a natural species to the Columbia and Snake river system. If you watch the fish counts of the shad you will see a dramatic increase over the years as they migrate up the river to spawn. And they are not protected in any way, both as adults and smolts. And when the shad smolts migrate downstream in January and February all the fish facilities and spillways are closed and every shad smolt travels through the turbines on every dam on the Snake and Columbia rivers and through the warm, murky carp ponds of Mr. Burkholder's vision.
I believe that the Corps of Engineers has done an excellent job of enhancing the return of the salmon and steelhead and I support their continuing efforts.
Related Pages:
Bluefish.org Offers Reward by Staff, Idaho Mountain Express, 5/23/8
Survival of Snake River Salmon & Steelhead Data compiled July 2004
---
Posted by salmonsaver at 01/16/12

The federal government via the Corps of Engineers and the Bonneville Power Administration has invested billions of dollars over three decades in the Snake River drainage with no appreciable improvements in wild spring/summer chinook and steelhead - the most important salmon populations in the entire Columbia River. Those populations reside in high quality tributary habitat in Idaho [Clearwater, Salmon], Oregon [Grande Ronde, Imnaha] and Washington [Tucannon].

NOAA Fisheries is working on a draft plan for the Snake River drainage that should identify what constitutes genuine recovery. Currently the 53 Snake basin populations of wild spring/summer chinook and steelhead do not meet viability criteria as identified by NOAA. A majority of Northwest fisheries biologists agree - true recovery will require dam removal in the lower Snake.

Federal spending keeps accelerating to preserve the lower Snake River dams - the liabilities of those four dams exceed their assets.

The federal government should commence an analysis to take a critical look at retaining/removing the lower Snake dams.

Bert Bowler, Snake River Salmon Solutions, Boise, Idaho
---
Peter Lyski, College Place
Removal of Snake River Dams a Fallacy
Walla Walla Union Bulletin, January 15, 2012

---
See what you can learn
learn more on topics covered in the film
see the video
read the script
learn the songs
discussion forum