---
EPA-led effort is a blueprint for the next five years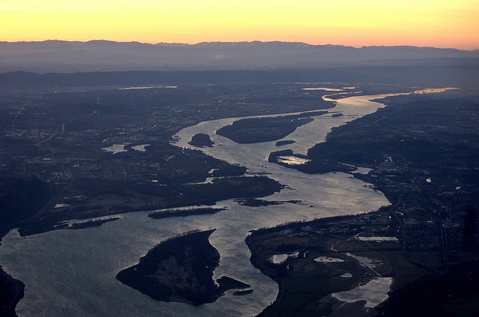 Laying the groundwork for a cleaner Columbia River, the U.S. Environmental Protection Agency on Thursday released a new "action plan" to reduce toxic pollution.
The plan, devised by a working group of federal, state and tribal environmental regulators, includes 61 actions that collectively form a blueprint for the next five years. Members of the working group announced the plan during a gathering Thursday morning at a tribal center near Pendleton, Ore.
Tribal groups are especially concerned about pollution because they tend to eat more fish from the river.
"This is a great day," said Kathryn Brigham, a board member for the Confederated Tribes of the Umatilla Indian Reservation. "This is a day we've been waiting for, for a very long time."
A 2002 study of Columbia River fish tissues revealed the presence of 92 toxic chemicals, resulting in a 50-fold increase in cancer risk among tribal members whose diets rely on river-caught fish.
The action plan includes greater public education to reduce pollution at the source; heightened enforcement; more extensive monitoring; research and promotion of less-toxic chemical alternatives for consumers; and development of a single, regionwide data management system.
It also cites a recent decision by Oregon environmental regulators to raise the human health standard for pollution.
The standard, which is expected to take effect next year, assumes someone eats about 23 fish meals a month. That's a significant increase over the current assumption of one 7-ounce serving per month, and it could result in tighter restrictions on what's allowed to be discharged into Oregon waters.
Washington expects to follow suit with its own review beginning later this year, said Sally Toteff, Southwest regional director for the Department of Ecology.
Yet, the effect on water quality remains unclear.
Industry and regulators say they can barely measure, much less constrain, the relatively tiny amount of pollution permitted to flow out of "point sources" -- pipes discharging treated effluent from sewer plants or paper mills.
Much of the pollution plaguing the river is indistinct, and the sources are as varied as the land that drains into it: Pollutants arriving from farms, forests and mines and the general detritus of an ever-expanding human population living in a drainage basin as big as France. Tackling this diffuse kind of pollution is a struggle under the current standards for water quality, much less a standard that's even more restrictive.
EPA Regional Administrator Dennis McLerran described the plan announced Thursday as a first step.
"Today, I'd like to commit EPA with our partners to take action to restore the magnificent Columbia River basin," he said. "This action plan provides a pathway for us to continue. EPA believes a collaborative approach is the way to restore this precious ecosystem."
Several speakers alluded to the risk of the plan gathering dust on a shelf.
Brett VandenHeuvel, executive director of the environmental group Columbia Riverkeeper, serves as a member of the working group that devised the EPA's action plan. He termed the plan a good beginning.
"We need to make sure we have the courage to follow through when there are difficult decisions to be made," he said.
Mary Lou Soscia, the EPA's Columbia River coordinator, said the agency estimated it would take up to $6 million over the next two years to implement early actions.
Over the longer term, members of the Northwest congressional delegation are pressing for a much greater federal commitment.
U.S. Sen. Jeff Merkley, D-Ore., and Rep. Earl Blumenauer, a Portland Democrat, earlier this year each introduced the Columbia River Restoration Act. The House version would authorize as much as $40 million a year, while the current Senate version authorizes $33 million.
The bills have yet to make it out of committee.
The House bill gives a large role to the 15-year-old Lower Columbia River Estuary Partnership, which would get 40 percent of the funding; the Senate bill emphasizes the EPA-led action plan. The House bill not only authorizes more money, but it specifies that no more than 5 percent should be used for administrative overhead. The Senate bill specifies that at least a third of the funding should go toward the lower river and a third to the middle and upper Columbia basin. The remaining third is unspecified.
Related Pages:
Toxic Contaminants and Their Effects on Salmonids Morace, Johnson & Nilsen, Science Policy Exchange, 9/11/9
---
Erik Robinson
'Action Plan' Targets Columbia River Pollution
The Columbian, September 23, 2010
---
See what you can learn
learn more on topics covered in the film
see the video
read the script
learn the songs
discussion forum