---
Washington Gov. Jay Inslee must like trucks. And railroads.
Or he likes to trash the Eastern Washington economy, much of which depends on using barges to transport wheat and other crops grown there to ports along the Columbia River.
He must. Otherwise, why would he sign on with his "environmental warrior" friends to consider taking out four dams on the lower Snake River?
Inslee even proposes spending $1.1 billion to try to "save" the orcas that migrate back and forth between Southeast Alaska and Northern California. He actually believes that Washington state taxpayers need to "protect" the orcas, which are already protected under federal law.
Everyone likes orcas, but it's not as though the orca population is teetering on the verge of extinction. Though the population has decreased from 98 orcas in 1995 to 82 in 2018, that population is actually up since 1973, when it was 66.
Despite those and other facts, Inslee and his friends would spend $750,000 of taxpayer money to study whether to tear out the four dams on the lower Snake River that, he postulates, would in some way benefit the orcas.
It all sounds very fishy to us.
Those dams, it should be noted, all have fish passages. Any orcas that happen to be hanging out at the mouth of the Columbia River should be able to get their fill of salmon and any other fish heading up or down river.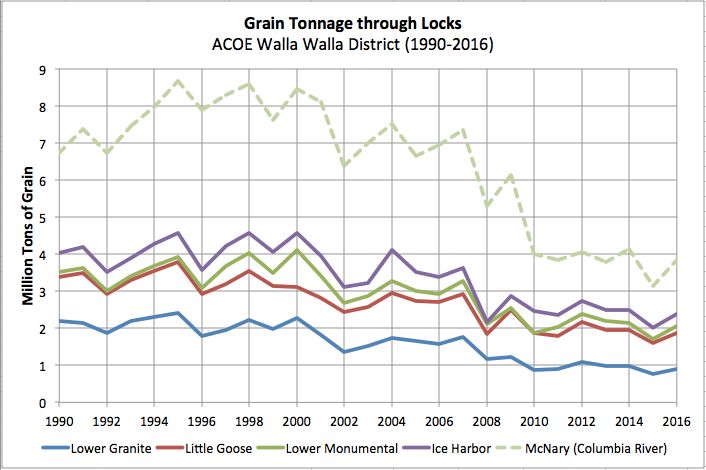 Even a state-commissioned report on the orcas said other factors have a far greater impact on the orcas. They include the huge population of sea lions that camps at fish passages at dams and eats the fish. More than a quarter-million sea lions live in Washington, Oregon and California, all chowing down on salmon that would otherwise go to orcas or to spawn upriver.
Yet Inslee and friends want to tap the public treasury for $1.1 billion for the orcas.
We wonder if it has occurred to them that for that amount of money, they could go to Pike Place Market and buy fresh chinook salmon for the orcas. At about $20 a pound for whole chinook, that's something like 55 million pounds of fish.
If they did get their way and take out the four Snake River dams, it wouldn't help the orcas -- and it would cost billions of dollars more to build enough roads and rails to replace the lost capacity of the barges that use the Snake and Columbia rivers.
According to Kristen Meira, head of the Pacific Northwest Waterways Association, losing the dams -- and the barge traffic they allow -- would require 167,000 trucks or 43,610 railcars to transport the 4.4 million tons of wheat and other crops and products that now are shipped by barge.
And don't forget: The dams also produce electricity.
Better fire up that construction equipment, fellas, because you'll have a lot of railroad, highways and power plants to build.
Or you can keep the $1.1 billion in taxpayers' money and work with the federal government to help the orcas.
That's what a responsible governor would do.

---
Editorial Board
A Bad Dam Idea
Capital Press, January 24, 2019
---
See what you can learn
learn more on topics covered in the film
see the video
read the script
learn the songs
discussion forum