---
Plan released for dam operation on Columbia and Snake rivers
GRANTS PASS -- The Bush administration on Tuesday proposed cutting the federally designated habitat critical to the recovery of threatened and endangered salmon by more than 80 percent in the Northwest and 50 percent in California, focusing protection on rivers where the fish now thrive.
Based on public comments received over the next six months, the area could be reduced even more, said Bob Lohn, northwest regional administrator for NOAA Fisheries, the federal agency responsible for saving salmon from extinction.
Large areas could be taken out where state and federal habitat protections are already in place, such as national forests covered by the Northwest Forest Plan, and places where the economic benefits of development outweigh the biological benefits of habitat.
As a result of a lawsuit brought by the National Association of Home Builders, NOAA Fisheries agreed to reconsider critical habitat designations for 13 groups of salmon in the Northwest and seven in California that were listed as threatened or endangered.
The critical habitat proposal pleased the home builders association, which has been chafing under the costs of getting federal permits for development in wetlands.
"Recognizing the importance of economic costs and trying to minimize the impact on industry in areas where there are low values to species and high economic costs are well in line with NAHB's policies,'' said Michael Mittelholzer, director of environmental policy for the association.
Based on the standard that critical habitat should provide for recovery, not just survival of a species, the critical habitat designation originally included rivers accessible to salmon, even if no fish occupied them, and covered most of Washington, Oregon and California and parts of Idaho.
In another action Tuesday, NOAA Fisheries released the final version of its latest court-ordered plan for operating hydroelectric dams on the Columbia and Snake rivers in Washington, Oregon, Idaho and Montana.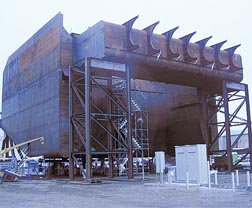 The plan, known as a biological opinion, is estimated to cost about $600 million a year over the next 10 years, and relies heavily on construction of removable fish weirs on eight dams to increase the survival of young salmon migrating to the ocean.
The biological opinion must gain approval of a federal judge before going into effect.
Both proposals were strongly opposed by environmentalists, Indian tribes and a commercial fishing group, which said the Bush administration was abandoning any hopes of restoring salmon beyond bare survival.
Environmentalists and Indian tribes continue to believe removing four dams on the lower Snake River is the best way to restore Columbia Basin salmon.
"The tribes made treaties 150 years ago to carry on a way of life,'' said Olney Patt Jr., executive director of the Columbia River Inter-Tribal Fish Commission. "Now we see the federal government turning its back on that commitment and sacrificing salmon for the operation of the dams.''
Commercial river users were pleased.
"The new baseline which includes the dams in place should help focus the region on real solutions rather than shifting attention into a division fight to breach dams or don't, where millions of dollars has been spent over the last 10 years,'' said Glenn Vaneslow of the Northwest Waterways Association, which represents grain growers, towboat companies, and utilities.
Critical habitat designations for salmon, including metropolitan areas of Portland, Seattle, and Sacramento, Calif., were dissolved in 2002 after the National Association of Home Builders filed a lawsuit arguing that an analysis finding no significant economic impact was inadequate.
A new economic analysis found salmon protections cost the Northwest economy about $223 million a year, with no significant economic benefits. The figure for California was not immediately available.
Glen Spain of the Pacific Coast Federation of Fishermen's Associations said the economic analysis failed to take into account the economic benefits of a commercial fishing industry once worth $1 billion a year.
"Salmon have been reduced to a small part of their habitat, and that's why they are endangered,'' said Patti Goldman, an attorney for Earthjustice, an environmental public interest law firm in Seattle. "They should be asking what amount of habitat salmon need to recover and they are not asking that question.''
Lohn said the reduction was largely due to using maps with finer detail and limiting the designation to good habitat salmon actually occupy.
Lohn said protection for salmon would not be reduced by the habitat reductions, because developers on private land needing federal permits and projects on federal lands still have to consult agency biologists to assure they did not harm salmon.
Related Pages:
22 Sockeye Return by Jennifer Sandmann, Seattle Times 9/1/4

---
Jeff Barnard, Associated Press
Feds Propose 80 Percent Cut in Salmon Habitat
Corvalis Gazette-Times, December 1, 2004
---
See what you can learn
learn more on topics covered in the film
see the video
read the script
learn the songs
discussion forum