---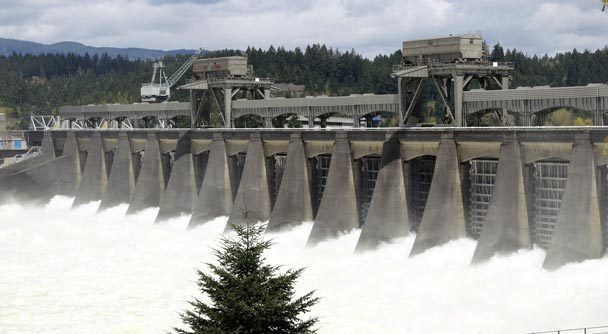 A dam spill agreement that was signed in December could produce thousands of additional adult Chinook salmon, offering a boost to Washington's struggling Southern Resident killer whales.
The Washington State Department of Fish and Wildlife wrote in a blog post Thursday that increasing water spill at certain times of day could result in 10,000-60,000 more adult Chinook annually.
The agreement, which was negotiated by federal agencies, states, and tribes, ups the amount of water that's going over the dam instead of through turbines during times of day when regional energy demand is lower. It also decreases spill when demand is higher.
With more water moving over the dam, juvenile salmon hopefully have a higher survival rate as they move out to the ocean, according to WDFW.
The dams will spill up to 120 percent total dissolved gas in 2019 and up to 125 percent in 2020.
Dwindling prey is one of the top factors impacting Southern Residents, whose population dropped to an over 30-year low last year. In addition to increasing spill, orca advocates have pushed for removing dams on the Columbia and Snake rivers entirely, arguing the most aggressive approach is needed to save the orcas.
Boat noise and pollution are two other factors negatively impacting the group.
A series of bills that target orca protection recently passed both chambers in the state Legislature, including House Bill 1579, which aims to increase the prevalence of Chinook salmon. The bill would allow WDFW to stop work on hydraulic projects that harm fish, increase penalties for violating hydraulic code, and liberalize recreational fishing licenses for fish other than salmon.

---
Allison Sundell
WDFW: Up to 60,000 More Chinook Salmon Could Survive With More Dam Spill
King 5, April 19, 2019
---
See what you can learn
learn more on topics covered in the film
see the video
read the script
learn the songs
discussion forum