---
A longshore worker union pay plan ensures workers get nearly a full week's pay
at almost four times minimum wage regardless of how much work there is to do.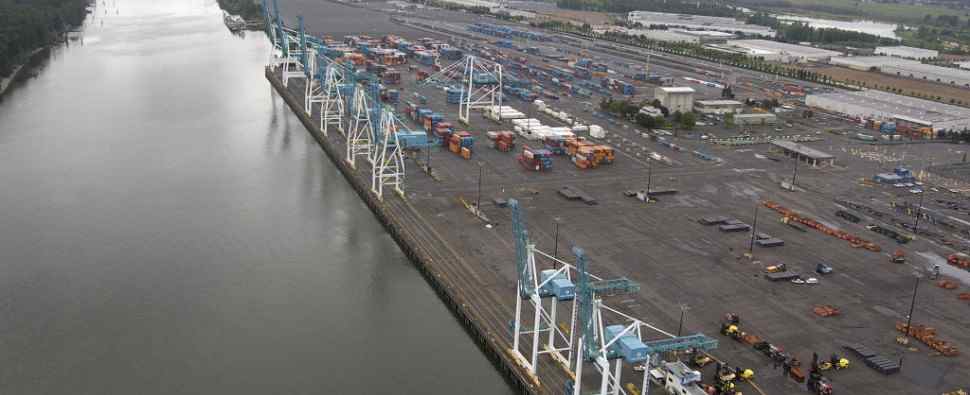 You work, you get paid. You don't work, you still get paid.
It's a deal that helped longshore union members at the Port of Portland collect more than a million dollars in salaries last year, even as cargo container traffic almost ground to a halt and workloads fell fast.
The longshore union has reaped the benefits for decades of a port-supported fund that pays members whether or not they work. During a lockout at the Port of Portland's grain terminal in 2013, the fund paid $1 million over the course of a year -- while no work was going on at all.
Terminal 6, Portland's container port and the former lifeblood of the state's small and medium-sized exporting industry, now receives a single ship per month. Between April and July, the container terminal had no work at all.
Elvis Ganda, the head of terminal operator ICTSI Oregon, said the company hires for just 30 eight-hour shifts a month now -- down from 500 jobs a week before February.
That means longshore workers are doing 1 percent of the work they were doing before.
But dock worker pay at the Port of Portland barely took a hit. The International Longshore and Warehouse Union has a Pay Guarantee Plan that assures many longshore workers will be paid for nearly a full week of work at nearly four times minimum wage, regardless of how much work there is to do.
Union advocates say the plan gives members financial certainty in a business that can ebb and flow over time.
But critics of the longshore union say the plan is why union members aren't working with the port operator to bring shipping lines back to Terminal 6. "It's not much incentive to go back to work," said Elvis Ganda, head of the port operator, ICTSI Oregon.
Without the union on board, port officials say bringing Portland's direct ties to Asia and Europe back is a hard sell. Greg Borossay, a general manager of the Port's marine trade development, said that ongoing litigation between the Port of Portland, the union and ICTSI Oregon doesn't necessarily need to be resolved to bring interested carriers back, but a workforce with a history of slowdowns could hurt Terminal 6's chances.
"It would certainly be helpful if the labor issue could be fully resolved," Borossay said at an Oregon Board of Agriculture meeting in December.
The Portland chapter of the union has been found guilty by the federal labor board and judges several times in the past few years of intentionally slowing work on the docks at the container terminal, making threats to ICTSI Oregon officials and other unfair labor practices. Hanjin Shipping Co. and Hapag-Lloyd both stopped calling at Terminal 6 in the midst of a West Coast-wide slow down, but the Port or Portland issue started before and likely will continue long after other ports are back to normal.
The International Longshore and Warehouse Union did not respond to repeated requests for comment. In 2013, a union spokeswoman said the pay guarantee plan is necessary for workers who have families and mortgages to survive during disagreements with the port.
The Pacific Maritime Association, which represents 29 West Coast container port operators, maintains the pay guarantee fund and each port contributes based on the tons of cargo going in and out. That means the ports in the Puget Sound and in Los Angeles are heavily subsidizing the lack of work in Portland.
In 2014, the fund paid out just over $600,000 to Oregon longshore workers in total, with Portland workers averaging less than one day of pay without work over the year, according to the Pacific Maritime Association's annual report.
Last year, the 426 eligible longshore workers in Portland exceeded that total by August. The full 2015 tally will be released in a few weeks, and will likely climb much higher than the $1.2 million figure racked up as of the end of September.
Longshore workers are hired in batches, when a ship is pulling into port. They load and unload containers, which are then sent by truck, train or barge elsewhere to be filled and returned.
Usually, unions use members' dues to create their own contingency funds for strikes and downtimes. The ILWU negotiated the pay guarantee fund into its contract with the port operators as early as 1971, according to previous reporting from The Oregonian/OregonLive.
There are three classes of longshore workers who can receive money from the pay guarantee plan. When 2015 started, the highest class, Class A, could earn up to 38 hours of pay at a rate of $35.68 per hour -- $1,355.84 per week. Under a newly-struck contract, Class A workers are now eligible for 40 hours of pay, regardless of available shifts.
Class B workers with less experience can make up to $999.04 per week.
Many longshore workers make six-figure salaries with a busy port, so the current $70,000 yearly wage of the pay guarantee plan is a drastic cut. The decrease in pay is noticeable in the weekly reports the port releases -- dropping sometimes $7,000 lower than 2014's totals, according to analysis by The Oregonian/OregonLive.
Some of the longshore workers are likely commuting to Seattle and Tacoma ports, which are much larger and busier. The pay guarantee plan numbers indicate that many are staying in the Portland region, even though no other port or terminal has filled the void left by Terminal 6.
"That work is not being shifted anywhere else in the Columbia River region," Ganda said. "No one is adding those kind of man hours to this port."
Related Sites:
Shipping Report by Port of Porland, 2011 to 2015
---
Molly Harbarger
Portland Longshore Workers Paid $1.2 Million to Not Work at Port of Portland
The Oregonian, January 12, 2016
---
See what you can learn
learn more on topics covered in the film
see the video
read the script
learn the songs
discussion forum