the film
forum
library
tutorial
contact

Tribes Seek Permission to Kill Sea Lions Eating Salmon at Bonneville Dam

by Jeff Barnard, Associated Press
Seattle Times - April 29, 2005
---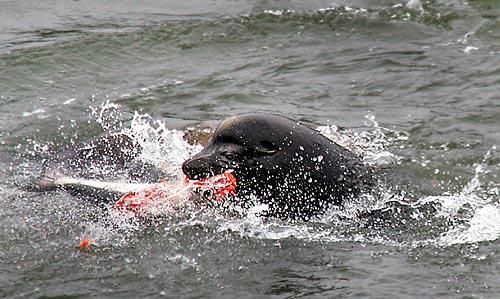 GRANTS PASS, Ore. -- Indian tribes that fish in the Columbia River called on the states of Oregon and Washington today to seek permission from federal officials to kill or drive out sea lions that have been eating salmon at Bonneville Dam.
About 40 sea lions hanging around fish ladders over the dam have eaten an estimated 1,100 salmon so far this year, amounting to about 4 percent of the returns to date in a spring chinook run that is shaping up to be one of the smallest on record.
The Columbia River Inter-Tribal Fish Commission, which represents four tribes with treaty rights to fish the Columbia, sent letters to the Washington and Oregon fish and wildlife departments, urging them to use a provision of the Marine Mammal Protection Act that allows states to seek permission to harass or even kill animals harming salmon protected by the Endangered Species Act.
State and federal agencies met today over the problem, and will begin next week assessing how effective harassment of sea lions has been to date, and how that might be improved, said Guy Norman, southwest regional director of the Washington Department of Fish and Wildlife.
Norman said he appreciated the tribes' concern, and authorities were seriously considering their request, but not yet ready to decide whether to move toward killing sea lions.
About 10 to 30 percent of the fish coming back to the Columbia this time of year are wild runs, three of which are protected by the Endangered Species Act -- Snake River spring-summer chinook, upriver chinook and mid-Columbia winter steelhead, said Norman.
Even if they made a request immediately, and NOAA Fisheries was agreeable, it would be unlikely federal permission could be gained in time to do anything before next year's chinook run, given the cumbersome nature of the Marine Mammal Protection Act, said Charles Hudson, spokesman for the tribal fish commission.
In 1995, NOAA Fisheries gave permission to Washington to kill sea lions eating endangered steelhead swimming through Ballard Locks in Seattle, but before they could go through with it, Sea World in Florida took the three worst offenders.
Problems associated with sea lions in the Columbia have been growing in recent years as their numbers have grown, from about 50,000 in the learly 1970s to 300,000 now, said Olney Patt Jr., executive director of tribal fishing group.
Their estimated impact on salmon at Bonneville has grown steadily from one third of 1 percent in 2002 to 4 percent this year.
This spring, four sea lions were so bold as to swim into the fish ladders and past the public viewing window in search of salmon, causing federal authorities to start harassing them with fireworks and underwater speakers broadcasting noise to drive them off.
Though the sea lions have left the fish ladder, about 40 are still hanging around the entrances to fish ladders, where fish congregate before swimming over the dam, said U.S. Army Corps of Engineers spokeswoman Diana Fredlund.
Fredlund said biologists have estimated sea lions have eaten 1,100 of the 26,346 salmon that have passed over the dam as of Thursday, or about 4 percent.
Though more than 200,000 chinook had been expected this year, returns have been running far behind predictions.
---
Jeff Barnard, Associated Press
Tribes Seek Permission to Kill Sea Lions Eating Salmon at Bonneville Dam
Seattle Times, April 29, 2005
---
See what you can learn
learn more on topics covered in the film
see the video
read the script
learn the songs
discussion forum