---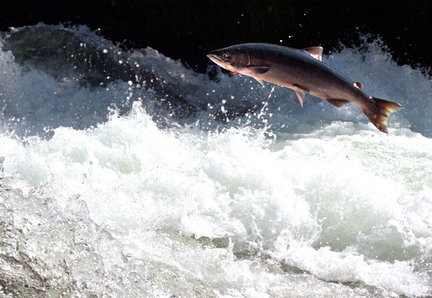 The first sockeye salmon to return to Idaho appeared Wednesday in a fish trap in the Sawtooth Mountains near Stanley.
So far, sockeye are arriving about a month later than they did in 2011 and their numbers are far below last year's.
As of Wednesday, 379 sockeye had passed the Lower Granite Dam on the Snake River in southeastern Washington state. That's the last dam returning salmon must pass as they return up the Snake into Idaho.
Tom Stuart of Idaho Rivers United says the lower-than-expected counts is a reminder that, despite years of work to bring the Idaho sockeye back from the brink of extinction, its long-term survival is far from certain.
The first sockeye arrived at the dam on June 23. In 2011, the first sockeye's passage above Lower Granite Dam was recorded on June 26. By July 25, 1,336 sockeye had reached the dam counting window. The count was even higher in 2010. (There is a chart below that breaks down the arrival and count by July 25th going back five years.)
It typically takes a sockeye several weeks to swim the distance from Lower Granite Dam to the Sawtooth Hatchery trap, where Wednesday's salmon was detained. It's a 400-mile trip from Lower Granite to the Sawtooth Hatchery. It's almost 900-miles from the mouth of the Columbia River.
While some of these returning fish are likely to be wild, the vast majority will be hatchery raised. In order to boost salmon returns, biologists have been raising more hatchery smolts. Starting in 2013, a new hatchery in Springfield, Idaho near the American Falls Reservoir will raise 1-million juvenile sockeye. The juveniles will then be trucked to Redfish Lake and nearby lakes and streams to be released.
Bill Booth, an Idaho member of the Northwest Power and Conservation Council says, "this is an important step for our state and for the Northwest, as we are showing how a species on the brink of extinction can be restored through the dedication and collaboration of state, federal, and tribal scientists and policy-makers."
The $13.5 million dollar hatchery is being financed by the Bonneville Power Administration.
Idaho Fish and Game research biologist Mike Peterson says he expects better sockeye returns starting in 2013 and 2014. He says release strategies his agency has been working on starting in 2010 will likely boost return numbers two or three years after juveniles reach the Pacific Ocean.
This year marks the 20th anniversary of Lonesome Larry. He was the only male sockeye in 1992 to make it back to the Sawtooth trap. He came to symbolize the decline of Idaho's salmon.
Arrival of Sockeye Salmon since 2008

| Year | Lower Granite Arrival | Total by July 25th |
| --- | --- | --- |
| 2008 | 6/25/2008 | 826 |
| 2009 | 6/16/2008 | 1169 |
| 2010 | 6/20/2008 | 1925 |
| 2011 | 6/26/2008 | 1336 |
| 2012 | 6/23/2008 | 379 |
See also Count the Fish for more Sockeye counts to Idaho.
---
Aaron Kunz
First Idaho Sockeye of 2012 Arrives at Sawtooth Trap
Oregon Public Broadcasting, July 26, 2012
---
See what you can learn
learn more on topics covered in the film
see the video
read the script
learn the songs
discussion forum