---
After a dismal presentation on the local economy recently, Port of Portland Commissioner Peter Bragdon noted there's been at least one bright spot: trade.
"Let's not mess with something that's going good," he said.
The Port's marine business is seen as an integral piece of the region's economy: an engine of growth and jobs, fueled by international trade. This image is seldom questioned, particularly coming off a year of major investment that includes completion of the Columbia River dredging project and the agency's new $291 million headquarters.
But as the Port presses on with its years-long quest to expand on West Hayden Island amid push-back from environmentalists, key questions are raised.
How crucial is the Port of Portland to the city's economy, and does it really need to expand?
Not very and probably not, says Joe Cortright, who chaired former Gov. Ted Kulongoski's council of economic advisers.
"I might be overstating it a bit for effect," he said, "but to me, the Port is a 19th-century development strategy, not a 21st-century development strategy.
"If you look at the industries that are growing rapidly, almost none of them depend on the Port for growth -- high tech, software, creative."
Sam Ruda director of marine and industrial development for the Port, "respectfully disagrees" with that assessment. He points to agriculture as a major growth area, noting that the Port of Portland leads the nation in wheat exports, much of it to China.
"We are feeding China," he says. "We are seeing huge growth in agricultural exports to China."
In fact, he says, the "industrial-ag" recovery is outpacing that of the overall economy. Corn and soybean exports have also posted gains.
In 2010, the Port exported 13.1 million tons of cargo of all types, the third-highest tally in the Port's history, and a 27 percent increase over 2009, an admittedly low year.
Economist John Mitchell calls the Port of Portland one of the region's "unique advantages."
"Everything comes together here, air, water, road, rail."
It's a major funnel for grain and other commodities, as well as auto imports, he say. "They may not be the principal drivers of the future, but they are not going to go away."
West Hayden Island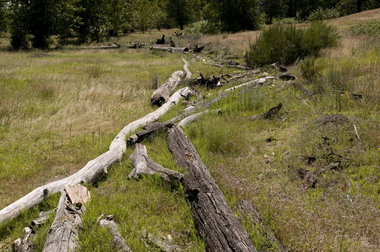 The Port has owned West Hayden Island since 1993, when it used its condemnation powers to purchase the land from Portland General Electric, and has been on the Port's long-term agenda ever since.
Environmentalists helped beat back an earlier attempt to develop the property and continue to object, citing the area's sheltered habitat for salmon and migratory birds.
"At least 81 bird species, nine mammal species, four amphibian species, and nine Lepidoptera (butterfly and moth) species have been observed on the island," Bob Salinger, conservation director for the Audubon Society of Portland, wrote to the City Council.
"Allowing for development or further degradation of West Hayden Island would eliminate a resource of regional significance and undermine the integrity of the entire natural area complex of which it is a part."
The east end of the island is already developed, home to the Jantzen Beach shopping center and other businesses, as well as residences.
To develop the west end, it must be rezoned and annexed into the city. The Portland City Council approved a plan last summer that calls for the Port to return with a blueprint by the end of this year that preserves 500 acres as a natural area, and allows marine development on the remaining 300 acres.
Two out of three
Exports need three things: land, railroad access and a deep-water channel.
Portland has the latter two but lacks enough industrial waterfront land to take full advantage of expected export growth, Ruda says.
A study last year found the Port will need 400 to 700 acres to meet forecast demand, and that study didn't take into account the emerging market for corn and soybeans, Ruda says.
The Port has estimated that developing 350 acres of West Hayden would cost $96.9 million and create 4,000 maritime jobs. That's a 10.5 percent increase over the 38,000 positions the Port says the sector currently supports in the Portland area. That's a big selling point in the metro area, which is grappling with 10.2 percent unemployment.
In any debate about the Port expansion, it's important to keep in mind that taxpayer money is not at stake. Only about 4 percent of the Port's $166 million in annual operating revenue comes from property taxes. Revenues primarily come from business transactions for the use of services and facilities.
Small in comparison
In the world of international ports, the Port of Portland is tiny -- it didn't even crack the top 125 ports in the world -- handling 23.3 million tons of cargo in 2009. Singapore, the world's largest port, moved 14 times that amount.
In 2009, the Columbia/Snake river ports exported $10.3 billion worth of cargo, ranking 26th in the nation, according to U.S. Census data. They handled $9.8 billion in imports, ranking 43rd.
By comparison, Los Angeles exported $86 billion in cargo and imported $254 billion that year. Seattle exported $53.7 million and imported $65.8 billion.
The container market is where the value is, Cortright says. The ports of Los Angeles and Long Beach handle 70 percent of the container traffic on the West Coast.
Portland has one container terminal, capable of holding three container ships. Seattle has four terminals that can hold 15 ships at a time, and Los Angeles has eight terminals with a total capacity of 30 container ships.
The Port of Portland has its disadvantages. It's 103 miles from the mouth of the Columbia River, and ships require pilots to bring them to port. Seattle, Oakland and Los Angeles-Long Beach are natural deep-water ports with much easier ocean access.
And although the Columbia River channel was recently deepened from 40 to 43 feet, other West Coast ports can handle much deeper draft ships.
But Ruda says the channel deepening is already paying off. Ships are able to load 6,000 to 10,000 tons more cargo thanks to the extra 3 feet of draft.
Panama Canal expansion
But the bigger challenge to Portland's container business, as well as other West Coast ports, could be an expansion more than 3,500 miles away.
In 2014, the Panama Canal is scheduled to open a new set of locks for ships capable of hauling three times more containers than those that can be accommodated here.
That might make it cheaper for Chinese shippers to travel by water through the canal and up to ports on the Gulf or the East Coast, rather than to the West Coast and then by truck or railroad to destinations in the Midwest.
"Economic forces are combining to favor the growth of Gulf and East Coast ports for Asian trade," according to Drewry Shipping Consultants Ltd.
In 2007, trans-Pacific trade made up two-thirds of all U.S. container trade, and shippers have spent the past decade building ever bigger container ships to serve the route, creating economies of scale that have magnified China's competitive advantage in manufacturing.
"The days of strong West Coast growth are behind us, even if volumes continue to rise," the report says. The strengths of the West Coast -- the shortest route and fastest transit times -- may be outweighed by its weaknesses -- lack of new capacity and stagnating overland links.
The report also notes what it calls the failure of the railroads to respond.
"Beyond the immediate vicinity of the ports, the American West is one vast empty space," the report says. "Most of the American population is east of the Mississippi -- 2,000 miles away."
The Class 1 railroads operate less than half the track mileage they did in 1960.
Port officials downplay the potential impact of the Panama Canal improvements.
The Port's container business is primarily for the local market, Ruda says. And it's not at all clear that Gulf or East Coast ports can make the investments to deepen their ports to grab a bigger share of the market.
"It took us 20 years to get 3 feet," he says. "It's probably reasonable to expect that federal funding of civil projects many not be as robust as it has been."
Besides, the Port isn't as tied to the ups and down of the container business. This month it will turn operations at Terminal 6 over to Philippines-based International Container Services Inc. in exchange for an annual rent of $4.5 million, with the potential for `additional amounts in container traffic increases.
"The joke is that maritime is the world's second-oldest profession," Ruda says. "It's still going strong. We don't think it will change."
---
James Mayer
How Does the Port of Portland Stack Up in Local Economy?
The Oregonian, February 5, 2011
---
See what you can learn
learn more on topics covered in the film
see the video
read the script
learn the songs
discussion forum