---
Agency Seeks Dialogue On Spill-Wind Integration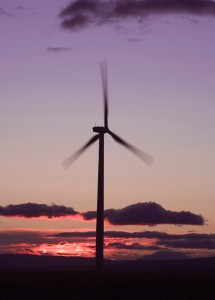 The Bonneville Power Administration has issued a report outlining the steps the agency and others took this past June to control unexpectedly high Columbia River stream flows to avoid harm to fish that can be caused by flushing too much water through hydro system spill gates.
The huge and sudden increase in water volumes, triggered by record rainfall across much of the Columbia basin, is the first such event since large amounts of wind power were added to the Northwest power transmission grid.
"There has been only one above average water year in the Columbia River system in the last decade," according to the report, "Columbia River high-water operations, June 1--14, 2010."
"The last water year that was significantly above average was 1999, when very little commercial wind generation was on line in the Northwest."
Consistent with federal requirements, BPA must integrate new power sources, such as the "remarkable growth in wind power," into its transmission grid. Since power generation opportunities can be constrained by transmission availability, the increased wind power reduced Bonneville's and the federal dam operators' operational flexibility.
"When high flow events produce significant amounts of energy and wind also coincidentally injects significant amounts of power into the BPA grid, the combination creates more power than there is load on some hours," according to the report's cover letter from BPA's Elliot Mainzer, executive vice president, Corporate Strategy. "Under current operating procedures, wind power automatically displaces federal hydro generation and forces the spill of water as it bypasses federal hydro generators.
"Due to the wide seasonal and annual variations in Columbia River streamflows and the high variability of wind power output, BPA has been aware for some time that a combination of high streamflows and high wind could pose new challenges for Columbia River system operations," Mainzer said. "This expectation was fulfilled when high streamflows emerged in a short period this June in an otherwise low-water year.
"The large, sudden runoff highlighted a set of emerging operational issues that have implications for the many utilities and interests involved in the interconnected and interdependent Columbia River power system," Mainzer said. The letter asks interested parties to join Bonneville in developing strategies for dealing with such events in the future.
The report and cover letter are available online at: www.bpa.gov/corporate/pubs/index.cfm#reports
In early June Snake River flows nearly tripled from 80,000 cubic feet per second (80 kcfs) to 210 kcfs in five days. The Snake flows into the Columbia in southeast Washington just above McNary Dam. Columbia River inflows into Lake Roosevelt behind Grand Coulee Dam in central Washington rose 70 percent.
The wave of late spring precipitation increased the January through July water supply forecast for the Columbia River basin by nearly 10 million acre-feet as measured at The Dalles, Ore., on the lower Columbia -- from about two-thirds to about three-fourths of average -- between mid-May (71.2 maf) and mid-June (80.9 maf).
Two options are available to the dam operators to pass the flood of water coming down through the system -- generating power and spilling water.
In June, operators were forced to focus on developing strategies and modifying operations to hold down levels of spill in order to keep total dissolved gas (nitrogen saturation) at levels safe for fish. Excessive spill can result in high levels of total dissolved gas in the water, which can cause gas bubble trauma in fish -- similar to the bends in divers.
Among the charges of Bonneville, which markets power generated in the hydro system, and dam operators is to minimize impacts on Columbia and Snake river salmon and steelhead stocks that are listed under the Endangered Species Act.
With generation opportunities crimped and the prospect of excessive spill looming, a variety of actions were taken by BPA and the U.S. Army Corps of Engineers and Bureau of Reclamation, which operate the dams. Also involved were Energy Northwest, and utilities and independent power producers in the Northwest, British Columbia and California.
In addition to actions within the hydro system itself, the steps included Energy Northwest's reduction in output from its nuclear plant output so that hydro generation could be increased and providing power at little or no cost to other utilities to displace operation of their thermal power plants. North of the border dam operators accommodated by storing more water than usual in Canadian reservoirs.
Despite the emergency actions TDG saturation did reach as high as 130 percent saturation at Lower Granite Dam on the lower Snake River. That exceeded the 120 percent gas cap, which is imposed to protect fish. The lower Columbia River dams experienced lower total dissolved gas levels, with slightly elevated levels only at McNary and Bonneville dams.
The Pacific States Marine Commission regularly monitors the condition of migrating salmon smolts, according to the report. During the first two weeks of June 2010, tests occurred at Lower Granite, Little Goose and Lower Monumental on the lower Snake and McNary and Bonneville dams.
Of 2,238 fish tested between June 1 and June 22, only 31 fish showed any symptoms of gas bubble trauma. Of these, 23 were ranked at the mildest level, the report says.
BPA stresses the need to build a strategic plan, since more high water years will undoubtedly come, and wind generation is expected to double in the next couple of years.
The federal power marketing agency will use the report and an accompanying cover letter as the starting point for a regional conversation about the spill-wind integration issue. To start the discussion BPA has scheduled a workshop from 8:30 a.m. to 12:30 p.m. Thursday, Oct. 7 in the Rates Hearing Room at BPA headquarters in Portland. A phone bridge is available for participants unable to attend in person. The call in number is 503-230-5566, and the passcode is 8277#.
(bluefish: meeting rescheduled to afternoon of October 12)
At the meeting BPA will review high points of the report and then facilitate an open dialogue about operational and policy tools available or required to respond effectively to similar events in the future. Paul Norman, former BPA senior vice president for Power Services, has agreed to serve as the workshop facilitator. Norman retired last year.
Those planning to attend the workshop either in person or via phone bridge, please e-mail Steve Kerns. Anyone with comments or questions regarding the report that they would like BPA to consider as it prepares for this workshop should forward them to Kerns by e-mail them by Sept. 27.
---
Staff
Bonneville Report Discusses June High Flow Event
Columbia Basin Bulletin, September 17, 2010
---
See what you can learn
learn more on topics covered in the film
see the video
read the script
learn the songs
discussion forum