---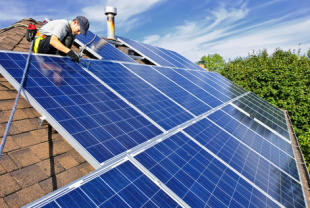 For solar power to finally be cheaper than grid power, scientists need to invent the ultimate solar cell. Right? Wrong.
For sure, better materials for converting sunlight into electricity will bring down prices. But reducing "soft costs," or everything but the hardware, is one of the most active areas for innovation in solar.
Solar Exchange, a one-year-old startup, is the latest company formed to bring more efficiency to the business side of solar. The company, which launched last week, is building a business-to-business cloud service tailored specifically to how the solar industry works. It's signed up some initial partners, including a number of solar manufacturers and installers, to start using its online exchange where buyers and sellers can buy and sell solar-related goods.
The global solar industry continues to be in the throes of a brutal shakeout that has brought down some of the largest solar manufacturers and dozens of startup hopefuls. The goods news for consumers and businesses has been much lower prices for products, particularly the solar panels, inverters, and related gear.
But the decline in all the other costs, called the balance of system in the industry, has not nearly kept pace with falling prices for hardware. Rocky Mountain Institute estimates that the soft costs account for 60 percent of the total price for rooftop photovoltaic (PV) panels. A Lawrence Berkeley National Labs study found that solar buyers in the U.S. pay significantly more than other countries in soft costs. Last year, German consumers paid about half what U.S. consumers did in solar installation costs, it found.
There are now a number of companies that are trying to wring costs out of various aspects of the solar buying process, whether it's software for installers to find cheaper sources of financing or services for customers to get multiple bids. Earlier this week, for instance, Clean Power Finance opened an online marketplace for solar companies to buy and sell service contracts for already-installed PV systems.
Solar Exchange is also making an online exchange but it's geared specifically at manufacturers and installers. An installer, for example, may need to purchase an inventory of solar panels, inverters, and wiring. Rather than fly to Asia to negotiate with suppliers or buy from local resellers, the Solar Exchange site will allow that installer to place a request to get a quote from manufacturers online. Large installation and supplier companies may already have dedicated buyers but smaller outfits may not have that same level of sophistication in dealing with the solar industry supply chain, says Gary Mull, the CEO of Solar Exchange.
"This service is part of the solar IT stack that will ultimately become the software solutions that help organizations operate far more efficiently in a market where every penny counts," he says. Because solar margins are so low, many companies need better systems to be profitable and, in some cases, stay in business, he says.
The idea for Solar Exchange was borne of personal experience. As the former CEO of a solar installation company, Mull and colleagues found the process of securing products and establishing business partners was difficult, involved lengthy travel to Asia, and working through interpreters.
There are already a number of enterprise software companies, such as SAP, Oracle, and Ariba, that make supply-chain automation and procurement software to automate these types of processes. Solar Exchange's service is specific to the solar industry and it provides an online marketplace to actually conduct transactions as well, Mull says. Once a request for products is put in, the company runs an auction. "Much the way eBay has become the de facto standard in the consumer Internet world, we are providing an ecommerce system across the (solar) marketplace," Mull says.
The company's software focuses on a very specific function within a massive industry. But it's a sign of how software and the Internet can wring costs from what many call a "fragmented" solar industry. These types of innovations lack the glamor of a scientist inventing a new solar cell but ultimately, if done well, a more sophisticated software industry will deliver products at a lower price.
---
Martin LaMonica is a Boston-based journalist with over 20 years of experience reporting on technology and business. He covers innovations in energy, IT, and science for various media outlets, including MIT Technology Review, IEEE Spectrum, and the Boston Globe.
Solar Exchange Launches 'eBay' for Solar Goods
GreenBiz.com, September 26, 2013
---
See what you can learn
learn more on topics covered in the film
see the video
read the script
learn the songs
discussion forum