---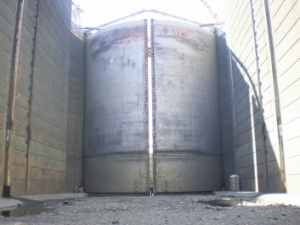 Lewiston, ID -- Everything from light rain in Portland to high winds on the Snake and Columbia rivers have hampered efforts to barge grain from Lewiston to Portland ahead of a 31/2-month closure of river transportation that starts Friday.
Closure of the river system to barge traffic through mid-March comes as the U.S. Army Corps of Engineers replaces gates at Lower Monumental dam on the lower Snake River and The Dalles and John Day dams on the Columbia River.
Pacific Northwest Farmers Cooperative in Genesee expects to have shipped about 50 percent of its grain before the week ends, but it had hoped to move about 70 percent, said Sam White, chief operating officer.
Find Solutions for Enterprises, SMBs & Service Providers at the ITEXPO East, February 2-4, 2011 Miami Beach Convention Center, FL.
"We've got barges going out and trucks coming in," said Arvid Lyons, manager of the Lewis-Clark Grain Terminal. "And things are changing by the hour." United Harvest in Vancouver, Wash., is 10 to 20 barges behind as Friday approaches, said company Superintendent Eric Rogers.
Typically the business unloads about 60 barges of wheat from the Snake and Columbia river system each month and then gets the grain onto overseas ships, Rogers said.
Crews at the Port of Lewiston worked six days last week, including Monday when the shift lasted 181/2 hours, said port Manager David Doeringsfeld.
They had an outbound container barge Monday, incoming shipments of ExxonMobil/Imperial Oil modules Tuesday and Wednesday and two more container barges departing Thursday and Friday, Doeringsfeld said.
But no matter how quickly everyone worked, they couldn't compensate for delays that occurred up and down the river system in the fall. Some captains won't allow their vessels to be loaded when any rain is falling because they worry the moisture might affect the quality of the grain, even though it's never been established if that's true or not, Rogers said.
"When those barges are empty or you have a big tow you just have to park them," Lyons said. "You stop and you lose time just waiting for the wind to die down." The Lewis-Clark Grain Terminal has been giving first priority to producers who are storing grain on their own property, Lyons said.
If they don't ship now, they'll be trying to haul when the locks reopen in the spring and they're in planting season. That group is also more likely to face road restrictions during the spring thaw that don't allow them to take trucks on the routes connecting their farms to highways.
"We also understand the limitations," Lyons said. "Just because something is written down on paper, most times things happen to reduce those numbers." The farmers who are stuck with grain during the closure will likely have lower profits because barging is the least expensive way to get their product to market, White said. "We can ship some by rail. It is really kind of a band-aid on an open wound." Agricultural producers aren't the only ones facing financial hardships because of the lock closure. TGM Investments at the Port of Wilma will be down to a single employee until river transportation reopens, said Gaylord Newbry, an owner.
Its staff ranges from two to 24 employees depending on the projects TGM is working on, Newbry said, which include unloading chips and sawdust for Clearwater Paper, shipping logs downriver for Potlatch and helping move ExxonMobil/Imperial Oil megaloads off barges at the Port of Lewiston.
"We think we can survive," he said. "Is it going to be as easy? No." About 100 of Tidewater Barge Lines' 200 employees will be out of work for 10 to 12 weeks during the closure, said Carol Bua, a spokesman for the Vancouver-based business.
The remaining 100 will be working full time or reduced hours moving barges around the Vancouver/Portland area and hauling cargo from a paper mill near Portland, Bua said. "We are definitely scaling down." As tough as it will be, White said he's relieved the federal government is making the investment in the infrastructure.
"In the long run, I'm glad the corps is deciding to make these repairs and improvements because the river system is very important to this area. It's a very efficient way to move grain."
---
Elaine Williams
Run-Up to Lockdown Beset by Problems
Lewiston Tribune, December 5, 2010
---
See what you can learn
learn more on topics covered in the film
see the video
read the script
learn the songs
discussion forum