---
For the second year in a row, ODFW crews try to keep sea lions from gobbling up fragile fish runs at Willamette Falls.
"But it's a hard game; you're always going to lose."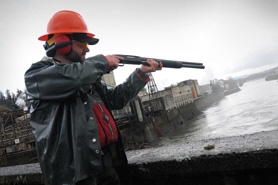 It's a dreary Monday morning on the Willamette River, and a handful of boats drift with fishing lines cast into the water near Willamette Falls.
Oregon Department of Fish and Wildlife field biologist Trevor Diemer perches on a structure below the falls, keeping an eye on the entrance to the fish ladder with a 12-gauge shotgun in hand and a supply of cracker shells and seal bombs.
A boat of additional ODFW field workers sits nearby, waiting to pursue any sea lions that Diemer spots lurking near the fish.
The group's job: To scare California sea lions away from chinook salmon and steelhead with surface and underwater explosives and a boat. The effort is limited to a mile-long stretch of the river, from the falls to the Interstate 205 bridge.
"It's like an exclusion zone for fish," Diemer said. "We're trying to minimize sea lion predation."
The process, called hazing, aims to crack down on a growing group of sea lions swimming up Oregon's rivers to Willamette Falls, where they gorge on migratory fish stacking up below the fish ladder at PGE's T.W. Sullivan hydroelectric project.
Hazing poised for 2012 return
And it looks like hazing will likely return to Willamette Falls next year - with a vengeance.
As the second year in a pilot program on the Willamette comes to a close at the end of this month, lawmakers are moving ahead with two pieces of legislation that could ramp up efforts to shoo sea lions away from Willamette Falls.
House Bill 3255, designed to increase hazing on the river from about four to six or seven days each week from February to May, made it through the House Energy, Environment and Water Committee in the past week, advancing to the Ways and Means Committee for review.
House Joint Memorial 17 appeals to Congress to ease the federal Marine Mammal Protection Act and allow immediate removal - "by any means necessary," which could include killing them - of California sea lions to protect salmon runs in Oregon rivers. It also made it through the committee process and was tentatively scheduled for a vote by the House this week.
Tom Murtagh, an ODFW fish biologist, said no sea lions have been hurt in the local operation, and the management effort does not target Steller sea lions, which are larger than their California cousins and considered an endangered species.
This year's hazing activities, which started in February, expanded a program that began last year, with teams spending more hours each day and more days each week deterring sea lions from snatching fish.
The second annual operation adds to broader efforts to thwart fish-eating sea lions in Oregon and Washington. The Columbia and Willamette rivers are home to multiple runs of threatened and endangered salmon and steelhead, both targeted by multibillion-dollar recovery plans.
Arsenal includes shotguns, seal bombs
Some of the sea lions spotted at Willamette Falls are considered repeat offenders, given away by branding marks scored into their backsides and reports made at sea lion hot spots like the Bonneville Dam, where observers track the culprits preying on fragile fish runs. They include the sea lion branded C257, first spotted at Bonneville and Willamette Falls back in 2002.
Crews shoot cracker shells - a lot like M-80s - from shotguns in the air above the sea lions, and they light seal bombs, a similar explosive, and lob those into the river, where the sand-weighted bombs sink and detonate underwater.
This year, the ODFW crew has gone through 150 to 200 cracker shells and 80 to 100 seal bombs daily, Murtagh said.
"You try and create a veil of noise that keeps the sea lions from swimming back upstream," he explained. "Sometimes they need a little persuading."
Sea lions aren't the only ones to find the activity offensive.
Animal rights groups have criticized the region's sea lion management efforts, arguing that salmon face bigger problems than sea lions: competition from hatchery fish, loss of habitat and dams, to name a few.
More recently, Oregon City residents have raised concerns about the firecrackers being used to scatter the animals around the falls, as the noise has disturbed some people's pets.
Murtagh has met with Oregon City commissioners to discuss the issue, which he said seems to be a problem for a handful of residents in the Canemah and McLoughlin neighborhoods.
Meanwhile, on West Linn's side of the river, he hasn't heard from anyone concerned about the noise. Police officers couldn't think of any complaints they'd heard, either.
Eventually, biologists hope to see fewer sea lions congregating in the area. But as of mid-season this year, they saw about seven or eight regulars, about the same as last year. And that number increased to 12 to 18 sea lions this week, as spring chinook arrived at the falls.
This year, fish and wildlife workers concentrated on helping federally listed winter steelhead because of serious population declines. When funding for the $45,000 hazing operation runs out after this Friday, the winter steelhead run should be about over, Murtagh said.
"Winter steelhead numbers are low enough to warrant the added protection," he said. "They had decreased a lot in the last 10 or 15 years, and part of that could be predation from sea lions."
Success tough to measure
Harassing sea lions isn't an exact science.
But, while agencies aren't sure it's the most effective way to control sea lion predation, officials have few alternatives, as the animals are protected under federal law.
Now, Murtagh said, it appears to be "effective as long as we're on the water working. When the animals are disrupted, they can't forage and catch fish as well."
Yet the success is short-lived. Soon after crews leave, he said, "they come back to their feeding stations. Within a half hour, they're back."
"It's a quandary," Murtagh said. "I fall back on the thinking that as long as we're hazing aggressively, both from the fish ladder and from the boat, we can reduce the predation for the period of time we're hazing.
"The only way we can really get ahead of these animals is to accept they're killing fish or to haze them really hard and stay on them all day."
Sea lions learn tactics
Hazing trials in the late 1990s produced mixed results. Crews tried fish ladder barriers, rubber bullets and underwater firecrackers to push sea lions away from Willamette Falls. Although some smaller animals swam away and didn't come back, others returned the same day, according to past reports.
In 2000, teams tried shooting paint balls at the hungry sea lions. While those animals swam away from the shooters, they continued foraging for fish.
This spring was Trevor Diemer's first season working as a sea lion hazer. The field biologist is also an avid fisherman and Alaska native, but he's never done anything like this before -"nothing sanctioned, anyway," he joked.
Hazing sea lions, Diemer said, requires staying ahead of the game, anticipating their next moves.
"The biggest challenge is being outsmarted," he said. "You have but a moment to see them as they rise after diving. Then, they can pop up 500 yards from where you last saw them. … That gives them an opportunity to forage, which puts stress on the fish populations."
And the sea lions are growing smarter.
"They're using docks and the shore more to hide their activities," Diemer said. "They're learning where they want to fish, and they learn our activities. They have even learned our boat."
Even so, he believes the ODFW team has made gains in understanding sea lion behavior: "Some are getting around us, but I believe we are having an impact on their foraging activities."
"Our techniques certainly shift as they react," Diemer said. "But it's a hard game; you're always going to lose."
Keeping Steller sea lions away
So far, biologists have their fingers crossed they won't see a surge in Steller sea lions at Willamette Falls. The marine mammals, federally listed as an endangered species, are a growing presence at another seasonal sea lion spot: the Bonneville Dam on the Columbia River. There, they are seen as an increasing threat to sensitive white sturgeon populations.
Only one Steller has been seen in the Willamette Falls area this year, said Tom Murtagh, an Oregon Department of Fish and Wildlife biologist, and it hung around for a day or two and then left. Instead, most of the sea lions here are male California sea lions.
But could Steller sea lions move to the Willamette River?
"We're hoping not," Murtagh said. "They're bigger animals, and they eat more fish."
However, he noted there is one unintended benefit of Stellers' presence at Bonneville. "Interestingly, the California sea lions have decreased there," he said. "There's competition."
---
Kara Hansen Murphey
Hazing: Round Two
WestLinn Tidings, April 28, 2011
---
See what you can learn
learn more on topics covered in the film
see the video
read the script
learn the songs
discussion forum