---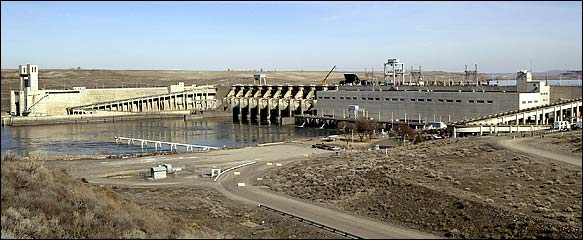 Environmental zealots are irked because they had expected the Obama administration to embrace dam breaching.
Six months ago the environmental group American Rivers, which proclaims it is dedicated to the protection and restoration of North America's rivers, put the Snake River third on its list of the nation's most endangered rivers list.
Well, the group announced this week that the Snake is now more endangered than ever.
Wow! What happened? A chemical spill or some other environmental disaster?
Not exactly. It seems the horrific act that endangers the Snake was the decision by the Obama administration to defend the Bush administration's plan for managing dams and salmon.
"It is deeply disappointing that the Obama administration has chosen to defend a plan that takes years to begin seriously studying the actions capable of restoring imperiled Snake River salmon," said Rebecca Wodder, president of American Rivers. "The situation is too urgent to keep playing political games with the future of the Snake River and its salmon -- we hope that a federal court (U.S. District Judge James Redden) will soon give the administration a second chance to do right by salmon, farms, and local communities."
And what is the right thing American Rivers wants the Obama administration to do? Well, it wants to remove "four salmon killing dams on the lower Snake River," according to its news release.
Talk about playing political games. American Rivers continues to twist reality to promote its dam-busting agenda.
Taking down the dams would be a disaster for farms, local communities and the entire Pacific Northwest. And it's debatable whether it would significantly benefit salmon.
Breaching the dams would significantly reduce power production, force an incredible change to irrigation systems and prohibit barge transportation to Idaho. It would put a lot of the region under water. In addition, the cost of the work that has to be done to take out those dams would be enormous.
In 2001 the U.S. Army Corps of Engineers issued a study on breaching the Snake River dams. It concluded that breaching the dams would increase the chances of salmon restoration only slightly -- if at all -- while certainly hurting the Northwest's economy.
Dam breaching is simply not the answer. Steps are now being taken that continue to improve conditions for salmon. Let's give these efforts a chance.
The Snake River was not endangered six months ago. It is not endangered today.
All that has occurred in the time period is that the Obama administration has refused to be bamboozle by zealots -- such as those involved with American Rivers -- who won't rest until the dams are down.
The Obama administration has made the right decision in sticking with the federal government's salmon restoration plan.
---
Editorial Board
Obama Officials Make Right Call in Backing Bush Salmon Plan
Walla Walla Union-Bulletin, October 23, 2009
---
See what you can learn
learn more on topics covered in the film
see the video
read the script
learn the songs
discussion forum